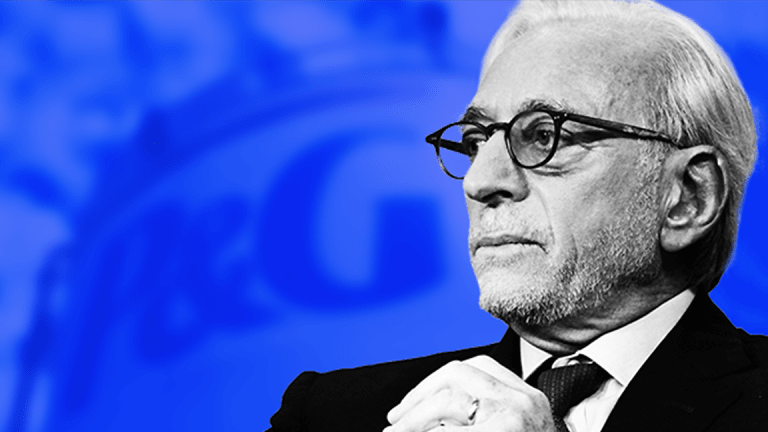 Nelson Peltz on Amazon, Apple, Cryptocurrencies and His Battle at P&G
The well-known activist investor is worried that Amazon may be controlling prices.
Activist investor Nelson Peltz of Trian Fund Management on Tuesday said he was worried about cryptocurrencies, the system for collecting and voting shares in America and Amazon Inc. (AMZN) - Get Report , which he argued may be controlling prices.
"Until here is a real competitor to Amazon I am concerned and I think that at one point in time the government will step in and do something about it. I am concerned that they control prices," Peltz said in a wide-ranging conversation at a Reuters event in New York. "Amazon does disturb me, until there is a real competitor I am concerned."
Peltz also said he wasn't sure what to think about an unusual campaign launched Saturday by Jana Partners and a large pension fund seeking to drive Apple Inc. (AAPL) - Get Report to take action curbing smartphone and iPad addiction among children. Jana Partners, which typically launches campaigns to drive share price improvement through pushes for M&A or operational improvements, announced the campaign with a letter full of statistics and data about child overuse of iPhones and their impact on sleep, depression and risk of suicide.
"I don't know what they expect Apple to do except make their phones more expensive," Peltz said. "I've got ... millennials at home. I see the iPhone like this at dinner and I tell them to turn the phone upside down and let's talk."
Peltz also said he was worried about cryptocurrencies, particularly now that Goldman Sachs (GS) - Get Report has decided to get into the business of trading digital currencies such as bitcoin.
Also, as expected, Peltz also discussed his own activist campaigns, including his recent high-profile insurgency at Procter & Gamble Co.   (PG) - Get Report  , the largest boardroom battle in the history of director insurgencies. The iconic U.S. packaged goods company moved last month to appoint Peltz to its board even though he narrowly lost the final vote.
According to a securities filing, P&G's inspector of elections, IVS, said in its final vote tabulation that Peltz received 972,766,372 votes, less than the 973,264,684 votes received by company director, Ernesto Zedillo, an ex-president of Mexico.
Peltz suggested that the contest results have indicated to him that the proxy system for collection and counting votes in the U.S. is broken. "We could have had the votes counted four times and gotten four different answers," Peltz said. "That's the problem with the proxy system. We could have 10 counts and gotten 10 different answers."
Even so, Petz suggested that the company had made the right decision to put him on the board, because essentially half of all shares voted to back him. "I said there were two billion votes cast. What is the difference if they got 1 billion or 950 million votes?" Peltz said.
Finally, Reuters held a poll of attendees seeking to identify what company might next be targeted by an activist investor. Wells Fargo (WFC) - Get Report received the most votes. However, Peltz said he'd never launch a campaign there. "We'd never launch a campaign at Wells Fargo, they've got a balance sheet I don't understand," Peltz said.
Jim Cramer and the AAP team hold a position in Apple for their Action Alerts PLUS Charitable Trust Portfolio. Want to be alerted before Cramer buys or sells AAPL? Learn more now.
More of What's Trending on TheStreet: