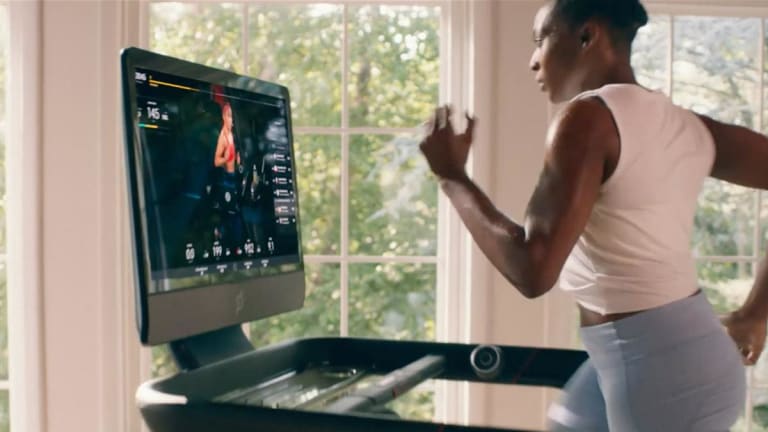 Peloton Slumps Despite Revenue Beat and Optimistic Forecast
Shares of Peloton fall after the fitness equipment and software provider posts a significantly wider-than-expected fiscal first-quarter loss, even as sales beat analysts' forecasts on growing sales of its connected fitness equipment and related subscriptions.
Shares of fitness equipment and software provider Peloton Interactive (PTON) - Get Free Report   reversed course on Tuesday, dropping at the market open despite posting sales that beat analysts' forecasts on growing demand for its connected fitness equipment and related subscriptions - and also providing an upbeat forecast.  
In its first quarterly report as a public company, New York-based Peloton posted a net loss of $49.8 million for the three months ended Sept. 30, or $1.29 a share - more than triple what analysts had been expecting - vs. a loss of $54.5 million, or $2.18 a share, in the comparable year-ago quarter. Analysts polled by FactSet had been expecting a loss of 36 cents a share.
Sales came in at $228 million, above analysts' forecasts of $199.1 million.
"Our strong sales were the result of our effective brand and performance marketing efforts including a new marketing campaign highlighting our financing program for the first time," the company said in a statement. "We also benefited from continued word-of-mouth referrals from our loyal members, which remains one of our largest marketing channels."
Connected fitness subscribers grew 103% to 562,774, expanding the company's member base to more than 1.6 million, Peloton said. At the end of the quarter, the company counted 105,856 digital subscribers, up 116% year-over-year. 
For fiscal 2020 Peloton said its expects sales to be $1.45 billion to $1.5 billion, above analysts' forecasts of $1.39 billion, with somewhere between 885,000 to 895,000 connected fitness subscribers. That should translate into an adjusted loss before income, taxes, depreciation and amortization of between $170 million and $150 million, the company said. 
Peloton went public at the end of September at $27 a share, $2 below its offer price, and dropped an additional 11% in its first day of trading - part of a trend of less-than-well-received initial public offerings this year. The offering raised nearly $1.2 billion and valued the company at about $8 billion, more than double the valuation Peloton fetched in its last round of fundraising in August 2018.
Shares of Peloton were down nearly 5% at $23.39 in morning trading.