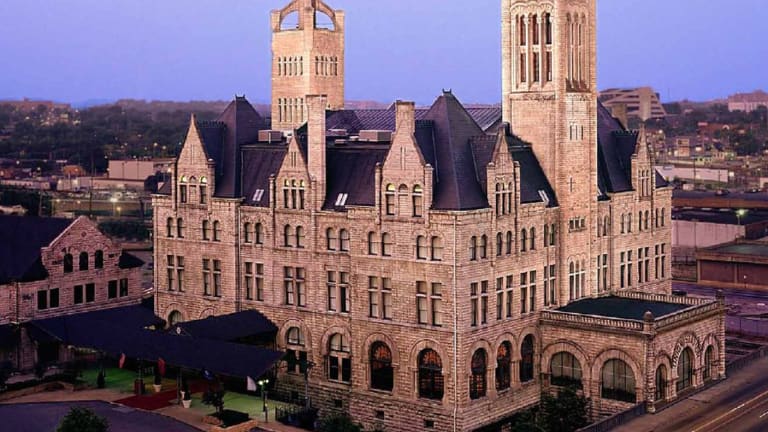 Pebblebrook Hotel Trust Is a Great Stock to Buy Right Now
This hotel REIT should be attractive to income investors.
Hotel Real Estate Investment Trusts (REITs) are in the spotlight after Wall Street was abuzz with Ashford Hospitality's (AHT) hostile takeover attempt of FelCor Lodging Trustundefined .
With investors looking for the next undervalued REIT, which could gather explosive momentum, we recommend the $2-billionPebblebrook Hotel Trust (PEB) , operating upscale, full service hotel and resort properties.
A potential value play, income investors can also enjoy the company's 5.3% dividend yield. Pebblebrook owns 29 hotels, in San Francisco, Atlanta, and Washington with a total of 7,222 guest rooms.
Annual revenues have grown 14-fold between 2010 and 2016, from $58 million to $814 million. The REIT has been profitable since 2011 and turned cash flow positive in 2016.
With earnings per share (EPS) projected to grow by over 70% annually for the next half a decade, Pebblebrook has robust growth prospects ahead of it.
However, it must be said that the hotel REIT has an uncertain record of missing earnings estimates. In the last 4 quarters, Pebblebrook has missed expectations twice.
This is most likely the reason why management at the company has turned cautious.
CEO Jon Bortz has said that PEB isn't seeing any notable surge in business or leisure travel since Election Day in November. The company has also guided full-year 2017 adjusted funds from operations per share of $2.34-$2.50 compared to $2.78 in 2016.
As mentioned, Pebblebrook shares sport a 5.3% dividend yield, supported by a payout ratio of 55%, which has grown every year since 2010.
Pebblebrook's dividend beats other REITs like Host Hotels (HST) and DiamondRock Hospitality (DRH) .
And from an earnings growth perspective, Pebblebrook offers greater potential. Its 70% EPS outlook dwarfs the 5-12% earnings growth outlook for Hospitality Property Trust (HPT) , Chesapeake Lodging Trust (CHSP) and Chatham Lodging Trust (CLDT) .
Further, price/sales numbers indicate that Pebblebrook Hotel Trust currently trades at a bargain. On a trailing twelve month basis, the company's shares trade at 2.48 times price-to-sales ratio compared to hotel/motel REITs like Chatham Lodging Trust at 2.64 times, 2.69 times for LaSalle Hotel (LHO) , 2.72 times for SunStone Hotel Investors (SHO) and nearly 3 times for Summit Hotel Properties (INN) .
With Pebblebrook management tempering investor expectations going forward, the company's stock is likely to appreciate ahead of its next earnings results.
---
As we've just explained, Pebblebrook Hotel Trust is an excellent income opportunity. For another great income opportunity, check out this state-of-the-art facility just four minutes from our office. This company has it all: explosive growth potential (with none of the risks that usually come with trendy tech stocks), steadily increasing dividend payments, and the buy-in of a group of Silicon Valley's top CEOs... Wouldn't you break your own rules for a piece of that action?Click here to tap into its $8.47/second income stream.
The author is an independent contributor who at the time of publication owned none of the stocks mentioned.