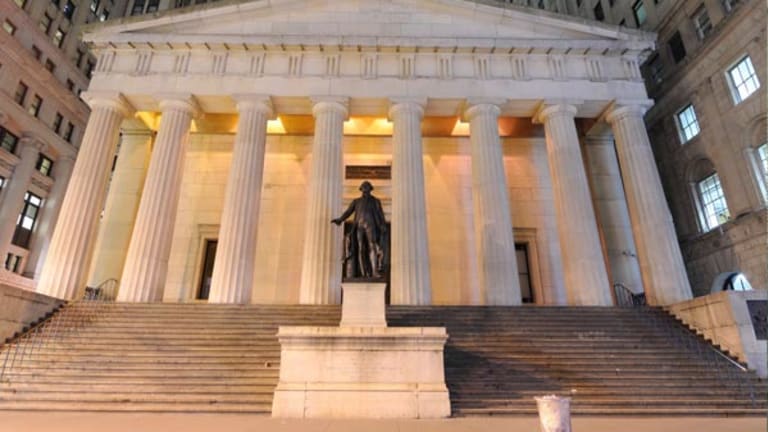 Property and casualty insurers saw slower growth in underwriting gains and paid less of that growth out in claims in the first quarter, suggesting the industry may be softening after a profitable four-year run.
According to a quarterly analysis by TheStreet.com Ratings, the industry reported a 2.7% increase in underwriting gains in the first quarter to $8.9 billion, from $8.7 billion in the first quarter of 2006. This year-over-year growth has slowed dramatically from double-digit growth in the previous five years.
The industry also reported a loss ratio -- the percentage of each premium dollar received that is paid out in claims and claims-related expenses -- of 64.7%, the lowest in more than 14 years. Its combined loss ratio -- claims plus claims-related expenses as a percentage of each premium -- came in at 91.1%.
With the property and casualty insurance market softening across all lines of business, it will be a challenge for insurers to sustain such attractive results in an increasingly competitive market. Insurers are forced to lower prices while taking on more risk, benefiting consumers through more stable -- or lower -- premium rates and better, easier-to-obtain coverage.
Insurers, conversely, will likely have to take on more risk by providing insurance they may have otherwise rejected or charged a higher premium. The insurers are apt to take on that risk in order to gain the premium and invest it for potential investment gains.
How It Works
Everything from dog-bite liability to medical malpractice to business interruption to homeowners coverage is included in the broad sector of property and casualty insurance. The common denominator in these and the more than 30 other lines of property and casualty business is the need to mitigate risk. Anyone from the individual homeowner to the multinational corporation who is at risk for loss turns to a property and casualty insurer to transfer that risk.
Historically, property and casualty companies run their core business -- underwriting -- at a loss. In other words, the amount they pay out in claims is higher than the premiums they bring in. Underwriting losses have typically been the name of the game for the industry for decades.
Companies earn profits through their investments in the securities markets. Say a corporation pays $1 million to buy insurance to protect itself in the event it is sued. The insurer takes that $1 million and invests it (mostly in bonds). The insurer may go several years -- or forever -- without paying a claim for that corporation. It keeps the $1 million premium it receives annually, plus the money earned from investing it.
The last four years, however, have been different. The industry's underwriting business has actually been profitable, with increasingly positive underwriting gains and continuously improving loss ratios. The lower the loss ratio, the more profitable the business is being written.
Investment gains increased $1.2 billion, or 9.2%, to $15.3 billion in the first quarter, up from $14 billion in the first quarter of 2006. Despite the three favorable factors -- rising underwriting gains, improved investment performance and better loss ratios -- total industry profits were down $325 million, or 1.9%, in the first quarter to $16.9 billion, from $17.3 billion during the first quarter of 2006.
This anomaly is due to a $2.5 billion loss taken by National Indemnity Co., a unit of
Berkshire Hathaway
( BRKA), related to a retroactive reinsurance agreement and asbestos liability claims. (Retroactive reinsurance is a widespread industry practice that will be covered in a future story.)
What Goes Up, Must Come Down
Looking at the first quarter, the most recent data available industry-wide, there are clear signs of a slowdown to these positive trends.
Allstate
(ALL) - Get Allstate Corporation Report
, the largest publicly held personal lines insurer in the U.S., reported the largest net underwriting gain for the industry with $938.8 million. This is down 10.9% from the first quarter last year, when it reported a net underwriting gain of $1.05 billion.
Allstate also reported a loss ratio of 49.8%, up from 45.6% in the first quarter of last year. Like many other insurers, Allstate announced its intention to reduce its exposure to hurricane risk in Florida by dropping over 100,000 policies and shifting the business over to Royal Palm Insurance. It also announced it would no longer offer home insurance in the state of California.
But signs exist suggesting the market has reached a top. Premium rates on business renewing in the second quarter were down an average of 11.8%, according to the Second Quarter Commercial Market Survey conducted by the Council of Insurance Agents & Brokers, with results analyzed by Lehman Brothers. This was across virtually all lines of business with few exceptions.
In an industry that is driven by large, well-capitalized organizations and a competitive market to achieve market share, it will be no surprise to see loss ratios rise in the near future. Despite that insurers have become more proficient in pricing risk, they seek to gain business based on profitable returns from investments.
The impact of globalization within the property casualty industry will bring a new dimension to the market cycle that remains to be uncovered.
Melanie Dufour joined TSC Ratings as a life and health insurance analyst in February 2007. She has an actuarial background with a BS degree in Actuarial Mathematics and Finance from Concordia University in Montreal, QC. Melanie has most recently worked as an actuarial analyst with Aequicap Insurance Company in Ft. Lauderdale, FL and prior to that as a senior analyst with Watson Wyatt Worldwide in Montreal, QC.