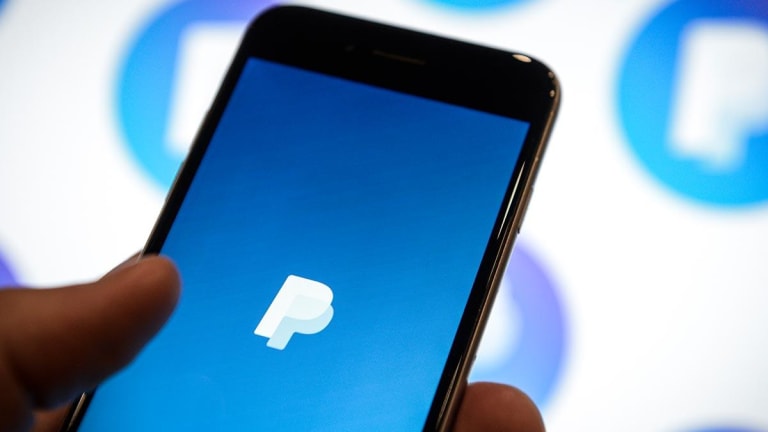 PayPal Slips as Analysts Voice Concerns About $4 Billion Honey Acquisition
PayPal is lower after some Wall Street analysts express their concerns about the company's acquisition of Honey Science.
PayPal (PYPL) - Get PayPal Holdings, Inc. Report fell 1.3% to $102.76 Thursday after some Wall Street analysts expressed concern about the digital payments company's announced acquisition of the shopping and rewards platform Honey Science.
PayPal agreed to acquire Honey Science for $4 billion, The acquisition is aimed
who use PayPal, and is also intended to boost adoption of Honey's shopping tools among consumers who use PayPal and Venmo, the company said. Venmo has more than 275 million active consumer accounts, while PayPal has 24 million merchant accounts. 
While some stock analysts have praised the acquisition, others expressed concern about the large price tag and wondered if the Los Angeles-based Honey is a good choice for PayPal.
John Davis, an analyst with Raymond James, acknowledged that the strategic rationale for the acquisition makes sense, since it touches both the consumer and merchant side of PayPal's platform and "the cross sell opportunities are significant." However, Davis added that it "certainly doesn't come cheap," noting that "any way you slice it, $4 billion is a lot to pay for a company making little to no money." Davis rated the shares outperform with a price target of $105.
SunTrust analyst Andrew Jeffrey described Honey as a "sort of 'shoot-the-moon' attempt to more deeply entrench PayPal in the consumer e-
commerce experience while also bolstering its merchant value proposition." Jeffrey rated shares hold, with a price target of $105.
"Unfortunately for investors," Jeffrey said, "the company is paying a large premium, in our opinion, for an unproven solution which does little to advance its ability to monetize beyond e-commerce."
Jason Kupferberg, an analyst with BofA Merrill Lynch, described the acquisition as "strategically compelling" since PayPal can leverage the high-growth asset to "generate meaningful revenue synergies over time."  He said the move "represents a new breed of acquisition," since PayPal is looking to go "deeper into the e-commerce ecosystem by moving up to the front-end of the shopping experience as opposed to being on the back-end at checkout." He kept his buy rating with target price of $127.
Analyst Lisa Ellis with MoffettNathanson said the $4 billion price is "consistent with comps for other small, high growth firms in payments and tech." She also said the deal is good strategic move for PayPal because Honey's tools will build up PayPal's merchant services while integrating Honey's services into PayPal and Venmo apps will boost consumer engagement. She rates PayPal a buy, with a target price of $135.