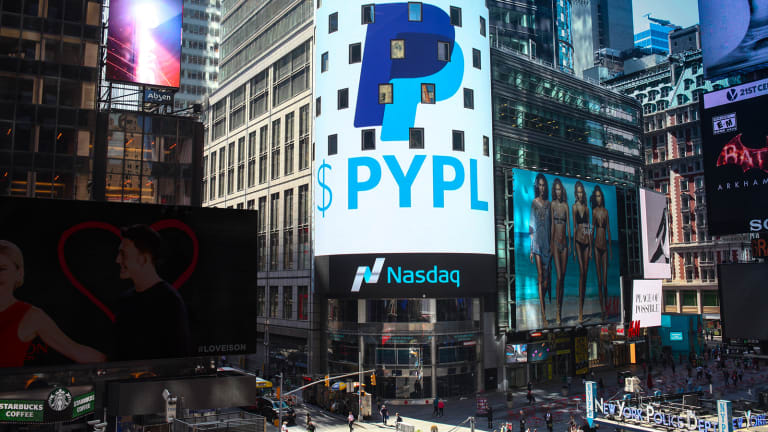 Publish date:
PayPal's Venmo Faces Google, Banks
As millennials continue to adopt alternative payment methods, PayPal's competition is mounting a response.
As millennials continue to adopt alternative payment methods, PayPal's competition is mounting a response.
Fast and safe digital payment networks are growing quickly, demonstrating the high demand for this booming market.
Investors of PayPal (PYPL) - Get Report , the payments company, better watch out for two major disruptions coming their way.
PayPal's peer-to-peer (P2P) market share is shaped by its mobile app and social network Venmo. The company is expected to face competition from Alphabet's (GOOG) - Get Report  Google and a clutch of banks. This is perhaps the first time PayPal is facing such a challenge to its business. The stakes are, undoubtedly, high.
Venmo is critical to PayPal. As much as $5.6 billion worth of payments was handled by Venmo in the fourth quarter, representing 126% year-over-year growth. For full year 2016, Venmo processed $17.6 billion, up 135% year-over-year.
Venmo was part of PayPal's 2014 Braintree purchase. Since then, Venmo has become the preferred P2P method for millennials, mainly due to its social features.
The new update to Google's Gmail is a big step on PayPal's turf. First, you can use the 'attach' button - just like you would to send along a photo, video, or document - to send money.
Second, recipients don't require a Gmail email address for the transfer to be successful. Third, they can have money transferred directly to their bank accounts once the amount has been received.
Last, sending money through Google Wallet is free for both the sender and the recipient.
When you send money using your Venmo balance, prepaid card, debit card, or bank account, PayPal waives any fee - so, it's free. A 3% fee applies only to credit cards.
As a PayPal investor, the emergence of Google on the scene should be taken seriously. Google may have plans to become a major player in the P2P market that is estimated to grow by 25%.
Other technology players like Apple (AAPL) - Get Report and Facebook (FB) - Get Report are also trying to enter the P2P payments space, albeit from the consumer side.
But big banks also haven't been sleeping at the wheel.
On the cue that payment apps like Venmo may lure away millennials, 19 financial services giants, including MasterCard (MA) - Get Report , Bank of America (BAC) - Get Report , Citigroup (C) - Get Report , JPMorgan Chase (JPM) - Get Report , and Wells Fargo (WFC) - Get Report , have teamed up to dominate the space.
Zelle is their instant P2P payment app. The banks plan to etch out differentiation for Zelle from Venmo is smart. While it may take many days for credits in a Venmo account to show up in a consumer's bank account post transfer, Zelle users could be able to see it in minutes.
As PayPal aims to monetize Venmo and hope for a big impact in 2018 and 2019, we think Google and Zelle present major competitive risks. Gmail has 1 billion users at last count, while the big bank grouping probably has many more. So, size is not a problem for them and neither is cash thanks to their deep pockets.
---
As we've just explained, PayPal is an excellent growth opportunity if it can address competitive challenges. If you're looking for other growth opportunities, we've found a genius trader who turned $50,000 into $5 million by using his proprietary trading method. For a limited time, he's guaranteeing you $67,548 per year in profitable trades if you follow his simple step-by-step process.Click here now for details.
The author is an independent contributor who at the time of publication owned none of the stocks mentioned.