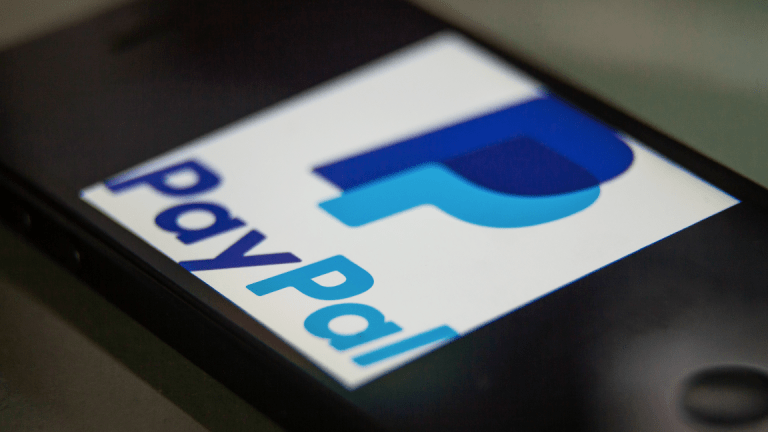 PayPal Wants to Consolidate the World of Rewards Points
PayPal's bi-annual investor day kicked off in San Francisco on Thursday. TheStreet is covering it live.
PayPal (PYPL) - Get Free Report is one of the hottest stocks in the market. 
Why? Because it's growing gangbusters. TheStreet reports live from the fintech giant's bi-annual investor day in San Francisco Thursday.
PayPal: By the Numbers Via CFO
PayPal Chief Financial Officer John Rainey says company will "sustain" and "accelerate" its financial performance.
Sees operating margin expansion this year.
By 2022, sees 85% of its business being mobile. 
iZettle will be profitable in 2020. But, sees a 6 cent hit in 2019.
Sees $15 billion in cash by year end 2018.
Expects $1 billion to $3 billion a year to be used in M&A.
17 to 18% CAGR revenue growth; operating margins up; EPS 20% CAGR
PayPal and Blockchain
A PayPal exec just revealed the company is testing certain applications with blockchain. Accepting crypto at some point?
During Break Time
Chatted briefly with Schulman on the sidelines during the break period. This rewards program consolidator initiative could be big for PayPal. Investors seemed pretty bullish on it as well.
The new rewards initiative will launch this year with CitiGroup (C) - Get Free Report , Discover and Chase and in 2019, Barclays.
PayPal Targets Unbanked 
PayPal really going after the gazilions of unbanked people around the world. See below several new solutions. 
Random, here is video of PayPal CEO Dan Schulman talking with TheStreet's founder Jim Cramer at our recent "Investor Boot Camp" conference. 
Money Pool Stats
PayPal notes that 250,000 money pools have been created since the service launched late last year. Big number. Money pools are akin to a group savings account.
More New Deals
The hits keep coming. Merchants will be able to get help on the processing front in the "coming quarters" says a PayPal exec. PayPal sounds as if it's looking to open its platform up even more to partners. Sounds like execs have found more value creation opportunities. 
Stock Price Update
As of 12:43 p.m. EST, PayPal shares have reversed course and are now up more than 1%. COO Bill Ready has revealed a few new deals while also doing a top job selling the story.
PayPal Testing a Venmo Card
Ready took the wraps off on Venmo debit card. Says more details coming on that front. 
PayPal Also Working More With Facebook
PayPal Chief Operating Officer Bill Ready went into a dive into how the company is working closer with Facebook (FB) - Get Free Report . Interesting stuff. See below. 
Google and PayPal Get Deeper
PayPal reveals new partnership with Alphabet (GOOGL) - Get Free Report . Anywhere you can do commerce on Google, PayPal will now be an option. Stock popped on the news.
Press release:
Over the past few years, we've been focused on partnering across the industry to drive greater choice and flexibility in how and where our customers can pay -- whether that's in mobile apps, online, in-store or across new contexts. As part of this effort, we've announced partnerships with leading payment networks, financial institutions and technology companies.
We already partner with Google to make it easy for our shared users to pay via PayPal in-store, online and in-app with Google Pay and on Chrome mobile web at millions of online merchants using their PayPal accounts and their device authentication. Today, we're extending that partnership to deliver more seamless payment experiences across the Google ecosystem. Soon, users in the U.S. who add PayPal to any one of Google's services will be able to pay across the Google ecosystem, anywhere that PayPal is offered as a payment method, with only minimal setup.
For example, when a user adds PayPal to their Google Play account, it will automatically enable their linked PayPal account and make it available as a payment option across popular Google services like Gmail, YouTube, Google Pay and Google Store, including where Google offers peer-to-peer payments, without the user needing to log in again.
PayPal and Google Pay share common goals of creating simple payment solutions across our platforms that enable people to shop more seamlessly. We look forward to continued collaboration that helps increase conversion for merchants and gives users the flexibility, security and speed that digital payments can offer.
Stock Price Update
PayPal shares down slightly as of 12:03 p.m. EST. Market likely waiting for guidance figures to be released later on in the session. All in all, executives doing a nice job selling the story -- one that is rooted in few pure play competitors and robust market growth.
LOLz
"This is not a side hobby for us," Schulman says about PayPal's business model and competitive set. Where you at Amazon? 
Big Opportunity Coming? 
Schulman says later this year it will work with financial institutions on rewards points programs. "We want to be a consolidator of rewards points," Schulman says."
PayPal CEO Talks Amazon
Schulman makes a good point: retailers are coming to PayPal to learn how they can compete effectively vs. Amazon. "We are becoming a solutions company instead of just a buttons company," Schulman says.
PayPal CEO Talks Market Size
With a coffee in hand, PayPal CEO Dan Schulman touts the size of PayPal's market potential. The number: $110 trillion. The market is clearly big enough for many players, so relax if you think Amazon (AMZN) - Get Free Report will dominate mobile payments by 2025.
PayPal is a holding in Jim Cramer's Action Alerts PLUS.