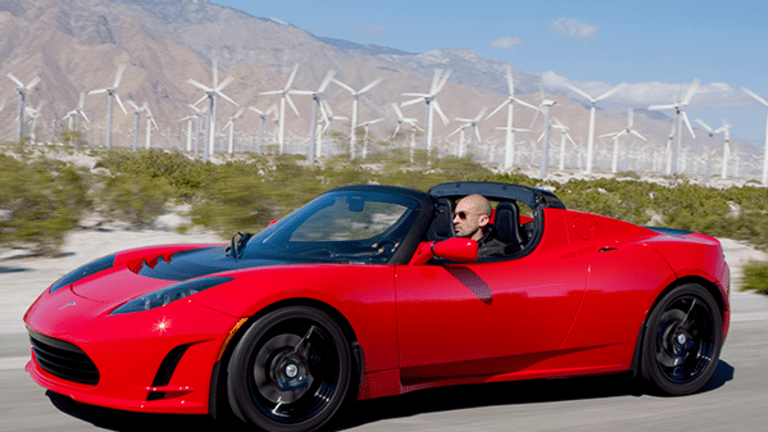 Tesla's Stock Is Roadkill
Tesla has doubled in just seven months.
Fans of Tesla Inc. (TSLA) - Get Report are sitting on the edge of their chairs waiting for a weekend announcement anticipated for this Sunday from Elon Musk. I am happy with my plug-in hybrid C-Max from Ford Motor (F) - Get Report and will be focusing on other things this holiday weekend.
Let's visit with the latest charts and indicators to see if this expected Musk announcement is already discounted in the price action.
In this weekly Japanese candlestick chart of Tesla, below, we can see that the price action last week and this week is a possible bearish engulfing pattern. I used the word "possible" because we don't yet know where Tesla is closing today. Assuming this is a bearish engulfing pattern we would still want to see some confirmation with price weakness this coming week. Notice the heavy volume seen in the first two weeks of the month? The burst of volume is not an issue for sellers but it can be an issue for new longs who could quickly be "underwater" on further price weakness.
In this daily chart of Tesla, below, we changed some of the indicators we typically rely upon. Overlaid on the price chart is the 20-day and the 50-day moving averages. Prices are testing the rising 20-day average. The daily On-Balance-Volume (OBV) line turned higher in December, confirming the price advance with more aggressive buying, but the OBV line has turned more neutral this month.
In the lower panel is the trend-following Moving Average Convergence Divergence (MACD) oscillator, which turned down to a take profits sell signal.
Bottom line: While Tesla fans remain devoted Tesla fans I take a more subdued view of a stock that has doubled in just seven months.
Tesla's shares were up 0.3% to $361.75 by Friday's close.
(This article originally appeared on Real Money, our premium site for active traders. Click here to get great columns like this from Bruce Kamich, Jim Cramer and other writers even earlier in the trading day.)