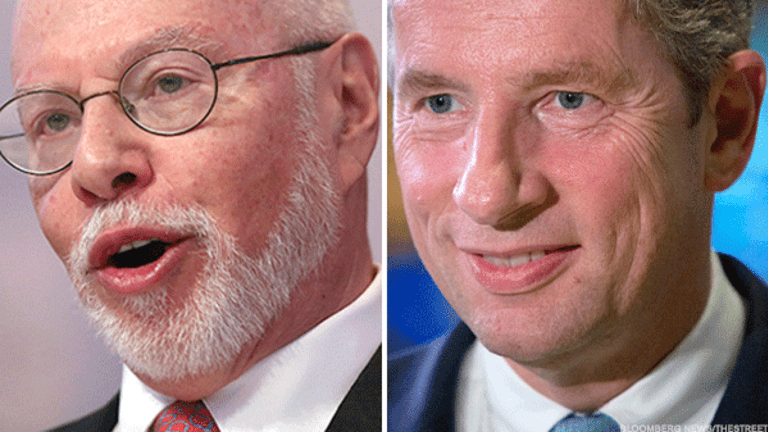 Paul Singer Pulls Out All the Stops in Battle for Arconic
The activist's unusual and expensive effort puts a four minute video explaining he activist's position in the hands of retail investors.
Elliott Management's billionaire manager Paul Singer is sparing no expense when it comes to his director-election battle at embattled Arconic (ARNC) - Get Arconic Corp. Report .
The activist investor - in an unprecedented move - even mailed thousands of mini-player devices to retail investors each with one short four-minute video explaining the activist's position at a targeted company.
The video distribution, rarely seen in contests, comes as Singer's fund seeks to install four dissident director candidates onto Arconic's board at the company's recently rescheduled annual meeting, set for May 25. Arconic earlier this month nominated two new management-backed directors with aerospace expertise to its board in a move that is intended to bolster its support among investors. That effort comes after the company's embattled former chief executive Klaus Kleinfeld resigned last month after he sent an unauthorized letter to Singer's fund that the company's board said demonstrated poor judgment.
Arconic has a substantial retail base, which represents about 30% of outstanding shares and both the company and Elliott are furiously soliciting them for support. Retail investors generally are more pro-management than institutional investors when it comes to director election battles. The category of investors usually includes employees and ex-employees of the company. In this case, many employees and ex-employees of Alcoa, which split off from Arconic in a transaction completed in November, may also own shares.
Distributing actual video players, one of which was obtained by TheStreet, to thousands of retail investors clearly indicates that Elliott has spent a significant amount of capital to shore up support among retail shareholders in advance of the director battle.
The video itself dissects an interview conducted in January between Jim Cramer, the Street's founder, and Kleinfeld, on CNBC TV, interspersing the former CEO's comments with their own opposition statistics. The videos first went out in early April in advance of Kleinfeld's departure. However, Elliott continued to distribute them even after his ouster, along with an updated cover letter with a more intense focus on concerns around the company's board.
(Jim Cramer, is the founder of TheStreet. He also writes daily market commentary for TheStreet's RealMoney premium service and participates in video segments on TheStreet TV and serves as host of CNBC's "Mad Money" television program.)
Sending videos to retail investors is a particularly aggressive tactic, and one that is likely extremely expensive, both due to the cost of the devices as well as the expense of distributing them. However, one proxy solicitor familiar with the situation said the tactic may be effective because retail investors have a short attention span and often don't want to read lengthy letters issued by both sides in the battle. A video like this seeks to stimulate retail support, he said.
Retail investors often are the difference between victory and loss in heated proxy fights. Opposition from some retail investors and a small number of large institutions helped DuPont (DD) - Get DuPont de Nemours, Inc. Report  defeat Trian Partners' Nelson Peltz in a 2015 director election battle.
Just to be clear, activists use videos on occasion to send a message that their candidates are better. However, they typically appear on websites that the insurgents set up for their campaigns and aren't distributed through the mail to retail investor homes.
Also, unlike institutional investors, retail shareholders aren't heavily influenced by director recommendations made by the two main proxy advisory firms. On Thursday, Glass Lewis recommended that shareholders back all four of Elliott's dissident director nominations, arguing that investors should hold the incumbent board accountable for value destruction, governance deficiencies, and unwillingness to embrace value creative change." The other main proxy adviser, Institutional Shareholder Services, is expected to distribute its Arconic recommendations shortly.
Editor's pick: This story was originally published on May 11 at 10:50 am ET.