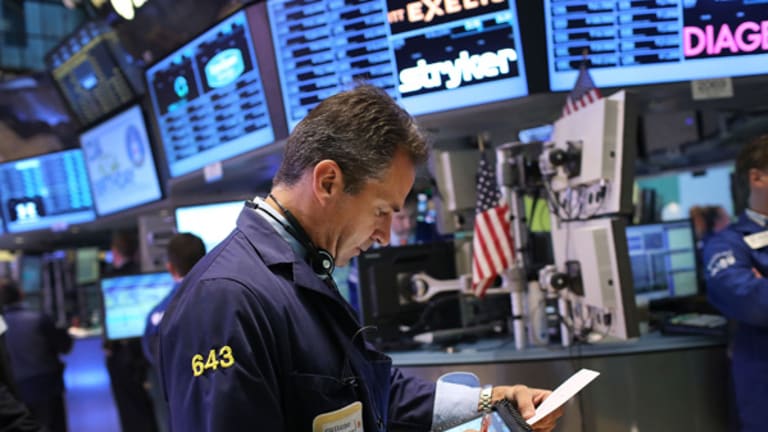 Parting Ways With an Old Pal
<I>Real Money's</I> Jim Cramer says sometimes you have to part ways with a terrific stock like KMB if it will move lower and a better entry point awaits.
What's cheap vs. what's expensive? Goldman Sachs today downgraded
Kimberly-Clark
(KMB) - Get Free Report
, a company that I have liked since 1985, when I first started "using" it, as they say in the biz, with my clients at
Goldman Sachs
. I found it painful but, alas, probably right.
Kimberly and
Heinz
(HNZ)
were always two of my favorites when I started out in this business because I came of age during a period where the Japanese were ascendant and were stealing so many of our markets that we feared them everywhere we looked, except the kitchen table and the bathroom.
We couldn't envision a scenario where Heinz would be displaced by Mitsubishi ketchup and Kleenex would be trumped by Sumitomo tissues, the two all-powerful conglomerates that strode the world with majesty and power.
This article originally appeared on March 18, 2013, on RealMoney. To read more content like this + see inside Jim Cramer's $3 Million portfolio for FREE Click Here NOW.
Heinz and Kimberly were safe havens, islands that could withstand the onslaught.
Heinz stayed dominant right until the end, the end being Warren Buffet's takeover bid for the company. He has always loved iconic brands and few brands are as iconic as Heinz.
One of them is Kleenex, which, of course, is a name that people call all tissues including the ones I now buy from Costco as the Kirkland brand seemed every bit as good as the Kimberly-Clark version and much cheaper. Kleenex is generic. It's
Xerox
(XRX) - Get Free Report
when people used to Xerox.
But I have liked Kimberly-Clarke for more than just its superior product. I have liked it because management has always been incredibly pro-shareholder and has obeyed the social contract that I like so much, a combination of an aggressive buyback and ever-increasing dividends, even when naysayers, of which Goldman Sachs had a total cadre, say that the company can't afford to enforce the contract. I regard the shrinkage in stock, to 393 million shares from 445 million, to be a sign of a meaningful buyback, not a phony one that does little except make up for options granted to management. And the 81-cent quarterly dividend is nothing to sneeze at either.
But in the end, as great as Kimberly-Clark is, the company grows at about 7% but is selling for 17x earnings. I don't like recommending stocks that have a P/E ratio more than twice the growth rate. And while the dividend is outsized, the stock's moved up so much that the yield is only 3.5%, a nice amount but not what I would call a floor by any means, except relative to some of its cohort like
Conagra
(CAG) - Get Free Report
,
Procter
(PG) - Get Free Report
or
Kellogg
(K) - Get Free Report
.
That's why I share Goldman's sentiment that it is time to part ways with a terrific stock like Kimberly with the idea that it will move lower and a better entry point awaits. I dwell in Kimberly because I can't recall another time when it was this expensive vs. earnings and I just can't countenance buying the darned thing.
I have done a lot of work over the last few months analyzing what my charitable trust has done right and what's been done wrong over the last decade and one of the most important mistakes has been to pay too much for companies with slow or perhaps slowing growth, as Goldman Sachs says is possible with a more rejuvenated Procter & Gamble going after it.
So, even Kleenex, at a certain price, is too expensive. As I dab my eyes, I say so long for now to this long-standing recommendation and please don't get a takeover bid without me.
At the time of publication, Action Alerts PLUS, which Cramer co-manages as a charitable trust, has no positions in the stocks mentioned.