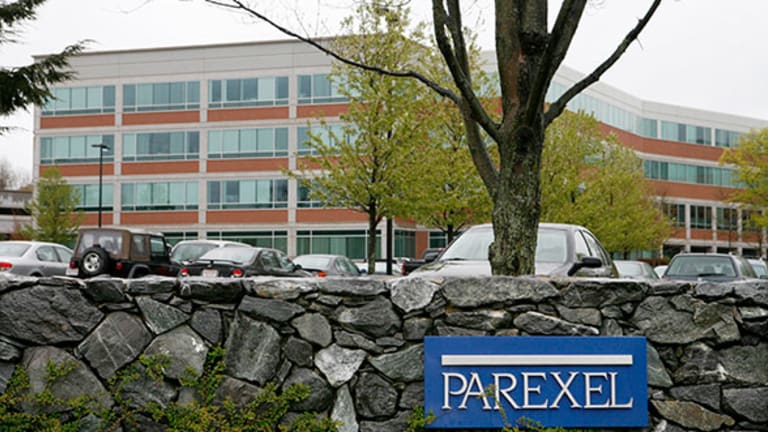 Publish date:
Parexel Is Discovering the Drugs of the Future
The midcap drug maker is finding growth as an outsourcing destination.
The midcap drug maker is finding growth as an outsourcing destination.
Drug discovery is a costly business without any assured outcomes. This has led large companies to outsource a lot of the work to smaller entities. Parexel International (PRXL) , a $3.1 billion enterprise, is one such entity.
Parexel has benefited from outsourcing by biopharma companies and other strategic partnerships. The company doubled annual revenues over the past decade and grew profits by more than fourfold.
However, shortsighted investors were spooked by the company's guidance cut recently.
But investors shouldn't be concerned. The long-term 12%-plus expected earnings growth rate is bound to create wealth for investors.
Contract research organizations (CROs) make assured income without risking their finances too much. Parexel is among the better names in the listed CRO space. Its peers include INC Research (INCR) , PRA Health Sciences (PRAH) - Get Report , Charles River Laboratories (CRL) - Get Report and Icon plc (ICLR) - Get Report .
Quintiles (Q) , which has a market cap of nearly $19 billion, is the biggest player in the space. However, Parexel is no pushover. The stock scores high when it comes to growth and execution.
Competitors like INC Research may have grown revenues more quickly but profitability eluded it in its early years.
PRA Health has also grown revenues quickly, but the costs of those sales have been high. As a result, the company's annual sales of $1.8 billion yielded less than $70 million in profits.
Much has been said of Parexel's guidance cut. The company's management said it expects revenues of $2.08 billion to $2.12 billion. The earlier estimate was $2.15 billion to $2.19 billion. Clearly, there were no major cuts in guidance as far as revenues were concerned.
The guidance cut for earnings per share (EPS), however, were uncomfortably sharp. Still, Parexel has one of the best earnings growth outlooks.
While Quintiles grew EPS by more than 13% over the next five years, Parexel is expected to deliver growth of 12.85% annually over the same period. The company's nearly $6 billion order backlog shows that there is little reason to worry.
Parexel is also ranked highly in terms of overall quality of direct working relationships with clients.
Parexel remains steadfast in its vision to deliver better and cost-effective solutions to big pharma companies. It has also unveiled many innovative solutions with the latest one being the patient sensor for securely capturing, transmitting, storing, and visualizing subject data in clinical trials.
Parexel's finances are in order and earnings growth is poised to rise in the double-digits. Trading at a price-to-earnings (P/E) ratio of 16.2 times, Parexel shares are relatively cheap compared to Icon (17.2 times), INC Research (21.6 times), PRA Health (60.96 times), and Charles River (27.1 times).
While the peers trade cheaper on a forward P/E basis, forward valuations are unreliable for companies in this space because of the uncertain nature of clinical trials. After the nearly 10% price correction of Parexel's shares over the past three months, we think long-term investors now have a great window to buy the stock cheap.
---
As we've just explained, Parexel International is an excellent growth opportunity. If you're looking for other growth opportunities, we've found a trader who turned $50,000 into $5 million by using his proprietary trading method.Click here now for details.
The author is an independent contributor who at the time of publication owned none of the stocks mentioned.