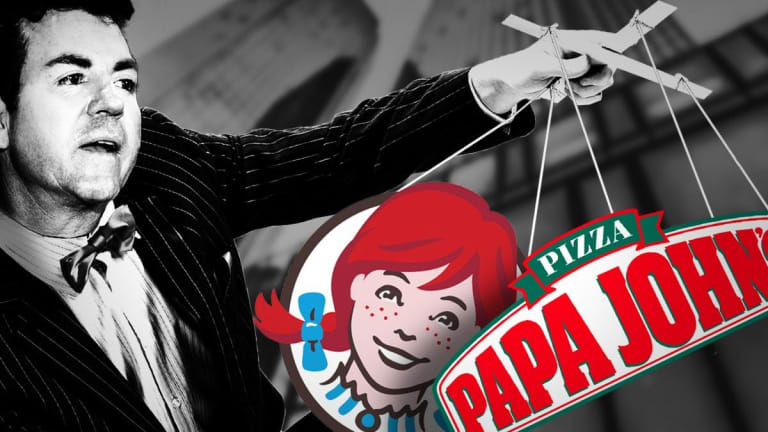 Papa John's John Schnatter Has Been on a Wild Ride Over 10 Days
Schnatter's tale has included charges of racism, extortion, an unlikely merger and a list of institutions and sports teams breaking ties with him or the company he founded.
John Schnatter believes in opening his mouth. It's can be both a blessing and a curse. These days, it's more of a curse. 
Schnatter is the outspoken and controversial founder of Papa John's International, Inc. (PZZA) , its former CEO and board chair.
Since July 11, Schnatter has been at the center of an ever-evolving and multi-faceted scandal that has included charges of racism, an accusation of extortion, Schnatter's resignation as board chair, loss of company endorsements, Schnatter's name being removed from buildings at institutions he donated to, speculation of a possible merger with Wendys Co.  (WEN) and claims of inappropriate action by the board regarding Schnatter.
Schnatter owns about a third of the company he founded in 1984.
What started it all was a Forbes article published on July 11 that reported Schnatter used the N-word in a media diversity training session in May. Shatter has admitted to using the word, but contends that it was to make a point, not as a racial epithet.
Here's the time line:
Wednesday, July 11.
Forbes publishes the article about Schnatter's media training session with public relations firm Laundry Service. As a result of the public reaction, Schnatter resigns as board chair at the urging of the board, although he remains a director. In the founder's hometown of Jeffersonville, Ind., across the Ohio River from Louisville, Ky., and corporate headquarters of Papa John's, Schnatter's name, written as John H. Schnatter, is removed from the Nachand Fieldhouse, a naming right he was granted in exchange for a $800,000 donation to the town to renovate the facility. Schnatter resigns from the University of Louisville's board.
Stock price: $48.33
Thursday, July 12.
Jeffersonville Mayor Mike Moore, a childhood acquaintance of Schnatter, mails him a check for $400,000, the amount contributed to date for the fieldhouse renovation.
Stock price: $53.67
Friday, July 13.
The board decides that neither Schnatter, the company's pitchman, nor his image will be used on advertising or marketing materials associated with the brand. The name of the University of Louisville's Papa John's Cardinal Stadium is changed to Cardinal Stadium. Schnatter appears on WLKY TV in Louisville, wearing a black shirt with the Papa John's logo, to give his version of events, including his claim that the PR firm attempted to extort money from the company in exchange for its silence about the May meeting. The University of Kentucky announces it will remove Schnatter's name from the John Schnatter Institute for the Study of Free Enterprise in the Gatton College of Business and sever its financial ties with him. Morehouse College, a historically black college in Atlanta, decides to remove the Papa John's restaurant from its campus.
Stock price: $53.55
Saturday, July 14.
Schnatter sends a letter to the Papa John's board in which he writes that he regrets resigning from the chairmanship, lays out his interpretation of his association with the PR firm, including its insistence that Papa John's hire singer Kanye West as a co-spokesman for the pizza company, and details the alleged extortion attempt. Schnatter writes that a lawyer for the PR firm demanded $6 million for its silence. "One of their attorneys said they would conduct a smear campaign against the company and me unless we paid them what they were asking for," wrote Schnatter in his letter to the board. "Unfortunately, the company gave in to this extortion attempt and offered them $2.5 million or roughly $1.2 million more than they were owed." 
Sunday, July 15.
Los Angeles attorney, Patricia Glaser (of GlaserWeil), who represents Schnatter, asks the board to launch an investigation into the events leading to the founder's resignation as chair and defends her client's refusal to hire West, because, she writes, Schnatter objected to West's use of the N-word in his lyrics. The board's special committee decides to end the founder's agreement with Schnatter, reiterates that he is no longer a spokesman for the company and revokes the sublease for his office at company headquarters.
Monday, July 15.
Stock price: $51.41
Tuesday, July 16.
News accounts report that Schnatter met with Wendys Co. (WEN) executives over the weekend to discuss a possible merger. Utah Jazz is the latest professional sports team to cut ties with Papa John's. The number now tops 20. Schnatter hires the crisis manager firm Sitrick and Co.
Stock price: $51.54
Wednesday, July 17.
Papa John's board hires the international law firm of Akin Gump Strauss Hauer & Feld LLP to oversee a company audit and investigation.
Stock price: $53.60
Friday. July 20.
All quiet so far.
Stock price: $51.58.