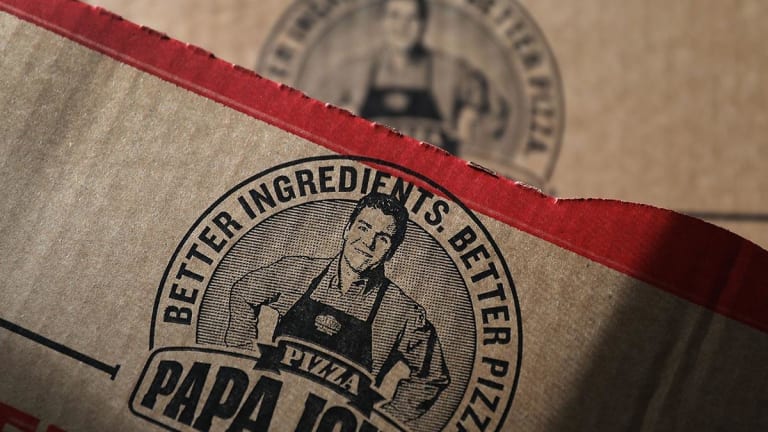 What a difference a year has made for Papa John's International Inc. (PZZA) - Get Papa John's International, Inc. Report . 
The embattled pizza restaurant has seen its stock tank 45% over the past 12 months following the decision of former CEO and spokesperson John Schnatter to wade into the controversy surrounding the protest of some NFL players during the national anthem on an earnings call. 
Those comments placed the company, which had a long-standing relationship with the pro football league, squarely in the middle of a cultural debate that has been raging for more than two years. 
That decision is a prime example of the dangers of having a living human being with thoughts and opinions as your spokesperson -- as opposed to a mascot or fictional character -- according to Jonathan Maze of foodservice industry trade paper Restaurant Business. 
"When you become a controversial figure it is nearly impossible to also be a spokesperson for a brand," Maze told TheStreet. "In 2018,  there are so many restaurant choices. Consumers don't have to patronize your business."
Schnatter stepped down as CEO of the company he founded after admitting to using a racial slur during a conference call with a PR firm that was attempting to train him on how to be a better spokesperson. 
Sales at Papa John's fell 16% during the second week of July, when John Schnatter's prosecution in the court of public opinion was at its height, according to data from Technomic's Transaction Insights. 
That decline in sales was on top of the company's struggles in the wake of Schnatter's initial comments in 2017. 
In the first quarter, Papa John's reported a 5.3% decline in same-store sales for the second consecutive quarter after several years of consistent growth for the company. 
"Papa John's has some fundamental strengths. If it can get past this controversy they have a lot of things going for it. People still love pizza," Maze said. 
The fact that Schnatter is not going quietly surely isn't helping the company's stock price. But as the company gears up for its second-quarter earnings release next week, it's not all bad news for Papa John's. 
"It's still a good company, but using a spokesperson is a risky proposition in general. It's smart to tread lightly," Maze said.