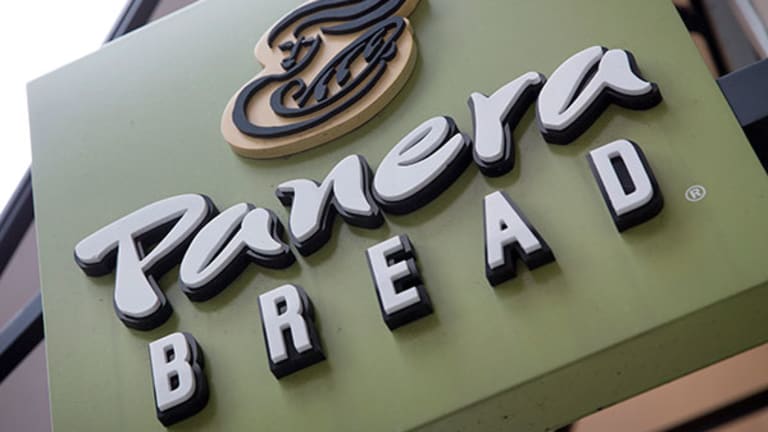 Updated to correct month when Panera released its list of ingredients it's planning to eliminate from its menu.
NEW YORK (TheStreet) -- Panera Bread (PNRA) founder and CEO Ron Shaich, who many industry observers regard as the founding father of fast casual dining, has been at the forefront of moving towards healthier, natural food -- a goal he's still pursuing.
"In the last year, two years we have all grown to learn that simpler, less processed food is better for you," Shaich said.
In May, Panera Bread lifted the veil on what it calls its "No No List," pictured below. The list issues a self-imposed ban on more than 150 ingredients, including artificial colors, flavors, sweeteners and preservatives, that the company plans to eliminate from its menu by 2016.
About 85% of the ingredients on Panera's bakery-cafe food menu are in test or have rolled out nationally without these artificial additives. Beginning in September, all of the company's flatbreads will feature 15 grams of whole grain in each serving.
It wasn't too long before many other food retailers had followed suit with similar pledges, with Subway and Yum Brands' (YUM) - Get Yum! Brands, Inc. (YUM) Report Taco Bell and Pizza Hut all announcing they would be removing artificial colors and flavors from their food.
Wall Street has historically rewarded Shaich's forward thinking on the menu and on dining more broadly, with Panera Bread shares rising 212% over the past ten years, compared with the 68% gain by the Dow Jones Industrial Average and the 69% increase for the S&P 500. Shaich ran the company from 1993 to 2010, and then returned to run the company again in 2013.
But investors have not been too kind to Panera Bread lately, with many wondering when some of the investments being made by Shaich in "clean" ingredients and new ordering technology will show up in sales and profits. Not helping matters has been the rise in competing fast casual chains such as Chipotle (CMG) - Get Chipotle Mexican Grill, Inc. Report, whose popularity has cut into Panera's share during lunch and dinner.
In the past two years, Panera shares have actually fallen by 2.9%. First quarter same-restaurant sales rose 1.5%, while earnings per share excluding one-time items fell 9% year over year. To its credit, Panera has notched four straight quarters of growth in the number of transactions, suggesting people are starting to take notice of new menu items and ordering capabilities.
Nonetheless, Shaich very much remains a man on a mission. TheStreet caught up with him at an event Panera hosted on Tuesday to showcase the changes the chain plans to make to enhance ingredient quality and jazz up the menu.
TheStreet: How has Panera Bread's approach to food evolved over the years?
Shaich: For us, this has been a journey we have been on for several decades, it began with our commitment to real food, artisan bread, and the quality of the soups and salads. We were the first restaurant concept in the space to do chicken without antibiotics, and at that time it was a big risk. Now everybody is doing it. Almost seven years ago, we were among the first to remove all non-recurring trans-fat from the menu. This morning, the U.S. government announced they are demanding all food companies remove those trans fats. If you are embarrassed by what your food is, maybe you shouldn't be trying to hide it. 
TheStreet: What else is there to remove in terms of ingredients that you didn't announce in February?
Shaich: I don't think it's about what else is there to remove, it's more where we go. You will see us bring greater focus to the nutritional mix of the foods. You will see us try to take a leadership role, as seen in the new food guidelines, as it pertains to bread and the good bread movement. That means the use of whole grains, ancient grains. You'll also see us develop curated menus that allow people to choose [based on their diet preferences]. Technology enables some of this.
TheStreet: How are you incorporating technology into Panera?
Shaich: It's about guest experience. I order the same salad 10 times a week, isn't it easier to just come in and use my Panera card, hit a button, and get my food?  Panera 2.0, which includes touchscreen ordering, is in 20% of our stores.
There are a number of other people playing with delivery. The way it works now is they use an outside company, you call into that company's website. They then call a driver who goes to your restaurant, waits in the same line you would be waiting in. The person gets to the front of the line, pays for the food, and then goes to your home or office and charges $7 to $15. That's not very integrated. 
But, because Panera has built out all of its own technology, you can now go onto our mobile app or website and where we do delivery, you get all of your loyalty programming, all of your past orders. You hit three buttons, it goes into the cloud, and it arrives in our restaurants, literally. The order shows up in our production systems just like any other order. We have contracted either internal or external delivery people, and their job is to work to get the food to you in roughly 30 minutes with a very modest price point.
We're playing with it in certain markets.
TheStreet: How are your changes to ingredient quality, and some being seen at competitors, impacting how you do business?
Shaich: We've been at this for quite some time. This isn't so easy to do, remove ingredients. I wish a lot of people luck, because it's not like you can just change an ingredient. You often have to go back to the suppliers, and the sub-suppliers and their suppliers. Once you change an ingredient, it changes your processing specifications and it also changes your shelf life. You have to do all three things simultaneously. It requires some work.
We welcome anyone to do this, and are willing to help any competitor. It's not about competition. We think it's another way to make a difference in the lives of our guests.
TheStreet: The restaurant IPO market is hot.  What do you think about it?
Shaich: I have run this company for 30 years, we have been a public company since 1991. I sort of think that I am a Cal Ripken, I have done nearly 100 quarterly earnings calls. I've seen the IPO market go up, and have seen the market go down.
The reality is that over time, the guys that win are the guys that [can] make a difference in the lives of guests. When they do, you have high sales relative to investment. When you have high sales relative to investment you get growth. There is no other way you can generate growth.
In the short-term, there are many things that are hot. The reality is who builds something of value over the long-term. You know, the market is frothy -- [unique restaurant concepts are] the hot thing right now.
TheStreet: What are you seeing in the future for your industry?
Shaich: I think you have two things that Panera is playing off.
First, the millennial generation is increasingly aware of what's in their food, they have grown up watching the Food Network. I think we are increasingly moving into a world where the quality of your food, where it comes from, who is making it, who they are, what are their values, matters. This will continue to put pressure on big brands -- size and scale don't actually create that knowledge, they may be antithetical to that.
Second, you will see technology playing a greater role. You are going to sit in your living room, and if you want a want a bacon turkey sandwich at Panera that order will go up into the cloud and the order will land somewhere at our restaurant. The question is are we going to own our own customers, or are we going to pay an intermediary for our own customers. I think we are going to end up in an omnichannel world, where you will consume Panera in a café, you will want it at home, you will want it on the go. You will want it when you want it.
TheStreet: Do you sometimes get frustrated by Wall Street?
Shaich: I wouldn't say I get frustrated by Wall Street. The people of Wall Street are friends, good people. I do feel across all of our society, for lots of different reasons, we have become extraordinarily short-term focused.
Our money managers, they are running money for us for us as citizens. When we put pressure on them for short-term returns, when there is so much focus on performance, what do they do? They go out and seek performance from corporate executives. So they get more and more short-term focused. And you have this environment where performance is everything.
I will give you an example. I was listening to a speech by Clay Christensen called "The Innovators Dilemma." He said in America we talk about being an innovation society, but in the "New Church of Finance," as he called it, all the focus is on short-term return on investment. What drives short-term return on investment? Efficiency measures, cost-cutting. But what drives growth? Innovation. Innovation by its nature is not certain. Innovation by its nature takes time.
It's very tough. We tried to transform Panera in the past. I left, then came back to do it. Anything of value plays out over years. If you say to me prove it in advance, I say I need years to prove it. Panera has a long track record. You go back to 1995, you could have bought boatloads of this stock for $3 a share when I was trying to sell this notion of what they call fast casual dining.
Nobody believed in fast casual, just fine dining and fast food. Now look at things.
This article is commentary by an independent contributor. At the time of publication, the author held no positions in the stocks mentioned.