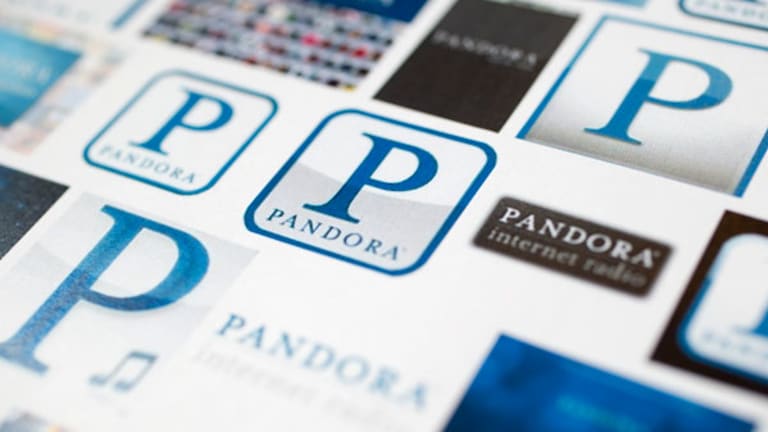 Pandora's Tim Westergren Thinks He's On a Mission From God
The Internet radio leader fails to lead, thanks largely to a co-founder set in his well-intentioned, but stubborn and righteous ways.
NEW YORK (TheStreet) -- There's trouble percolating at Pandora (P) . And I think I know why.
Simply put, the company's co-founder and former Chief Strategy Officer (not CEO) Tim Westergren thinks he's on a mission from God. I mean that colloquially, but seriously.
Over at my Facebook page, TheStreet's Jason Notte made a comment worthy of a screen shot because it's the perfect lead-in to my informed rationale:
Here's the deal -- there's not much more Pandora can do because Westergren, for all intents and purposes, runs the company and he's absolutely married to the idea of doing pretty much nothing but radio. Albeit it's radio redefined with singular-focused personalization and discovery broadcast radio can't quite replicate. But ultimately Pandora's business -- in practice -- consists of the same components as traditional radio. They play music subsidized by advertising. They run promotions and hold Pandora Presents concerts.
While I'm on record as being on board with all of these things -- Pandora does them well and different enough to make them impressive and effective -- it's not enough. Pandora absolutely must start acting like a tech company or be left behind. Because, as Notte astutely pointed out, Pandora's becoming nothing more than a souped-up clone of terrestrial radio.
Why is this?
Pretty simple. Pandora finds itself under the same and similar pressures as traditional radio. But it chases its tail in its own unique way as the amount of money it funnels to Sound Exchange continues to grow along with the cost of building out an advertising sales infrastructure and such.
It doesn't have to be this way, but it is. Despite what seems to be consensus in the tech, music and financial media, Pandora's business model doesn't render it dead after arrival. There's nothing wrong with the present business model if -- and this is key -- it doesn't remain as is. Fixed and static. But it is. And that's largely because of Westergren.
Tim has never been shy to point out that he's completely confident that someday we'll look back on the battle Pandora's embroiled in over royalties and, in unison, everybody we'll say They were right. Westergren believes Pandora's mission is so righteous that, as things shake out (in court, in Congress, etc.), Pandora will secure sweet deals on royalties and, so the fairy tale goes, do a bigger and better job of connecting music fans with the artists they love. And this exposure will translate into revenue for musicians outside of royalties. Not only for already-established names but for the "musicians' working class" Pandora will create. The same one Westergren has been talking about for roughly a decade. Just as he's been talking about an artist dashboard Pandora refuses to move on. 
It's not that I don't agree with much of the above, particularly the exposure, revenue outside of royalties and the efficacy of the artist dashboard parts. It's just that I'm not stubborn bordering on arrogant about it. If I was in charge at Pandora I wouldn't stake my company's future and current/future investor returns on thermonuclear war with the record labels, publishers and other cogs of the music industrial complex. While some of these folks already and will continue to cooperate with Pandora, others will fight it to the death. Westergren is beyond determined to fight that fight. Within Pandora, it's simply not cool -- or, from what I understand, acceptable -- to counter Westergren's crusade.
This explains the curious hiring of Brian McAndrews as CEO. Westergren doesn't have to worry much about being challenged by a guy who was hired to be an advertising wonk. It's not like Westergren anointed a music industry visionary as CEO. He'll put these people in place, to some extent, throughout the organization, but they'll never make meaningful impacts to help evolve Pandora's culture in the necessary direction.
Westergren's stubborn focus on being radio and nothing but radio and his selection of McAndrews as CEO has, as discussed, turned Pandora into a glorified broadcast radio station. A damn good one, but damn good broadcast radio stations tend not to double as high-flying tech stocks that -- as luck would have it -- make guys like Westergren filthy stinking rich.
If his ass was on the line financially (translation: If Pandora's IPO didn't turn him and many of his associates into millionaires many times over), I reckon Westergren would take a different approach to the business. He wouldn't treat it as a Mexican standoff where Pandora, by the grace of God, emerges as the winner. He would, like any good tech company founder, say Well, OK, we have this thing going on over here, but at the same time we should be doing some other things over here to both diversify our business AND help make us some friends with that other thing, not to mention help the singers and songwriters we claim to be in this for. 
We've been over the ways Pandora could and should diversify its business a million times -- just see my article history and search for "Pandora."
In closing, it's emotionally painful for me to be so tough on Pandora, particularly Westergren. And that's not hyperbole. But I've got a job to do. There's not much I'm good at in this life, but I do have a knack for -- from time to time -- being able to vision how a situation in tech and/or media will play out. While I reserve the right to be wrong, I truly believe my body of work on Pandora both speaks for itself in terms of having a good feel for the company and space as well as taking the admittedly harsh stance I am taking now.
In that respect, I'm not all that different from the Tim Westergren I describe. But I try to think outside of myself. I constantly check myself. I believe and hope Westergren is doing the same thing right now with respect to the company he founded and wants to not only see succeed but lead the music industry into its most prosperous period ever.
--Written by Rocco Pendola in Santa Monica, Calif.
Rocco Pendola writes for
TheStreet
. He lives in Santa Monica. Disclosure: TheStreet's editorial policy prohibits staff editors, reporters and analysts from holding positions in any individual stocks.