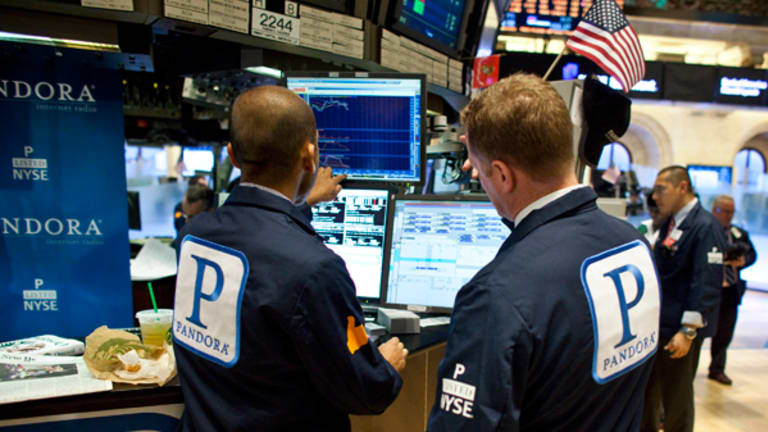 Pandora Needs to Fire Its CEO or Hire Someone to Help Him
A static, modest growth business model will do Pandora little good on Wall Street and, eventually, with listeners. It needs to innovate in more ways than one.
NEW YORK (TheStreet) -- I'm not sure I've seen the Wall Street crowd/peanut gallery gaggle do a worse job covering a stock than it has Pandora (P) .
When this thing was in the teens and single digits, everybody hated it. But that was because nobody understood the story. Now, everybody understands the story, but the story's old and on the brink of being useless.
To be clear -- Pandora's core business is, all else equal, a good business. But all else is not equal, therefore the answer to the question Is Pandora's core business a good business must be yes and no.
Yes
... in that Pandora can continue to make headway going after the $14-16 billion (whatever it is) traditional radio advertising market. Slowly but surely, Pandora will do a billion in annual revenue by itself on the back of this long-standing ambition. It really was a stroke of genius when former Pandora CEO Joe Kennedy decided Pandora would be radio (redefined), going after vulnerable broadcast radio companies.
No
... in that Pandora's growth, relative to what we have seen these last few years, will be modest. You can't float a modest growth story -- without a compelling narrative for massive potential elsewhere -- and expect to command the type of multiple Pandora stock commands forever. Amazon.com (AMZN) - Get Amazon.com, Inc. Report can do this because that company reinvests aggressively in a wide-ranging and obviously lucrative multi-pronged model confidently navigated by a CEO people have faith in. Meantime, Pandora's basically telling investors We're going to essentially do what traditional radio does only we'll do it better ... and slightly different.
But traditional radio is no longer shellshocked by Pandora. Yes, some broadcast radio executives still try to disprove Pandora's impressive numbers and act as if it's not really "radio" or a player at all, but, by and large, the radio guys have regrouped and can sell advertising clients pretty much the same package Pandora can. In fact, in some cases (like if you're Clear Channel selling your stations and iHeart Radio or if you're Cumulus Media (CMLS) - Get Cumulus Media, Inc. Class A Report presumably selling stations alongside Rdio at some point), the package broadcast radio sells can come off as more intriguing than Pandora's.
That's where the CEO comes in. That's where we hit a crossroads -- Pandora either needs to issue a mea culpa admitting Brian McAndrews was a terrible choice for CEO and blow the guy out or bring somebody in to directly assist him and/or help him change his ways.
Because ... now more than ever --
Pandora requires a dynamic CEO who can keep the company focused on growing the advertising business as rapidly as possible. I absolutely do not believe Pandora should back away from that business one bit. That's where I see eye-to-eye with everybody in the building, including McAndrews. However, we likely part ways with respect to the need -- at least my perceived need -- to cultivate, develop and nurture new features and/or additional lines of revenue.
Pandora absolutely must do this. Even if it manages to get a sweet deal on royalties and/or expand internationally, it cannot continue as a one-trick pony. Forget pressure from investors as growth moderates. That shouldn't even be the number one reason why Pandora acts to diversify its business. It should act because it's an Internet company in a highly competitive space with players who not only mean business, but will continue to consolidate power and innovation with or without Pandora.
As such, McAndrews needs to take serious looks in a whole bunch of different directions. For example, a couple key areas I have written about over the past year:
These are just a handful of the many directions Pandora could go in. But they're not even -- as far as I know -- seriously considering them. Instead the company remains stubbornly focused on its advertising model and its advertising model only. That's a static approach. And a static approach simply will not and cannot fly in a space as dynamic as streaming media.
Ultimately, McAndrews' job is to unlock shareholder value. Right now he's stifling it. If he can't get this done, the Board needs to act even if it means going against Pandora co-founder and former Chief Strategy Officer Tim Westergen's wishes. If the Board's not willing to go there, it needs to look to a company such as Google (GOOG) - Get Alphabet Inc. Class C Report.
Earlier this year I made the case for a Google buyout of Pandora. It makes so much sense it hurts. And now that we know Google made overtures for Spotify it's hardly inane speculation to say they likely did the same vis-a-vis Pandora. If they didn't, Pandora should have initiated the conversation. If it didn't, it should now.
One way or another Pandora needs to act more aggressively, whether as an independent company or in search of a takeover. If it doesn't, last week's post-earnings carnage will look tame relative to what could lie ahead.
--Written by Rocco Pendola in Santa Monica, Calif.
Rocco Pendola writes for
TheStreet
. He lives in Santa Monica. Disclosure: TheStreet's editorial policy prohibits staff editors, reporters and analysts from holding positions in any individual stocks.