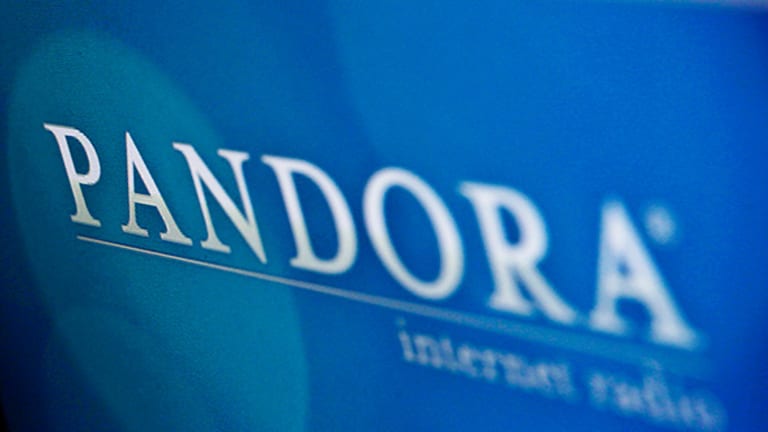 Pandora Jumps on Copyright Decision; Charter Communications Rises: Telecom Winners and Losers
The Dow, S&P 500 and Nasdaq all rose by less than 1% Monday.
The Dow, S&P 500 and Nasdaq all rose by less than 1% Monday.
NEW YORK (TheStreet) -- Shares of Pandora Media (P) , an Internet radio company based in Oakland, Calif., jumped by 5.5% Monday, closing at $20.79, after the firm received good news in an ongoing fight over royalties.
The company said it "was pleased that the U.S. Copyright Office agreed that the company's pact with Merlin Network, a global rights agency for independent musicians, was admissible as a benchmark in royalty proceedings," according to a Reutersreport.
"A three-judge panel called the Copyright Royalty Board has been working on setting royalties for Internet radio and is due to come to a decision in mid-December," the news service said. "Internet radio has urged a lower rate as it struggles to be profitable."
Pandora spokesman Dave Grimaldi said: "We look forward to the certainty that December's decision will bring, and are prepared to thrive in a number of potential outcomes. Our investments in the business are providing real return, including almost $1.5 billion in royalties to date.
"We are excited about the future of ad-supported music streaming and the benefits it brings to consumers and music makers alike," Grimaldi said in a release.
Pandora, founded in 2000, is the nation's largest Internet radio company with 250 million registered users and about 80 million active users, according to the company.
It is facing increased competition from companies including Apple (AAPL) - Get Report, which released its own streaming music service earlier this year.
Pandora's shares have risen so far this year. The company's shares closed at $17.83 at the end of 2014. But they dropped to $13.88 just two months ago.
Shares of Charter Communications (CHTR) - Get Report and Time Warner Cable (TWC) rose Monday after shareholders of both companies approved Charter's $56 billion takeover of its competitor.
Charter Communications' stock closed at $194.50, a gain of 1.6%. Time Warner Cable finished the day at $191.04, an increase of nearly 1%. Read TheStreet'sreport of the deal.
The acquisition will make Charter the nation's second-largest cable company after Comcast (CMCSA) - Get Report. Comcast dropped its own bid for Time Warner Cable in April amid regulatory concerns.
Charter's stock is up sharply this year, even as other cable and media companies have struggled. Charter shares were trading at $166.62 at the end of last year.
Sprint (S) - Get Report lost another 2.2% of its value Monday, closing at $4.39, after falling by 5% on Friday.
The wireless communications company has been under pressure amid increasing business challenges.
Last week Moody's downgraded the company's credit rating, citing competition in the U.S. mobile carrier market. Moody's also said it was not confident in Sprint's ability to refinance more than $12 billion of debt.
Amid its difficulties, Sprint continues to aggressively court new business. The company recently launched its "iPhone Forever" plan to win more iPhone customers. The company also said it plans to roll out roaming service in Cuba.
This article is commentary by an independent contributor. At the time of publication, the author held no positions in the stocks mentioned.