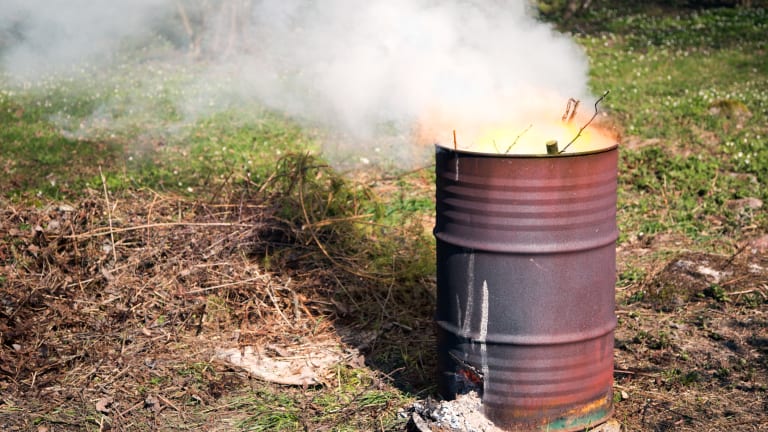 Why You Should Put IBM's Stock in the Garbage Can and Then Light It on Fire
Investors are likely to more closely scrutinize the tech giant's transition from a hardware entity to a software and services provider.
Any granny or pop-pop sitting at home trying to decipher what IBM (IBM) - Get International Business Machines Corporation Report said on its earnings call Tuesday evening would have a hard time -- most of it may not have been in the English language. Talk about corporate speak (and attitude -- the tone of the call sounded as if IBM smashed estimates and is close to curing the common cold) in its finest form. 
Here is the bottom line, for those old folks collecting IBM's quarterly dividend: put the stock in the trash and light it ablaze. It's very likely, after the quarter IBM just had, that shares will get re-rated by the market, for one simple reason: Investors are likely to more closely scrutinize the tech giant's transition from a hardware entity to a software and services provider. How could one not do this?
IBM's sales have declined for 20 straight quarters, in large part due to weakness in hardware. For the first quarter, sales from IBM's hardware and operating systems segment plunged 16.8% to $1.4 billion. Meantime, revenue at the company's consulting business dropped 3% to $4 billion.
The cloud business fell short of Wall Street's estimates, as IBM blamed the timing of contracts being signed. Despite cloud sales rising 33% to $3.5 billion, you didn't get the sense the business -- which has been built up through acquisitions -- is poised to grow at a rate that soon wipes out softness in hardware. Not when Amazon (AMZN) - Get Amazon.com, Inc. Report and Alphabet (GOOGL) - Get Alphabet Inc. Class A Report are also major players in cloud. 
IBM shares fell 4.9% to $161.69 in Wednesday trading. 
And that brings up the 1,000 lb gorilla in the room: does IBM deserve the benefit of the doubt after this squishy quarter? Probably not, given how the stock has performed, or should we say underperformed. IBM shares have declined 17% over the past five years, severely lagging the broader Dow Jones Industrial Average and S&P 500. Microsoft (MSFT) - Get Microsoft Corporation Report has surged 104% during that span, while Alphabet -- a stock that is held by the Action Alerts PLUS that Jim Cramer co-manages -- has racked up a 173% gain.
The market hasn't bought into IBM's transition, so why should you? 
Read This Or Lose Out
Walmart debuts this novel service on Wednesday: Beginning Wednesday, Walmart (WMT) - Get Walmart Inc. Report will allow customers making online purchases on an initial 10,000 items to either take advantage of its free, two-day home shipping option or have it sent to a local Walmart store, at a discounted price. Obviously this is something Amazon can't do, seeing as it has no stores. 
"We are at a point right now where we are really able to leverage the assets that are unique to Walmart," Marc Lore, president and CEO of Walmart eCommerce U.S. told TheStreet in an interview. Let me know what you think about this service (provided you try it): brian.sozzi@thestreet.com
Watch your lungs in California: Six of the 10 cities in America with the worst air pollution are in California, according to the American Lung Association's annual "State of the Air" report released on Wednesday. The award for the city in California with the worst year-round air pollution goes to Visala/Hanford. Would love to see your California smog pictures. Tweet them to me @BrianSozzi.
Because we all could use a good laugh: Music legend Sheryl Crow, 55, in an interview with USA Today, nicely summed up what we all quietly think about today's music. Let your mind wonder on what she said here...
"I've turned into one of those people that young rock 'n' rollers hate. I don't like them turning on pop radio and hearing songs about sex -- and that's all that's on there, 18-year-olds singing about 'the taste of you.' If everything is about branding and we're branding sex as power, what does that say to little girls and little boys? What does that say about beauty?"
Best Sheryl Crow song ever. 
Have to hand it to Gap's marketing department: Whoever came up with Gap's (GPS) - Get Gap, Inc. Report current jeans marketing plan deserves a slap on the back (or rear). Promise a firmer-looking ass, sell more jeans. Sometimes it's just that simple. 
Not all has gone bad for Adidas this week: While Adidas (ADDYY) licks its wounds after a new PR nightmare, at least it could go into the weekend with a sense of pride in its new outdoor collection. It's hard for me to admit this, but I had no idea this business even existed inside of Adidas. Well, it does, it racks up close to $400 million in sales each year and has products that hold their own vs. legendary outdoor brands such as VF. Corp's (VFC) - Get V.F. Corporation Report The North Face and Columbia Sportswear (COLM) - Get Columbia Sportswear Company Report . 
Here is what I learned from talking to the division's chief on Tuesday. 
Mercedes takes aim at rivals in small car market: The new Concept A Sedan from Mercedes was showed off at the Shanghai Motor Show on Wednesday. What a stunner! Many of its features will likely take shape on the auto-maker's smaller C-Class cars, which compete with the BMW 3-Series.
Yes, there is now a plug-in hybrid Jeep: Unfortunately, the Jeep Yunta that was just unveiled at the Shanghai auto show is a China exclusive. It's the first-ever plug-in hybrid SUV from Jeep brand.  
A massive iceberg has one town in Canada excited: The massive iceberg pictured below is presently in shallow water off the coast of Newfoundland, Canada. It reportedly measures 46 meters at its highest point. 
Read more trending news on TheStreet:
Why You Should Put IBM's Stock in the Garbage Can and Then Light It on Fire
Shark Tank Star Kevin O'Leary on Why Tesla Shares Are Headed for an Epic Crash
Editor's Pick: Originally published April 19.