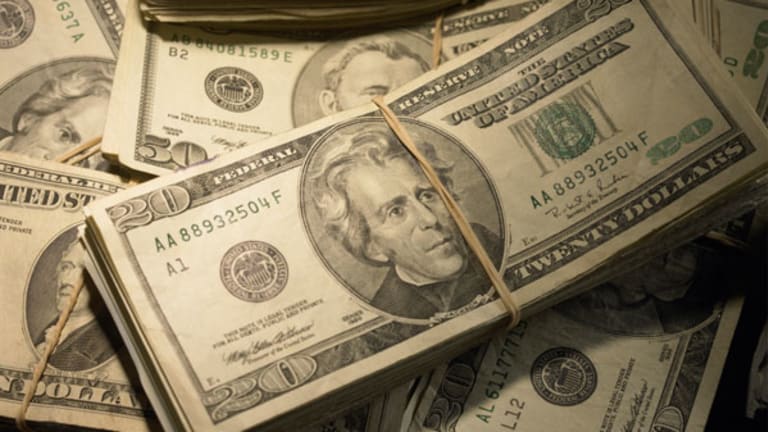 Overvalued Zillow; Energy Troubles: Cramer's Best Blogs
Catch up on Jim Cramer's thinking over the past week, including the real estate website Zillow and the U.S. energy situation.
NEW YORK (
) --
fills his blog on
RealMoney
every day with his up-to-the-minute reactions to what's happening in the market and his legendary ahead-of-the-crowd ideas. This week he blogged on:
the real estate website Zillow; and
the U.S. energy situation.
for information on
RealMoney
, where you can see all the blogs, including Jim Cramer's -- and reader comments -- in real time.
Zillow Is Overvalued
Posted at 11:44 a.m. EDT on Thursday, Aug. 29
You want power? You want strength? Take a look at
Zillow
(Z) - Get Zillow Group Inc. Report
, the heavily shorted real estate Web play that is soaring. The shares are up $6 on the day, and are now trading well above where the company priced its $82 secondary. Considering that the secondary was poorly received initially and broke price immediately, this is a remarkable renaissance. It's the only part of the housing-real estate sector that's doing well -- even as it is by far the most overvalued of all the stocks in the industry.
By contrast,
Realogy
(RLGY) - Get Anywhere Real Estate Inc Com Report
, which represents 26% of all transactions, is barely up today even as it put on its best face on
Mad Money
last night and sales continue to grow at a 17% to 19% pace. Realogy's now a plus $3 billion company and all it does is list real estate. Despite Realogy's $5 billion in sales, the company is valued at about $6 billion and is barely up this year.
Zillow, with $150 million in revenues, is worth $3.7 billion and is up 240% for the year. That's just a testament to how much people love growth as Zillow could grow revenues as quickly as 60% to 70% for the year. Oh, and did I mention it has no earnings?
Read: Rapid Realty Courts Buyers as Brooklyn Goes Hollywood
You want another wild contrast?
Apollo Group
(APOL)
exited Realogy at $47 and change in a gigantic secondary offering of 25 million shares. The stock's been down ever since then. But Zillow's secondary (also of insider stock) seems to have re-energized the stock after that initial decline.
I think this divergence has less to do with real estate and more to do with a dearth of multiple revenue stream Internet companies. Check out
Yelp
and
LinkedIn
(LNKD)
, two other similar business models to Zillow. They just keep running and running.
Some of this is pure short squeeze. The shorts treated Zillow as a housing play and bet that it would go down with the homebuilders and Realogy. Turns out it is a kind of social, mobile and cloud play that's viewed as a remarkable success.
I think Zillow is overvalued. But like Yelp and LinkedIn, as well as
Netflix
(NFLX) - Get Netflix Inc. Report
and
Amazon
(AMZN) - Get Amazon.com Inc. Report
, it is loved. Realogy might be undervalued and is hated.
Shorts: Be careful what you bet against. Zillow isn't a housing play. It's the latest and greatest use of the Web!
At the time of publication, Action Alerts PLUS, which Cramer co-manages as a charitable trust, had no positions in the stocks mentioned.
Just Being a Realist Here
Posted at 11:05 a.m. EDT on Tuesday, Aug. 27
Every time you produce energy, you hurt the environment in some fashion. Any time you extract fossil fuels from the earth, you get a hazardous reaction. That's why I wasn't shocked to read still one more negative story about the hazards of fracking, and how it's causing tremors in the Eagle Ford shale as oil company after oil company discovers more and more fuel in the ground -- 600,000 barrels per day, to be precise.
Now, I am not saying that earthquakes and tremors mean nothing. They need to be monitored. I am not saying, "I love fossil fuels and I think we should drill, baby, drill."
Read: Introduction to Fracking
I am just being a realist. We need to get our energy from somewhere. No one's ever satisfied about the side effect. Birds are killed by windmills, fish by hydroelectric dams, desert life by solar panels. Coal causes black lung. Nuclear? Think back to Fukushima. Oil and gas? Ethanol raises the price of grain to levels that cause severe economic pain among the less well-off. It also uses up another precious resource -- water -- as it takes tons and tons of water to make this product that nobody seems to want to use anyway.
It's a fact of life.
Now, we know the U.S. could decide that all it wants to do is import oil and gas from other countries, and thus make our nation more pristine and less prone to earthquakes. But doesn't that have consequences, too? Much of the oil we bring in would have to be from the Middle East, and the countries that produce it there often have grave ideological differences with the U.S. Their oil money has, at times, been used to finance terrorism.
Energy independence allows us much more freedom of action to defend ourselves. It also improves the U.S. trade balance. It creates a huge number of jobs. The penalty? Tremors and spills when the stuff is taken to market.
When we use natural gas, not only do we promote continental independence, and not only do we produce more jobs, but we also make the skies cleaner. No, that's not necessarily a win, but it is less of a loss than if we continue importing oil from Middle Eastern and Latin American nations that are unfriendly to us and can use the money to arm our enemies.
I know fracking has consequences, but they are nowhere near as impactful as the consequences of, say, coal, which the Sierra Club says causes 20,000 deaths a year. Believe me, I think that every coal plant should be turned into a natural gas plant, but that would generate too much economic hardship.
Read: Federal Tax Laws Now Recognize Same-Sex Marriages in All States
But before we eliminate fracking, let's stop the strip-mining and end the black lung and stop the acid rain and mercury that come from coal. Why isn't that the focus?
Sure, it would be terrific to power surface fuels with solar or wind, but that's not practical. We can hook them in to the grid, and we can use as many electric cars as we can make. But we also have to be cognizant that the technology isn't yet here that would enable us all to take part in that in a cheap and clean fashion.
So I read these kinds of stories and I say, "Here we go again." It's another assault on oil and natural gas -- like the last one, which was about the hazards of methane release, and the one before, the film
Gasland
, which talks about water contamination. Sure, these are all bad. But, in a world where energy extraction will always be evil, American fossil fuels -- particularly natural gas -- is a heck of a lot less evil than the others.