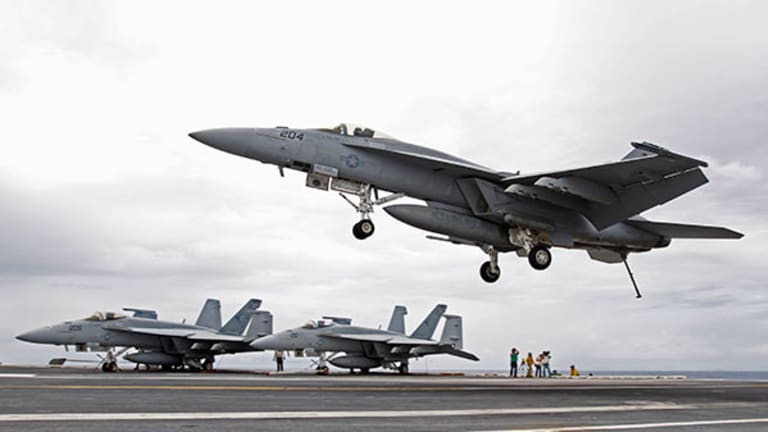 Publish date:
Overstocked Retailers; Overpowering ETFs; and Bear-Proof Sectors: Jim Cramer's Best Blogs
Catch up on Jim Cramer's ideas from this past week as he discusses why any retail rebound will stall, how ETFs cause "rolling bears," and two bullish sectors.
Catch up on Jim Cramer's ideas from this past week as he discusses why any retail rebound will stall, how ETFs cause "rolling bears," and two bullish sectors.
(RealMoney) -- Jim Cramer fills his blog on RealMoney every day with his up-to-the-minute reactions to what's happening in the market and his legendary ahead-of-the-crowd ideas. This week he blogged on:
The single factor that will keep retail from making a real comeback
How ETFs are propelling "rolling bears," and taking good stocks along for the ride
Two sectors he views as immune to the current bearish troubles
Click here for information on RealMoney, where you can see all the blogs, including Jim Cramer's -- and reader comments -- in real time.
Retailers' Problem: Too Much Inventory
Posted on Oct. 26 at 12:43 p.m. EDT
Can retail make a comeback? Or is it a dead cat bounce? I am looking at a lot of the apparel makers trying to make a stand, and it won't be easy.
There's one word why: inventory. There's too much in the system. It's all over the place, too. Too many accessories. Too many shoes. Too much sportswear. Too much athletic wear.
Yet today we don't see it. Today we have many stocks trying to bounce, with VF Corp. (VFC) - Get Report and Under Armour (UA) - Get Report trying to hold and make a stand. (VF Corp. is part of TheStreet'sTrifecta Stocks portfolio.)
I don't know if it is possible, but I want to point out that Skechers (SKX) - Get Report , VF and Under Armour hold the key. They all intimated there is more inventory in the system right now than they want, but not so much that if we had a better couple of weeks it could go away.
But more than ever, there is an undercurrent that Amazon (AMZN) - Get Report is the reason why department stores are feeling the pain, not the lack of shoppers. Either way, we are in some weird moment where we can bounce based on absolutely nothing, when we went down on hard data about inventories. (Under Armour and Amazon are part of TheStreet's Growth Seeker portfolio.)
I say be careful, those inventories are still out there. They didn't go away over the weekend.
ETFs Are Causing These Rolling Bear Markets
Posted on Oct. 27 at 5:40 a.m. EDT
I wish the concept of the rolling bear market weren't so difficult to fathom. I keep getting pushback about how could we be in a bear market if the averages are so strong, or "you kept me out of the market with your bearishness."
But I have never seen anything like this scythe that cuts down a particular portion of the market and not others and, while others have said it is not a new phenomenon, no one has been able to say where or when they saw it last.
So let me go over what I mean. Take the cyber security stocks. They had been on fire. Then they cooled, but they were still gapping up on analyst pushes. But last week Growth Seeker portfolio holding Fortinet (FTNT) - Get Report reported light billings, and now they are just cascading down. They are part of a roving, wild bear market.
As I searched for a reason why Palo Alto Networks (PANW) - Get Report , which reported such a terrific number, could be getting crushed, I realized that, of course, this is the ETFs doing the talking. We have rolling bear markets because people are blasting in an out of ETFs, and they are causing so much damage that they feel like bear markets but they are contained to the cohort.
Last week we caught a bear market in all things apparel. Mind you, not hardware -- Home Depot (HD) - Get Report didn't get hurt. Nor interior design Restoration Hardware (RH) - Get Report . But companies that sold products like Skechers (SKX) - Get Report and Under Armour (UA) - Get Report and V.F. Corp (VFC) - Get Report .
The bear market was contained to them, but it roiled through as if a bear had been unleashed in a cage of retailers like Macy's (M) - Get Report -- which is an unbelievably , bad acting stock -- as well as Kohl's (KSS) - Get Report , Nordstrom (JWN) - Get Report and Action Alerts PLUS charity portfolio name Target (TGT) - Get Report .
Or how about last week, when the health maintenance organizations got hammered on hospital admission declines? Well, that's priceless. HMOs do better when hospital admissions are low. But did that stop anyone from selling UnitedHealth (UNH) - Get Report down eight points, even as it might have been the principal beneficiary of the issue? Nope; too many concentric ETFs have them both.
Now, ETFs are here to stay. Another family of ETFs rang the bell yesterday. I think that in the time since I have been working at Post Nine on the New York Stock Exchange there have been more listings of ETFs and fund families creating ETFs than any other segment of the market. Most, I would argue, are unneeded. Doesn't matter; they get created, and they are so much more powerful than the individual stocks that make them up that they run over all of those involved.
I know people think it is investing, but when you are fooling around with those double and triple bull or bears one-day action affairs, you know that has nothing to do with investing. That was just the SEC blessing any old financial engineered product, and many people probably have no idea what they are doing when they buy or sell them.
Before the ETFs, people would simply sell the bad and leave the good alone. Now everything gets sold and then sold again -- remember it is a bear market within a bull market -- until the stocks come down to some level that, at last, brings out no more sellers and those who have sold short the ETFs revisit and close out their positions.
2 Sectors Where Bears Dare Not Tread
Posted on Oct. 29 at 11:52 a.m. EDT
We've got roving bear markets all over the place. The bears maul health care. Then they hit the oils. Then they go after the international industrials. And then the restaurants.
The averages may be having a great month, but underneath there's plenty of pain.
So who has proven immune to the bears' prowess during this period? Where are some solid bull markets that you can expect to trample any bear that comes on the range?
I've got two big obvious ones: auto parts stores and defense stocks. First, get a load of O'Reilly Automotive (ORLY) - Get Report today, long one of my favorite auto parts stores. Here's a company that just keeps beating and raising and beating and raising. It's the most consistent company in the industry. Incredibly, every time it happens, analysts are blown away. They were blown away again. Now what's truly amazing to me here is that every major publicly traded company in the industry -- O'Reilly, Autozone (AZO) - Get Report , Advance Auto Parts (AAP) - Get Report and Pep Boys (PBY) - Get Report -- is at its high.
That's very rare. Most retailers don't trade together like this. But there are not one but two secular tailwinds to the sales of these companies: the aging auto fleet -- now thought to be on average 12 years old -- and the high price and huge debt load you have to deal with if you buy a new car.
How positive are these tailwinds? Take a look at AutoZone. Here's a company that has been a serial buyer of its own stock -- it had 48 million shares five years ago and is down to 31 million shares outstanding -- because management recognizes those tailwinds and wants you to profit from them. Is there a better way to demonstrate that steadfastness than buying back stock endlessly? I think not.
You know how to gauge the all-encompassing velocity of a sector's tailwinds? You look at the worst company in the group in both sales and earnings. In this case, it's Pep Boys, a long-underperforming auto parts store based in my hometown of Philadelphia. What a canine this one's been. Until this week, when Japanese tire behemoth Bridgestone (TYO) - Get Report paid a hefty 23% premium over the stock price to get this 800-store chain and add it to Bridgestone's 2,200 tire and automotive stores. Now that's a strong sector.
The other bull? Defense. Here's an incredible group, one that is continually overlooked in a powerfully positive secular trend: the demand of nations around the globe to bear arms against their neighbors now that the United States is no longer the world's policeman and the two biggest adventurers in the world are Russian and Iran. The rap against these companies, though, was the sequester: the end of big U.S. spending on defense.
That's over. Now all the candidates know more has to be spent on defense and the budget limitations are over. How bullish is this? Northrop Grumman (NOC) - Get Report just won a gigantic contract to build a next-generation bomber, a hotly contested piece of business against Boeing (BA) - Get Report and Lockheed Martin (LMT) - Get Report . All three had run up in anticipation. When Northrop Grumman won, it correctly vaulted a dozen points. But what's really amazing is that neither Boeing nor Lockheed Martin gave up much of their gains. Why? Because there are so many big contracts behind this one and these companies truly are lean, mean fighting machines. (Boeing is part of TheStreet'sTrifecta Stocks portfolio. Lockheed Martin is part of the Action Alerts PLUS portfolio.)
So there you have it: auto parts stores and defense, two bull markets where bears need not apply, unless they want to be stampeded under foot by voracious buyers.
Action Alerts PLUS, which Cramer co-manages as a charitable trust, is long TGT, UNH and LMT.