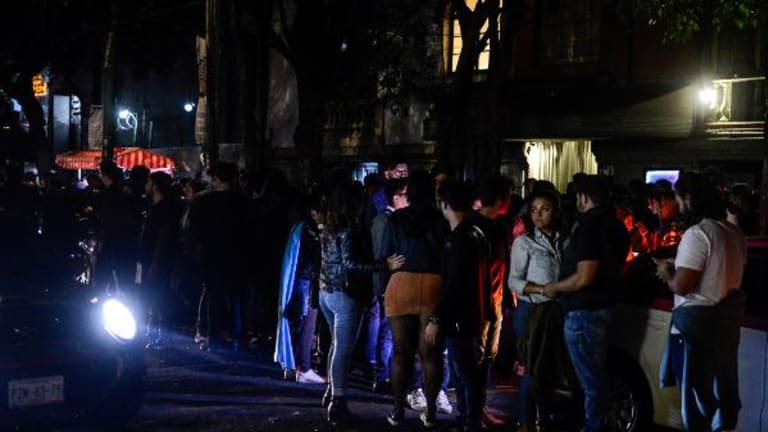 Powerful Mexico City Earthquake Claims Over 215 Lives
40% of Mexico City is without power.
At least 217 people are dead after a powerful 7.1 magnitude earthquake struck the central state of Puebla, Mexico, near the capital of Mexico City Tuesday. 
The quake's epicenter was near the city of Raboso, some 76 miles southeast of the capital. Initial reports suggest nearly half of the casualties were in Mexico City, according to Reuters.
Hundreds of buildings were damaged from the strong earthquake, including one school under which children are feared to be trapped. At least 22 children and two adults were found dead, while 30 children and 12 adults remain missing, Mexico's President Enrique Pena Nieto said.
Rescue workers and volunteers have searched through rubble and debris through the night for survivors in Mexico City and the surrounding metro area, which has a population of about 20 million. Fires broke out around the city as gas mains were damaged in the quake. 
The Mexico quake fell on the anniversary of a 1985 earthquake that did major damage to Mexico's capital. Buildings across the city held earthquake preparedness drills earlier Tuesday, according to local reports.
The earthquake shook Mexico's Popocatepetl volcano, triggering a small eruption. As many as 4.6 million homes, businesses and other buildings lost power in the region, with about 40% of Mexico City left in the dark Wednesday.
Tuesday's devastation came less than two weeks after another powerful earthquake killed close to 100 people in the country. 
Also on Tuesday, the U.S. Geological Survey said that a 5.3 magnitude earthquake hit the ocean off of Japan's east coast some 30 miles from the city of Namie, Fukushima, just hours after the quake struck Mexico City.
Don't miss these top stories on TheStreet: