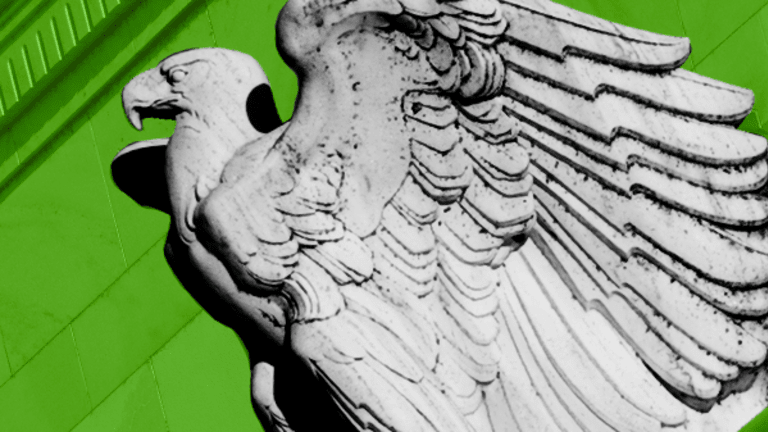 Outlook Gets Hazy in Trying to See What Fed Does Next
A lot depends on who the next chair will be.
The biggest action out of today's FOMC meeting was the one we all knew was coming. As it had widely telegraphed, the Fed will begin reducing its balance by allowing up to $10 billion per month of the bond portfolio to run off starting next month. But we also got a new Summary of Economic Projections (SEP) and with it a new dot plot. Here are some thoughts on all of it. 
Balance-Sheet Reduction: Will It Matter?
The Fed's plans for its balance sheet were so telegraphed and so well understood that it should be well priced in, at least in the short term. Intermediate term, that may be different. From a literal perspective, the amount of supply the market needs to absorb is peanuts. The Fed will begin by reinvesting $10 billion less ($6 billion Treasuries, $4 billion mortgaged-back securities) than actually rolls off. In effect, this means the market needs to find $10 billion a month of fresh demand. That number will step up quarterly in $10 billion increments until it gets to $50 billion ($30 billion Treasuries, $20 billion MBS). Note that monthly trading volume in these two markets is approximately $10.2 trillion for Treasuries and $4.1 trillion for MBS. I think the market can find a spot for $50 billion more without choking too much. 
I've also argued several times in this space that QE worked via signaling; i.e., the Fed communicated its commitment to low rates every time it launched a new bond-buying program. However, the exit seems carefully designed to avoid any signaling. The Fed has committed to shrinking the balance sheet on this schedule more or less no matter what. That contains something of a signal, I suppose, in that it definitely wants to be out of the QE business. But it didn't really tell us anything about the future pace of hikes. The whole thing is carefully designed to have as little impact as possible. 
Eventually, the total amount of bonds that has to find a home gets large. I estimate that after two years, the Fed will have reduced its MBS holdings such that they go from owning 20% of the market to 15.5% of the market. That's meaningful, and demand for MBS can be more mercurial than Treasuries. I still think the effect of Fed reductions is mostly priced in, but the risk is to the downside, especially in the lower coupon bonds the Fed has been buying. 
New Dots: The Fed Sticks by Its Forecast
The Fed's new so-called dot plot was mostly unchanged. That probably caught some market participants by surprise, as most were expecting some dots to come down. 
In the June meeting, there were four dots that showed no change for year-end 2017. That was unchanged, suggesting a strong majority for a December hike. In 2018, we had four dots total that were at three hikes or less back in June, and that did rise to five this time. But the plurality was at either four or five hikes in both meetings, suggesting most FOMC members think we'll do one hike in 2017 and three or four more in 2018. But the fact that these dots are pretty similar tells you the Fed still thinks very low unemployment and decent GDP growth will eventually reverse the minor slowdown in inflation we've seen lately. 
What Does This Ultimately Mean for December and Beyond?
Despite the dot plot, it is all a haze past December because we don't know who the chair will be. As I've written, gun to my head, I think it winds up being Kevin Warsh, but that's highly speculative. But here's the thing to key on for investors: The Yellen-led Fed is expecting one hike in December and three to four more in 2018. A Warsh-led Fed will be more hawkish still. All the other dark-horse candidates (like John Taylor) would also be more hawkish still. Yet the market is still only pricing around 60% of a hike for December and around 1.75 total by the end of 2018. That could still prove to be right, but the risks a definitely skew toward rates being higher. 
I like a few trades off this view, but I think the most interesting is a long dollar position. Of all the hawkish Fed trades you could do, it has the most outs, and it probably is the most contrarian. You could win on this trade with just a little better news out of U.S. growth, but you could also win with a little news of softness coming out of Europe. Bullish sentiment on the euro is very one-way and BPS is way overbought. I don't think it would take much for those two to come down. You could trade those directly or you could just buy a broad USD basket where those two are highly influential. 
If you decide to trade interest rates, I'd stick to shorts in the three- to seven-year part of the yield curve. 
(This article originally appeared at 2:43 p.m. ET today on Real Money, our premium site for active traders. Click here to get great columns like this from Jim Cramer and other writers even earlier in the trading day.)
At the time of publication, Graff had no positions in the stocks mentioned.