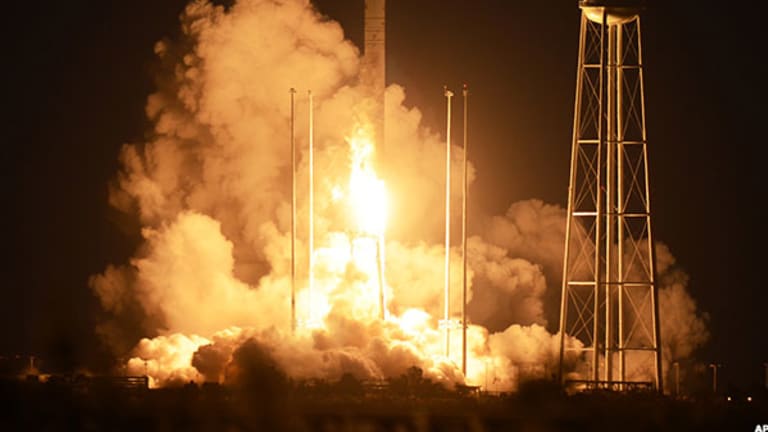 Orbital Sciences Trading Halted as Rocket Explosion Threatens Merger Plan, NASA Program
The explosion calls into question NASA's plans to send astronauts to the International Space Station via commercial outfits like Elon Musk's SpaceX.
Updated from 12:32 p.m. EDT to add news of trading halt and comments from a NASA-led press conference on the explosion. This story was originally published at 10:11 a.m. EDT.
NEW YORK (TheStreet) -- The explosion of an Orbital Sciences' (ORB) rocket Tuesday night in Virginia resulted in a halt in trading on two stocks and is bound to put renewed public scrutiny on NASA's use of commercial spacecraft, particularly its plans with SpaceX to use that company's rockets to transport astronauts.
Shares of Orbital Sciences and Alliant Techsystems  (ATK) , a company that had proposed merging its aerospace and defense businesses with Orbital, were both halted at 12:45 p.m. in trading on the New York Stock Exchange. Alliant said in a statement Wednesday it was evaluating the implications of the explosion on the potential deal.
Shares of Orbital Sciences began falling in extended trading immediately after news of the explosion and were down 15.7% by midday Wednesday to $25.59. The stock closed Tuesday at $30.37, pennies away from its 52-week high of $30.41. Year-to-date, the stock was up 30.34% at the close of trading Tuesday, outpacing the S&P 500's 7.4% gain. Shares of Alliant were down 5.2%.
No one was injured in the Virginia shore explosion of the Antares rocket just after its liftoff at 6:22 p.m. EDT on Tuesday. The rocket was carrying supplies to astronauts aboard the International Space Station. Orbital Sciences, based in Dulles, Va., will lead an investigation into the explosion in cooperation with the Federal Aviation Administration and NASA.
NASA issued a press statement immediately Tuesday night, which quoted NASA's associate administrator of human exploration and operations, William Gerstenmaier.
While NASA is disappointed that Orbital Sciences' third contracted resupply mission to the International Space Station was not successful today, we will continue to move forward toward the next attempt once we fully understand today's mishap. The crew of the International Space Station is in no danger of running out of food or other critical supplies. . . . Today's Launch attempt will not deter us from our work to expand our already successful capability to launch cargo from American shores to the International Space Station.
The explosion exposes the risk of space travel and reignites old concerns about NASA's use of commercial companies for rockets and launches, where the pressures of marketplace competition could result in reduced quality and national tragedies. The U.S. space program has seen its share of such tragedies, notably the explosion of the Space Shuttle Challenger in 1986 shortly after liftoff and the disintegration of the Columbia Space Shuttle during re-entry to Earth's atmosphere in 2003. In both cases, all seven crew members on board were killed.
Elon Musk-led company SpaceX, in particular, is at risk from such concerns, with nearly its entire operations geared to cater to the needs of the government-run NASA. SpaceX is privately held, but closely associated with Musk's other interests, electric car and battery maker Tesla (TSLA) - Get Tesla Inc Report  and solar energy company SolarCity (SCTY) .
SpaceX has made four successful missions to the International Space Station with three of those carrying supplies. It has plans to ferry astronauts, announcing a $2.6 billion contract with the space agency in September, separate from its cargo flights. Those manned flights are set to begin in 2017, according to NASA.
Two years ago, in an interview with Wired magazine, Musk criticized Orbital Sciences for using equipment from the 1960s, saying the plan "sounds like the punch line to a joke."
I don't mean their design is from the '60s -- I mean they start with engines that were literally made in the '60s and, like, packed away in Siberia somewhere.
Monday evening, Musk refrained from criticism, tweeting a simple response to his competitor and fellow space travel explorers.
John Logdson, former space policy director at George Washington University, told The Associated Press that the explosion was unlikely to be a major setback to NASA's commercial space plans. But he noted it could derail Orbital Sciences for a while given the company has just one launch pad and the accident occurred right above it.
At a NASA-led press conference Tuesday, Orbital acknowledged that the launch pad, the only one certified to launch the Antares rocket, was damaged, although the extent of the damage was unclear. Regardless, launches will be delayed until the investigation has had a chance to find a cause. 
"We will not fly until we understand the root cause and the corrective action necessary to ensure this doesn't happen again," Executive Vice President and General Manager of Advanced Programs Group at Orbital Sciences said at the press conference. "And its way too early to tell how long that might take."
Revenue for the company was expected to be flat for the current year at $1.4 billion, with profits rising 7.8%, according to S&P Capital IQ. For 2015, revenue is expected to climb 12% to $1.5 billion and profit gaining 9.7%.
Since the retirement of the last of the Space Shuttle fleet in 2011, the U.S. space agency must rely on the services of Russia's space program to get its personnel to and from the International Space Station. With funding in jeopardy, NASA decided that rather than replace the Space Shuttle it would focus on space experiments and robotic missions, and enlist commercial companies like Orbital and SpaceX for transportation to orbit.
-- Written by Carlton Wilkinson in New York