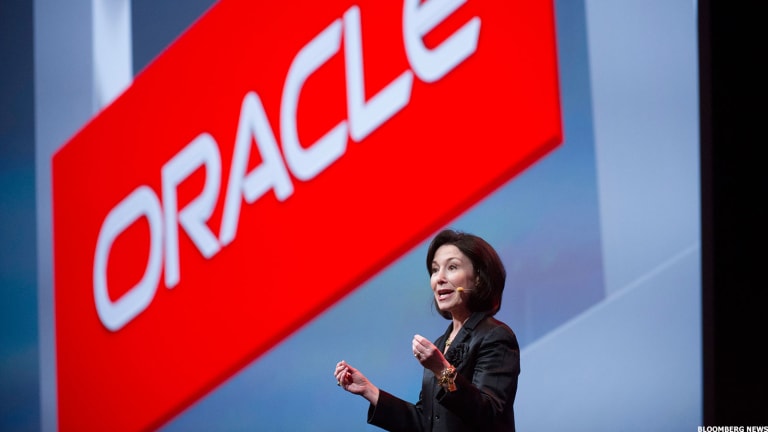 Oracle's Cloud Business Is Doing Well, but It's Not Enough to Propel Results
The software giant's earnings and guidance once more show the impact of both soaring cloud software sales, and slumping on-premise hardware and software sales.
The software giant's earnings and guidance once more show the impact of both soaring cloud software sales, and slumping on-premise hardware and software sales.
The earnings reports of most companies will feature a headline along the lines of "Company X reports first-quarter results." If a company is in the mood to talk up its performance, it might go with something like "Company X reports record first-quarter results and increases full-year outlook."
Not Oracle (ORCL) - Get Report, though. Its fiscal first-quarter report, released after the bell on Thursday, contained a headline trumpeting the growth rate seen for its cloud app (SaaS) and cloud app platform (PaaS) revenue, both in absolute dollars and constant currency. And it's not the first time Oracle has done this.
There's a reason Oracle wants investors focused on its cloud numbers. While the company's SaaS/PaaS sales are soaring, its on-premise hardware and software sales are doing anything but, as adoption of cloud offerings -- both Oracle's and those of third parties -- exacts a heavy toll.
The software giant reported Q1 revenue of $8.6 billion, up a modest 2% annually (3% in constant currency) and missing a consensus analyst estimate of $8.7 billion. Adjusted EPS was $0.55, up $0.02 from a year ago and missing a $0.58 consensus.
Oracle's Q2 guidance, which as usual was provided in constant currency (CC) figures, also fell short of expectations. Revenue is expected to be up 0% to 3% in CC, and EPS in a range of 59 cents to 62 cents. Consensus, based on actual dollars, is for 2.9% revenue growth and EPS of 65 cents. Shares fell 3.2% in after-hours trading.
The figures come even though -- as mentioned in the earnings report headline -- Oracle's SaaS/PaaS revenue rose 77% in dollars and 79% in CC, totaling $798 million. The recent acquisitions of construction software firm Textura and utilities software firm Opower, along with strong cloud billings in prior quarters, are helping out. And the pending $9.3 billion acquisition of NetSuite should provide a boost in coming quarters.
But Oracle also reported its organic SaaS/PaaS revenue growth continues to accelerate, and that SaaS/PaaS billings growth improved to 49%. And though its outlook doesn't yet appear to account for NetSuite, Oracle now forecasts fiscal 2017 (ends in May 2017) SaaS/PaaS revenue to be up 67% in CC, up from prior guidance of 65%.
So what's responsible for the light results and guidance? On the call, Oracle noted European currency pressures caused by Brexit weighed on results, as did higher-than-expected G&A spending caused by temporary legal expenses. It also mentioned a revenue mix shift toward the U.S. led its adjusted tax rate to be a higher-than-expected 25%, and that recent debt raises (done to finance the NetSuite deal) are boosting its interest expenses.
But as far as top-line performance goes, it's hard to overlook that Oracle's traditional software license revenue fell another 11% in Q1 to $1.03 billion, and that its hardware revenue dropped 12%, to $996 million. License update and product support revenue, which is driven by past software deals, rose 2%, to $4.79 billion, but other services revenue fell 6%, to $808 million.
Hence the meager total revenue growth rate that was reported for Q1, and the equally meager revenue growth range provided for Q2. After backing out the impact of acquisitions, Oracle's business is still very much in a holding pattern, with gaudy cloud numbers offset by dismal on-premise numbers.
Not surprisingly, shares slipped after-hours on Thursday after the report, and on Friday morning, Oracle's shares were trading down 3% to $39.62.