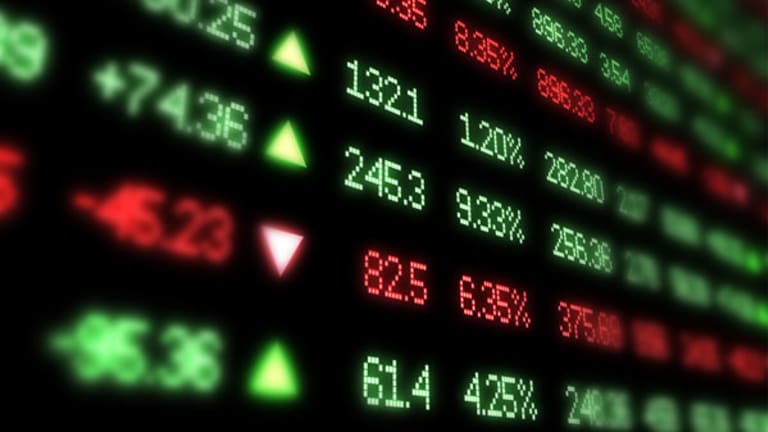 Oracle Re-rating; No Country for Old Value: Jim Cramer's View
Cramer shares his views on Oracle's re-rating and also discusses the constant battle between growth and value.
Jim Cramer shares his views every day on RealMoney. Click here for a real-time look at his insights and musings.
Cramer: We've Witnessed a Re-rating of Oracle From Value to Growth
Originally published June 22 at 7:09 a.m. EST
You know what? Occasionally, you have to appreciate hubris. Occasionally, you have to appreciate confidence. Today, Oracle's (ORCL) - Get Report stock will appreciate precisely because management last night exuded a level of hubris and confidence that was off the charts.
Action Alerts PLUS, which Cramer co-manages as a charitable trust, has no positions in the stocks mentioned.
I found it to be pure joy.
Obviously, the market did, too, as the stock levitated throughout the conference call and finished at its high in after-hours trading when the call was completed.
I often tell you how important the conference calls are because they are when you find out how much better or worse than expectations a company may have done, and you get the true forecast, warts and all.
Oracle's a huge company. So to see a stock go up as much as it did in after-hours stands for one thing: an on-the-fly re-rating of a company from value status to growth status. The metamorphosis is totally deserving, giving how the earnings, revenues and forecasts vastly exceeded expectations. Frankly, it was like if the company were simply a different company from the last one that reported, the numbers were that stark.
That's why I say that I didn't mind that co-CEOs Safra Catz and Mark Hurd and chairman Larry Ellison were over the top in their effusiveness of this quarter and the transition. They deserve to celebrate, they deserve the end-zone dance and I, for one, am not throwing any flags, because I think occasionally it's right to crow when you get the transition to the cloud from on-premises computing as smoothly and as fabulously as this company has done.
I can give you all sorts of the hyperbole they dished out. Safra was at her best talking about how this wasn't the culmination of the transition but the beginning of both expanding margins and faster growth, the combination that defines what money managers are looking for.
Mark was on Clouds nine, 10 and 11 when he kept reeling off big brand name new clients and saying that things are terrific. I loved this in-your-face answer to a question about whether the new client queue is still growing: "Our pipeline is big. How confident am I in more cloud bookings than this year? Extremely. Put quotes around extremely. Underline it."
And I loved when Larry did some trash talking about taking on both Salesforce.com (CRM) - Get Report and Amazon Web (AMZN) - Get Report services for growth and for better economics for clients respectively. It does help that Oracle has many more cloud verticals, and I don't expect Oracle to pass Amazon as a place to store data but it sure seems like it can keep its clients from migrating there.
The quarter is also a lesson for IBM (IBM) - Get Report . When I spoke to Ginni Rometty earlier this week about trying to grow its strategic imperatives business while stemming declines in its incumbent business, it's clear that IBM's just not there yet. The transition is taking too long for many. But I could have said the same thing was the case for Oracle.
Nevertheless, when they got it right, after some good acquisitions and excellent selling, you can see what happens. If IBM had this kind of Oracle quarter, it would be at $180, up from $154 in a heartbeat.
After listening to thousands of conference calls in my career I have my own way of judging a quarter: the congratulations-to-question ratio. Nine analysts asked questions about the quarter, eight of them gave some form of congratulations. Only Goldman Sachs' Heather Bellini, one of my absolute favorite analysts, resisted the siren call, or it would have been a perfect game. Normally I would like that impartial, diffident kind of question. Nah, not this time. Come on Heather, join in on the fun!
Originally published June 21 at 3:59 p.m. EST
Cramer: This Is No Country for Old Value
There's a constant battle being waged in the stock market between growth and value. There are investors who want to buy something inexpensively, hoping it will blossom and there are investors who want companies that grow strongly and are willing to overlook how expensive these growth stocks are.
Right now growth is crushing value and while it's hard to tell from the averages, it sure isn't hard to tell from the stocks and sectors themselves.
I have always felt that a mix of both is the right thing, that being diversified with some growth and some value is appropriate to protect yourself from moments when growth becomes too expensive.
Right now, though, that philosophy has fallen dramatically out of favor. Right now the moment you step out of the classic growth and hyper-growth stocks and you buy down-and-out stocks that seem like they have less risk because they have fallen so far you take your financial life into your hands. It's as bifurcated as I have ever seen it and it is leading to some serious gains for the undiversified and some incredible losses for those who have even a smattering of value. That's how toxic the so-called lower-risk stocks have become.
What's behind these moves? Let's let the stocks tell us. I want to start with growth because in many ways what's happening in growth is very exciting. I did a bit of a rant this morning on Squawk on the Street about too much attention being paid to Nvidia (NVDA) - Get Report and Advanced Micro Devices  (AMD) - Get Report .
I went to the point of reiterating that I have given my dog Everest the last name of Nvidia because I feel like Nvidia is with me when I eat and when I sleep and therefore is deserving of the recognition a last name entails. You don't want Everest eating or sleeping with you, but, Mr. Nvidia? It's slightly more palatable.
But I make the moniker not to mock the stock of the company (more on that later because I love the company) but because the growth rally has become quite broad and it's really worth talking about it.
As the progenitor of FANG I think I have a call on what's hot and what's not. And as hot as you may think those stocks are, let me tell you something, other than Amazon (AMZN) - Get Report , they don't hold a candle to many of the other growth stocks in this market.
First, there's biotech. Ever since it became clear that President Trump has appointed some of the best friends of pharma in key places, so you don't have to fear price regulation or federal bargaining, these stocks have been extraordinary. The stocks of quality companies like Regeneron (REGN) - Get Report and Celgene (CELG) - Get Report have been zooming even as the news flow has been good, not great.
In the last two weeks Celgene's stock has vaulted to $131 from $114. A scan of the headlines doesn't show much that's really radical or new. Regeneron has gone to $525 from $366 during that same period. The company's had some good news for a diabetes drug and excellent news when it comes to a competitor's eye drug, but I would argue that those pieces of information would have failed to boost this stock even as recently as six months ago.
It's not just biotech. The stock of Johnson & Johnson  (JNJ) - Get Report has gone to $134 from $122 in that timeframe with some decent news about heart-attack prevention. But I think the main reason it's being propelled is the rotation into stocks of companies that do well when the economy is weak or there is deflation and their drugs won't suffer in price from Medicare, giving them nice profits no matter what. It doesn't hurt that JNJ is the ultimate stock to buy when the dollar's weak as it has been of late.
Tech's got so many winners that FANG's been outmoded. Adobe Systems  (ADBE) - Get Report , reported a monster good quarter last night and its stock (a holding in Action Alerts PLUS, my charitable trust) is headed higher on the strength of accelerating revenues. Workday (WDAY) - Get Report and ServiceNow (NOW) - Get Report and Red Hat (RHT) - Get Report , which like Adobe is on Mad Money tonight, have exceeded all expectations. The cloud's just producing so many winners.
The video-game stocks may have stalled out in their velocity of their advance but they have been huge winners this quarter. Any company in the stay-at-home thesis sector has been incredibly strong.
In other words, it doesn't matter which you buy. It's going to go high. "Buy in May and go away" has been an extraordinary watchword for growth, it's just not at all poetic.
But as fantastic as growth has been I have to tell you that value has been a staggering nightmare. With oil at $42 and threatening to go to the thirties, a true bear market, it's hard to find an oil that hasn't fallen more than 20% and some are in the 30% and 40% range. It doesn't matter if natural gas has held up fabulously or if you are in a pipeline stock with little or no exposure to commodity pricing, you have been obliterated.
Those master limited partnerships with high yields, owned so often by people who want to get income when interest rates are low, have been laid to waste. The drillers, the service companies, best of breed, whatever, it's a nightmare.
Retail, with the exception of Amazon, Home Depot (HD) - Get Report and Lowe's (LOW) - Get Report , the latter part of the stay-at-home thesis sector, has just been so hideous it's hard to look at. My charitable trust, owns the stock of TJX Cos. (TJX) - Get Report and I was gratified to read a truly positive article in the Wall StreetJournal today about how it is a big winner in this exact environment. But it opened lower and then proceeded to make a new 52-week low. If you didn't know better you would have thought the article talked about TJX being the next company to be destroyed by Amazon.
Another value sector, autos, has been impossible to own. The autos, the auto-parts companies, and the auto-parts stores have stocks that seem like they are pounded every day. The trust owns the stock of Snap-on  (SNA) - Get Report , which reported a terrific quarter and you would have thought it was a horrific quarter. The company should be buying back stock left and right but all I hear are crickets.
It's no country for old value, especially with no takeovers in sight to bring out the values.
So what happens? We are nearing the end of the quarter. The patterns that do best at the end of the quarter are the ones that are imprinted now, not in the last two days. I suspect that you will continue to see this brutal bifurcation as oil looks like it could head to the thirties, taking out my $43 target, the retailers remain under the spell of Amazon, auto sales stall out and the growth stocks levitate, unchecked by negative news.
So growth reigns supreme. Valuation parameters are ignored. And value? It just gets cheaper and more painful to own every day.
Action Alerts PLUS, which Cramer manages as a charitable trust, is long ADBE, TJX and SNA.
Action Alerts PLUS, which Cramer co-manages as a charitable trust, is long ADBE, TJX and SNA.