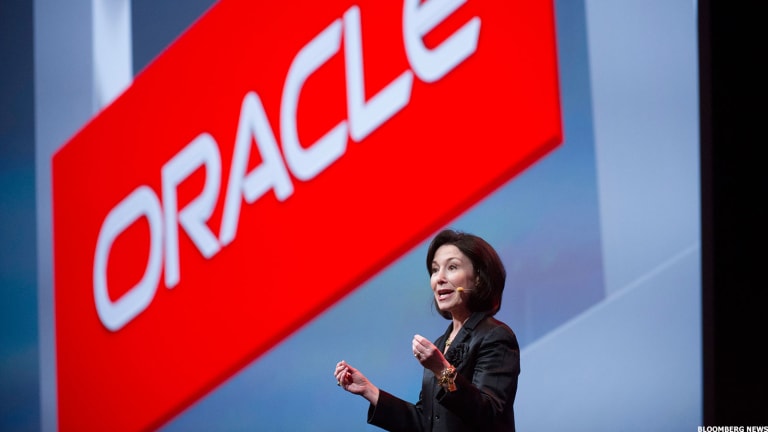 Oracle Must Now Answer Big Questions On How It's Faring Against Rivals
Oracle beat estimates but offered more bad news on growth for its cloud businesses.
Three months ago, Oracle's (ORCL) - Get Oracle Corporation Report shares sold off after the company beat August quarter estimates but issued disappointing cloud sales guidance. Now, history is repeating itself -- only the magnitude of the cloud guidance shortfall is much bigger, and raises larger questions about how well Oracle is competing against its top cloud app rivals.
Oracle reported November quarter (fiscal second quarter) revenue of $9.63 billion (up 6% annually) and adjusted EPS of $0.70, topping consensus analyst estimates of $9.57 billion and $0.68. Moreover, the company beat estimates even though it only got a 2% revenue boost from currency swings; Oracle previously forecast forex could provide "as much" as a 3% lift to sales growth.
As expected, EPS benefited from huge stock buybacks. Oracle spent $2 billion to repurchase nearly 41 million shares last quarter, and used its earnings report to disclose it has added $12 billion to its buyback authorization. It also helped that adjusted operating expenses only rose by 3% to $5.26 billion.
Sales and EPS guidance, issued on the earnings call, was also respectable. In constant currency (CC), Oracle expects February quarter revenue to be up 2% to 4% annually, and for adjusted EPS in a range of $0.68 to $0.70. With forex expected to boost revenue growth and EPS by up to 3% and $0.03, respectively, the outlook meshes with a consensus for 4.3% revenue growth and EPS of $0.72.
But Oracle forecast its total cloud app and service revenue -- some of which cannibalizes traditional Oracle license revenue -- would only rise 21% to 25% in CC. That's well below a consensus for cloud revenue to rise 42% in dollars to $1.69 billion. And with the qualifier that Oracle won't see any boost to cloud growth this quarter from the $9.3 billion NetSuite acquisition (it closed in Nov. 2016), the forecast also implies a sharp slowdown from the 41% cloud growth (39% in CC) seen in the November quarter.
As a result, shares fell 6.6% in after-hours trading to $46.86. They're now up 18% on the year, compared with a 27% gain for the Nasdaq.
The 41% November quarter cloud growth was itself a slowdown from the August quarter's 51%, with constant-currency growth only at the low end of a guidance range of 39% to 43%. Cloud app (SaaS) revenue grew 49% to $1.13 billion, after having grown 62% in the August quarter. Cloud app platform (PaaS) and infrastructure (IaaS) revenue grew 22% to $396 million, after having grown 28% the August quarter; for comparison, IaaS/PaaS giant Amazon Web Services (AWS) posted third quarter revenue of $4.58 billion.
So how did Oracle beat revenue estimates? It had much to do with the fact that traditional software license revenue, long pressured by cloud app adoption, rose fractionally to $1.35 billion, topping a $1.25 billion consensus and representing a healthy improvement from the August quarter's 6% decline. And this, in turn, had much to do with Oracle's September rollout of its "bring your own license" (BYOL) program, which lets clients transfer licenses for Oracle databases, analytics software and middleware to PaaS deployments on Oracle's cloud.
Co-CEO Safra Catz noted on the call that strong interest in the BYOL program drove a major increase in renewals of Oracle's costly unlimited license agreements. She added this trend is expected to continue in the February quarter as Oracle makes its 18c database -- unveiled in October, and featuring machine learning abilities that lower management costs and human error -- available in January.
And that, in turn, is a big reason why total revenue guidance is roughly in-line in spite of the weak cloud growth outlook.
But the BYOL program also seems to be pulling forward some license activity that Oracle would've eventually seen regardless; it should be noted here that AWS has long supported a BYOL program for Oracle and other database licenses. And more importantly, the program has little to no impact on Oracle's SaaS revenue, which accounted for 74% of its November quarter cloud revenue and is seeing growth decelerate sharply.
This slowdown is coming as Oracle's two biggest pure-play cloud app rivals, Salesforce.com (CRM) - Get salesforce.com, inc. Report and Workday (WDAY) - Get Workday, Inc. (WDAY) Report , continue seeing strong growth. Salesforce's revenue rose 25% annually in its October quarter to $2.68 billion; Workday's grew 34% to $555 million. For its part, age-old rival SAP (SAP) - Get SAP SE Sponsored ADR Report saw cloud subscription and support revenue grow 22% in the third quarter to 937 million euros, and traditional software license and support revenue grow 1% to 3.72 billion euros.
One silver lining for Oracle: Its SaaS bookings grew a healthy 42% last quarter. Co-CEO Mark Hurd forecasts Oracle will book over $2 billion worth of SaaS subscriptions over the next four quarters. That said, Oracle is coming off a fiscal 2017 in which it already booked over $2 billion worth of total cloud annualized recurring revenue (ARR).
And though competition from Amazon (AMZN) - Get Amazon.com, Inc. Report and Microsoft's (MSFT) - Get Microsoft Corporation (MSFT) Report database offerings is intense and the autonomous features of 18c may be a little overhyped -- some of what Oracle is promising to do via software is handled by cloud rivals via managed database services -- the company does seem to be performing a little better lately on the database front. In addition to seeing improving license sales, Oracle's cloud database service revenue (part of the PaaS business) grew 47% last quarter. On the call, Larry Ellison gleefully noted that Amazon, Salesforce and SAP still rely heavily on Oracle databases for their internal operations.
Nonetheless, Oracle's strategy for delivering long-term growth in the fact of heavy cloud competition hasn't just revolved around databases. SaaS has arguably been an equally large part of it. And the company's latest numbers in that department raise some big questions.
This column originally appeared Thursday on Real Money, our premium site for active traders. Click here to get great columns like this from Eric Jhonsa, Jim Cramer and other writers sooner.
More of What's Trending on TheStreet:
At the time of publication,
, which Jim Cramer co-manages as a charitable trust, was long MSFT.