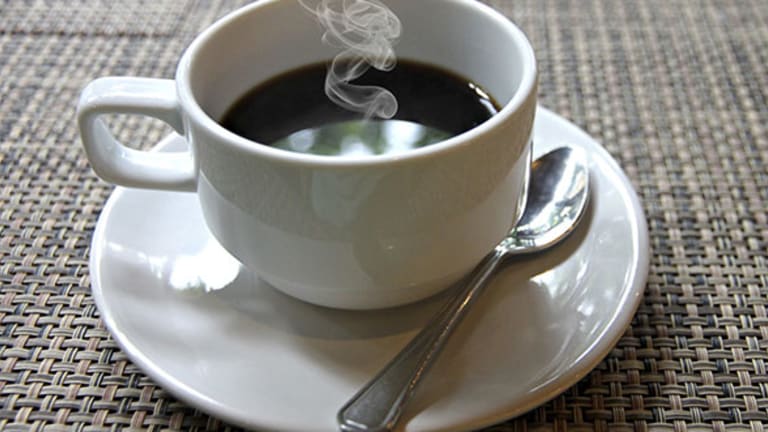 Your Strategy for Trading the Newest Coffee ETF
The iPath Bloomberg Coffee exchange-traded fund is a relatively new trading vehicle. Should you imbibe? Here's what Skip Raschke would do.
NEW YORK (TheStreet) -- The iPath Bloomberg Coffee ETF (JO)  is a relatively new trading vehicle. Here are some caveats: questionable liquidity (use limits!); bid/ask markets wider than normal (whatever that is anymore!); small open interest; and that caveat emptor thing!
However, none of the above impediments/caveats are strong enough for me not to at least offer the potential that JO is trading with a low risk and possible nice reward potential in the short term, especially if the latest harvest sparks supply concerns. (See Coffee ETFs Jump on Supply Concerns.)
Coffee is the second most highly traded commodity in the world. My intake of coffee each day supports that fact. Should I lack a fresh pound of beans I will quickly pay up for the next batch, regardless of price. So will Starbucks (SBUX) .
This trade is a very high-risk trade, and should not be taken unless highly discretionary capital is risked.
Trades: Buy 100 shares of JO and buy to open 1 JO Oct. 19 put for a total debit of $19.90.
The total capital at risk is 90 cents. The suggested target to close for a gain is a bid for the combination (ETF shares and puts) of $20.40, or better. The suggested stop loss is a bid of $19.40.
As always, this is a guideline, and you should always stick to your trading plan and what's best for your risk/reward tolerance.
OptionsProfits can be followed on Twitter at twitter.com/OptionsProfits
Skip Raschke writes regularly for Options Profits. You can get his trades first and interact with him there with a free trial.
This article is commentary by an independent contributor. At the time of publication, the author held no positions in the stocks mentioned.