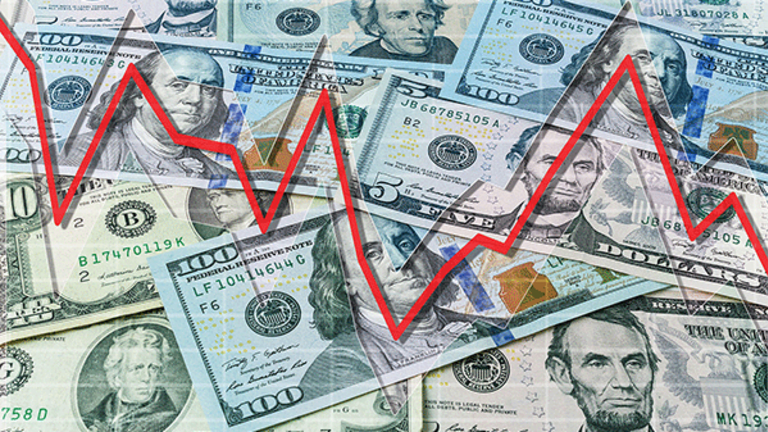 Yes, It's Time to Worry About Wall Street's 'Fear Gauge' Waking Up
Central-bank liquidity injections have helped to lull the U.S. stock market into a sense of complacency. That could come to an end this year, says a Wells Fargo analyst.
It's common sense. It's historical reality. Also, according to the money manager Janus Capital (JNS) , it's a near certainty.
The calm -- some might say complacence -- prevailing in today's stock markets is bound to end. It has to.
And it could end sooner rather than later, a Wells Fargo (WFC)  analyst says, as central banks begin to withdraw monetary stimulus that has kept markets afloat despite shocks like last year's vote by Britain to exit the European Union, tensions over North Korea's missile program and the daily jaw-droppers emanating from President Donald Trump.
The halcyon environment can be viewed through the Chicago Board Options Exchange's Volatility Index, or VIX. It's a rough gauge of how widely traders expect the Standard & Poor's 500 Index to swing on a daily basis over the coming 30 days. For most of the past month, the gauge has traded below 11, representing (via some tricky math) daily swings of 0.7%. That's roughly half of the market's 10-year average.
The last time volatility was this low was in December 2006, just before rising defaults on U.S. subprime mortgages began to send jitters through global markets. The VIX peaked in October 2008 at about 90, the month after investment bank Lehman Brothers collapsed, according to FactSet.
An upturn in the VIX now could initiate a vicious cycle in the stock market, says Sameer Samana, a global quantitative and technical strategist at the Wells Fargo Investment Institute. Stocks usually fall when the VIX rises -- one reason the index is known colloquially as the "fear index." 
"You could easily end up in a situation where volatility begets more volatility," Samana said in an interview. "Higher volatility forces people to sell, which leads to more volatility, which leads more people to sell."
Samana predicts the VIX will head back toward its long-term average around 20 in the second half of this year. And the S&P 500 will probably finish the year lower than where it is today.
It all comes down to risk; the riskier an asset is, the higher the returns must be for investors to justify holding it. People buy bonds because they're less risky than stocks, even though they offer lower returns. The more volatile an asset is, the riskier it's deemed to be. So if volatility goes up, then stock prices must fall to restore the risk-reward balance, assuming there's no corresponding increase in the expected returns.
Lately, it has been almost impossible to lose money in the stock market. Just look at how the markets have traded over the past two years. Following a big spike in volatility in mid-2015 amid speculation China's currency might be on the verge of a collapse, stocks bounced back. They also bounced back following a bout of fear in early 2016 that low oil prices might spur widespread bankruptcies. A similar pattern followed Britain's vote to leave the EU and Trump's surprise victory in the November presidential race.
More recently, stocks bounced back following bombshell reports that Trump pressured former FBI Director James Comey into dropping an investigation into a one-time White House aide -- potentially an act of obstruction of justice.
It's hard to believe stocks can remain so aloof to any hint of doom. Too good to be true, in fact. 
VelocityShares, a unit of Janus Capital that sells bonds designed to profit when the VIX declines, put it this way in a 2010 brochure: "At historically low VIX levels, there is a higher probability that the next big move will be up rather than down." 
The opposite, of course, also holds true.
Wells Fargo's Samana says that part of the uplift in stocks is due to trillions of dollars of new money injected into global markets in recent years by the Federal Reserve, European Central Bank and Bank of Japan. With so much money around, there are plenty of investors ready to step in and buy stocks whenever there's a dip in prices.
But Fed officials are already talking about shrinking the size of the central bank's $4 trillion-plus balance sheet, perhaps starting later this year. And the ECB may, later this year, announce plans to end its bond-buying program, currently running at about 60 billion euros ($67 billion) a month.
There's also been a shift in tone from the central bankers. According to Samana, they're increasingly concerned about inflated asset prices; before, they were more focused on preserving wealth and stability.
"You have this situation where people think my downside is limited because central banks will step in," Samana said. "That mentality may change in the second half. Once the central banks start down the path toward more normalization, I think you'll start to see the gyrations pick up."
To illustrate how detached the serenity in stocks is from reality, Samana cites a recent survey from the American Association of Individual Investors. That survey showed that, as of May 17, just 24% of investors were bullish on the stock market -- well below the long-term average of 38%.
Some 42% were neutral, compared with the historical average of 31%. And 34% were bearish, above the average of 30%. In other words, fewer people than usual are bullish, more are bearish, and the rest are resigned to cluelessness. 
Another concern is that so many big investors have bet on low volatility -- often with little-money-down wagers in the options or futures markets -- that a sudden increase could wipe them out, thus begetting additional turmoil in the market.
Since 2011, mutual funds and exchange-traded funds specializing in volatility-related strategies have increased their assets by 71% to $3.3 billion, according to Morningstar. And the number of open futures contracts tied to the CBOE's volatility index has quadrupled to about 518,000.
To be fair, investors have profited handsomely from bets on declining volatility: The VIX is down 29% in the past year.
But things can go wrong quickly. The Catalyst Hedged Futures Strategy Fund, whose stated purpose is achieving "capital appreciation and capital preservation in all market conditions," at least partly through volatility wagers, lost 19% over four weeks in February as its trades went awry.
When the placidity ends, it won't be pretty.