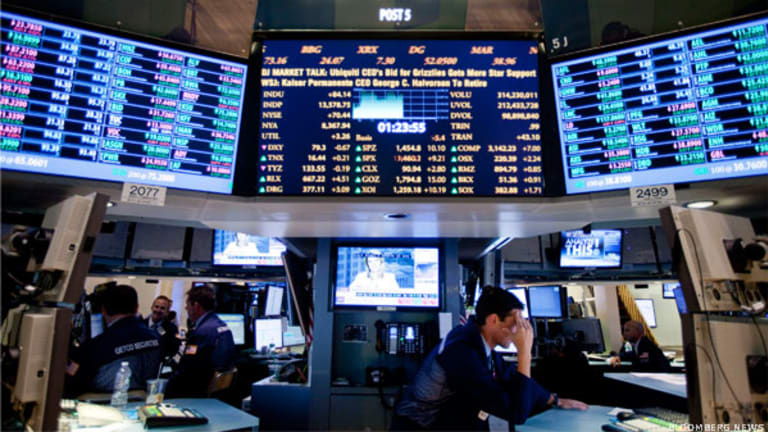 Winning With Joy Global, Randgold: Street Sense
Here are a couple of recent trades that proved to be huge scores.
Here are a couple of recent trades that proved to be huge scores.
CHICAGO (
) --
Recent Winning Trades
Yesterday I showed you the trades made
on
Garmin
(GRMN) - Get Report
and
Wynn
(WYNN) - Get Report
, which resulted in some fantastic gains! Today I will show you a couple of more recent trades that proved to be huge scores, too. The key here is understanding the entry and why we entered the trade.
Joy Global: Extreme Call Trade
We recently had a bullish call on
Joy Global
(JOYG)
. After their earnings and guidance, it seemed the stock had bottomed, but I still wasn't convinced. The next day, bullish momentum indicators started to roll up, and this was a good chance to put on a position.
We added some Sept 35 calls (in the money) and took initial profit on half the position at 40%. We let the remainder run and waited for the stock to hit 40, as we nailed huge triple-digit gains on the other half. This was a classic bend-but-don't-break chart that gave us a great low-risk entry point.
Randgold: Grand Slam Call Trade
Gold and gold stocks have been on fire since Sept 2. When the spot price shot higher and headed toward 1,000, there were a number of stocks showing good quality breakouts.
Frankly, you rarely find yourself in this situation with so many to choose from!
Agnico-Eagle Mines
(AEM) - Get Report
,
Royal Gold
(RGLD) - Get Report
and
Freeport-McMoRan
(FCX) - Get Report
(which we traded for a big win in Extreme Options on the same day) are always on the radar, but I chose
Randgold Resources
(GOLD) - Get Report
this time around, and it has been the best performer in the gold miners group.
We used a managed-risk approach and took some profit at the 117% gain mark, raised the stop on the part we still held and finally sold out of the position at a whopping 187% gainer!
Notes are below, the arrows point to what I was seeing before entering the trade. Once again, the 60 minute chart told the story of the setup (daily chart is below, which also was pristine).
Happy trading!
-- Written by Robert Lang in Simi Valley, Calif.
At the time of publication, Lang was long GOLD Oct 75 calls.
Bob Lang is a senior analyst and portfolio manager at
. He manages subscription services for the firm and writes timely articles about markets, trends and the economy. Lang's articles can be viewed on numerous sites on the Internet. Together with renowned market timer Price Headley, Lang has helped build his supported products into a winning class. He participates in a coaching forum for advanced traders in which he teaches his unique style of trading.