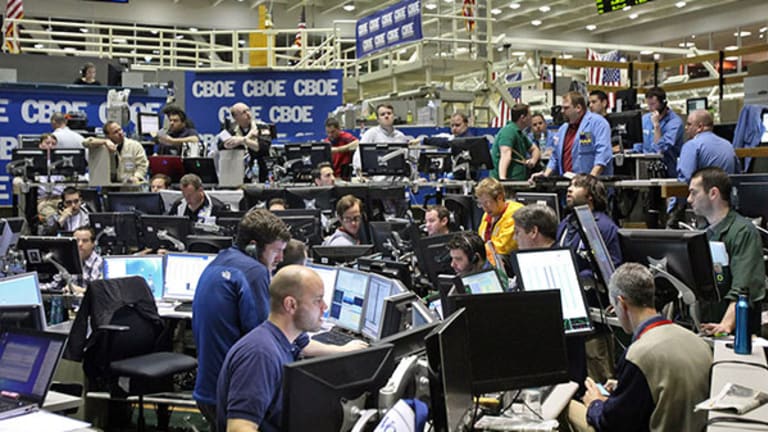 Why Selling Puts Yields Greater Income
Investors who are waiting to deploy their cash could opt to sell puts underneath the stocks they want to own.
Investors who are waiting to deploy their cash, but remain wary of adding more equities to their portfolio because they believe valuations are high, could opt to sell puts underneath the stocks they want to own.
This strategy lowers the risk, because their net entry price can be chosen, which is known as the strike price and the investor also receives a fear or insurance premium due to volatility, which is called the option premium, said Ron McCoy, a portfolio manager on Covestor and founder of Freedom Capital Advisors in Winter Park, Fla.
While McCoy is a fan of gold long-term, he has been selling puts on some names underneath such as Goldcorp Inc. (GG)  for January 14 puts, because it allows him to generate income on his cash.
"With the recent volatility in gold, there are premiums to be had," he said. "In the case of GG, the market has had a very sharp move lower, so it hits both a price range that we feel is an attractive price entry point and the sharp move increased the volatility which gives us a nice premium on both a cash and margin adjusted annual basis."
Selling puts allows investors to generate income while they wait for a stock's price to decline before investing in it, said Jim Haile, a vice president of product management at E-Trade, a New York-based brokerage company.
Another option is for an investor to place a limit order at the price he wants to purchase the stock. Or investors can sell a put of the same security, but should make sure the strike price is the price where they would want to purchase the stock.
"This means you sell an obligation to buy the security at the price you're waiting for," he said. "It's pretty much a win-win: if the stock doesn't decline to that strike price, you make a little bit of money as the put expires worthless and you collect the premium."
If the price of the stock declines enough for the put to be exercised, then the investor owns the stock at the price originally sought and still maintains the premium.
"Certain caveats do apply as investors should always seek enough premium to make it worth their while," Haile said. "Investors are also wise to only sell one put for every 100 shares they want to buy to avoid taking on too much risk."
Deciding which month and strike to pick depends on how much risk the investor is willing to take on, said McCoy.
"Because of the volatility in the last few days, premiums have been increased, which allows sellers of puts to take in more premium and thereby lower their net cost," he said. "If investors want to get long here, selling puts on large cap gold stocks such as Goldcorp makes sense as long as they can handle the risk."
Writing put options is an alternative to producing income on an asset which does not produce income on its own, said K.C. Ma, a CFA and director of the Roland George investments program at Stetson University in Deland, Fla.
"If you are generally and correctly bullish on gold, you could chose to write a put option," he said. "The premium you received by writing a gold put option amounts to a de facto 'dividend income' as if you own a gold stock. Of course, the underlying assumption for writing puts is on the bullish outlook for the underlying assets."
Options writers should expect to receive steady income over the long haul, but should be prepared for the underlying asset price to go against your assumed outlook.
"Imagine writing options is just like being the 'house' of the casino," Ma said. "The house wins on average, but the house does not always win. The house loses and loses big when someone hits a jackpot, even once in a blue moon."
If an investor decides to write a $1,270 December gold put option for a premium of $30, in order to keep the $30, the price of gold price can not drop below $1,240 before December, he said. If gold prices drop to $1,170 one month from now, another investor will demand to sell the gold to you at $1,270, "putting" you $70 or -233% in the hole.
"Given that gold has been fluctuating between $1,060 and $1,360 this year, it is your 'call' if this will happen before December," Ma said.