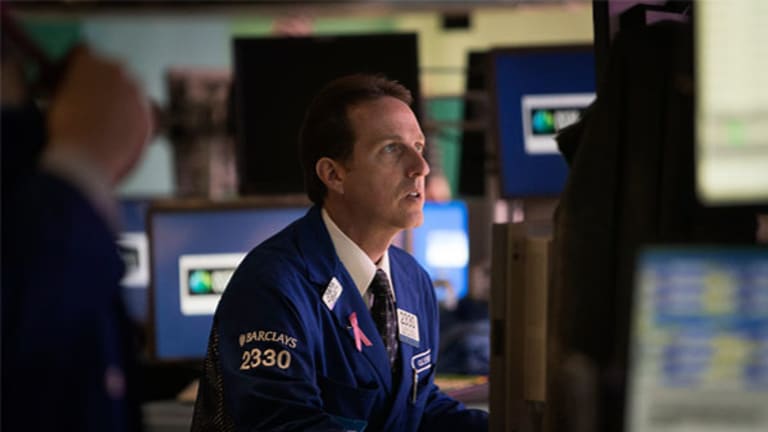 Who Traded 55,000 Bear $30 Puts Tuesday?
On Tuesday, there was a huge, anomalous trade in Bear's March 30 puts.
Updated from 2:27 p.m. EDT
This past Tuesday, when
Bear Stearns
(BSC)
was trading around $65 a share, there was huge put volume in the March $30 strike.
Over 55,000 contracts traded that day at an average price of 15 cents a contract. This is an extremely unusual trade in terms of the number of contracts and how far out-of-the money those options were at the time. This begs the question of why someone would execute such a transaction.
First, it's important to understand that buying a put gives you the right to sell the stock at the strike price. So to buy a put that requires the stock to decline over 50% is essentially a bet that the company is possibly on the brink of going out of business or about to deliver some terrible news.
Remember, these options expire on March 20, so that left only 10 days for some event to occur that would cause these puts to go into the money and have some value. So it appears that as rumors began swirling early in the week that Bear was having liquidity problems and might possibly be bordering on insolvent, someone took that to heart and bought the puts as disaster insurance. And today came news that several banks, including
Goldman Sachs
(GS) - Get Goldman Sachs Group Inc. (The) Report
, would no longer act as a counterparty to any transactions with Bear. The inability to execute trades would essentially put Bear Stearns out of business.
Hence, we have today's selloff in which shares of Bear are down some $25, or 44% to around $30 a share. It's not a surprise that those $30 puts are the most active strike today. With an hour left in the trading day, over 40,000 contracts have traded. This surpasses the open interest of 36,000 contracts that were open as of this morning.
So not only do people appear to be taking profits (and, of course, some huge losses), active option traders are gravitating toward the activity and the fact that implied volatility is still above 100%, which provides good short-term trading opportunities.
It also suggest that Thursday's volume of 14,129 contracts were people liquidating or taking profits when Bear got slammed down to an intraday low of $50.50, which was about an 18% decline and would have seemed like "crash" in the stock, and they were able to get 90 cents for those puts. Today they topped out at $9.40 a contract. What a difference a day makes.
This is an extreme situation, but illustrates how put options can be used as insurance and/or to get downside protection from a decline in a stock's price.
Other banks and brokerage firms are seeing put volume today and several names such as
Merrill Lynch
(MER)
saw above average activity last week. Merrill saw 13,000 and 16,000 of the March $45 puts traded last Thursday and Friday, respectively. That volume was over 13 times the 30-day daily average. At the time the stock was trading around $46 and the puts were valued at about $1.50 a contract. Today Merrill is down to $44 and the puts are worth $2.60 a contract.
On Tuesday of last week,
Citigroup
(C) - Get Citigroup Inc. Report
saw 57,000 of its March $20 puts trade. But this volume was only about three times the daily average and represented less than half the open interest in the strike. Still, on that day those puts were changing hands at around 40 cents, and today they are worth about 90 cents a contract.
Know What You Own:
Bear Stearns operates in the financial services industry, and some of the other stocks in its field include
Morgan Stanley
(MS) - Get Morgan Stanley Report
,
Citigroup
(C) - Get Citigroup Inc. Report
,
Bank of America
(BAC) - Get Bank of America Corporation Report
and
Lehman Brothers
(LEH)
. These stocks were recently trading at ($39.32, -5.50%), ($19.77, -6.17%), ($35.66, -3.98%) and ($40.00, -13.02%) respectively. For more on the value of knowing what you own, visit TheStreet.com's
section.
Steven Smith writes regularly for TheStreet.com. In keeping with TSC's editorial policy, he doesn't own or short individual stocks. He also doesn't invest in hedge funds or other private investment partnerships. He was a seatholding member of the Chicago Board of Trade (CBOT) and the Chicago Board Options Exchange (CBOE) from May 1989 to August 1995. During that six-year period, he traded multiple markets for his own personal account and acted as an executing broker for third-party accounts. He appreciates your feedback;
to send him an email.
To read more of Steve Smith's options ideas take a free trial to
.