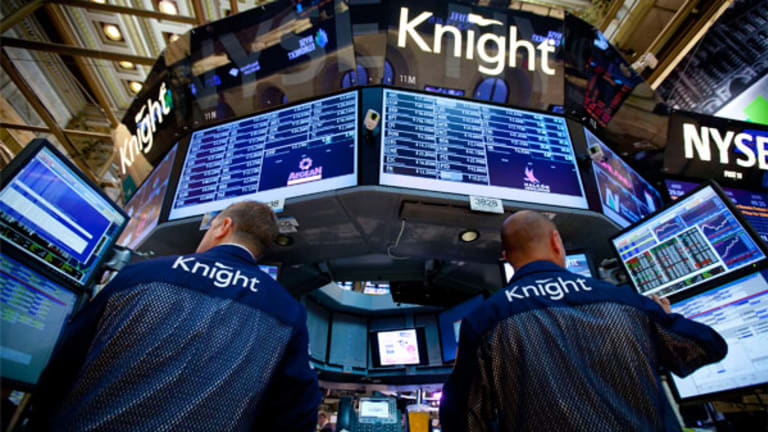 Week of April 2 Volatility Review
Mark Sebastian of Options Profits reviews the overall market, ETNs and volatility trading strategies.
This complimentary article from Options Profits was originally published on April 2. Don't risk missing over 40 options trade ideas every week and exclusive commentary from over 15 experts. Click here for more information and a 14-Day Free Trial.
If a trader just looked at the close of business a week ago Friday, went away for a week and then looked at the market today, you would assume that it was another snoozer of a week. The market was up less than 1% on the week, the CBOE Volatility Index (VIX) was mostly unchanged and volumes were still light. However, if you look deeper at the movement over the week, it was far more interesting than indictated.
We saw a huge market-up day on Monday, followed by the first few 'soft economy' and 'worried about China' stories that quickly destroyed that gain and threatened to send the market down toward the 1350 level. This was the most exciting trading that I have seen in several months as we are seeing an uptick in realized volatility. This is good for traders but not as good for investors who have for the most part missed a big portion of the trip up to 1400. With an increase in realized volatility, the games of selling premium and call picking, which has worked marvelously for me, are both going to get harder. As evidence I give the action in VIX this last week.
If the S&Ps were whippy, VIX was even whippier as it went from strongly oversold on Monday,to insanely overbought on Wednesday. Evidence of how overbought options were on Wednesday were quiet apparent on Thursday when the market was down big mid day, but VIX futures failed to react to the market selloff. With all the hullabaloo on Wednesday and Thursday, the only day the market moved enough to warrant a VIX of 25 was on Monday when the SPX was up big.
Looking at the VIX futures, the rolling action caused by the big ETNs that forced a steep contango has softened back to a relatively normal curve. It seems that the major firms moved in and took advantage of the arbitrage between April and May in short order. If there is any opportunity in the futures it is likely not in May (right now), but located somewhere in the back part of the curve. The issue there is the lack of liquidity.
Options on VIX are very expensive right now and its skew is steep. If one is looking to get long volatility, the VIX options might not be the best trade, but a call spread makes some sense if the trader takes advantage of skew. And with the futures not insanely overpriced, there will be some nice benefit to owning VIX options if the market sells off.
One indicator that points toward a higher market is skew, which softened on Wednesday and Thursday, but picked up a little steam again on Friday. The softening in skew mid week (a bearish sign) was more a cause of ATM IV picking up than traders getting complacent and selling OTM puts. As long as we have a steep SPX skew, the market will have wind at its back side.
Moving on to the ETNs. Keep an eye out for a VelocityShares Daily 2x VIX Short Term ETN(TVIX) reverse split in the next few weeks. This ETN has had enough bad price, it might as well pile on. iPath S&P 500 VIX Short-Term Futures ETN(VXX), TVIX's more attractive cousin (although being more attractive an ETN than TVIX is kind of like being the least sleazy loan shark) continues to get pounded and is looking like a trip below 10 (again. While it may not reverse split in April, my money would be that it will have to reverse split before Memorial Day. This puts VelocityShares Daily Inverse VIX Short Term ETN(XIV) near 20 at that point.
I am not going to have a vol trade today because I want to see how things shake out. At the time of writing, futures are up and I think VIX will be flat on open which coming off of a weekend means IV is in sharply. Those of you, who were complaining about the VXX trade from last week, will be rewarded for your patience.
Options Industry Council FREE Three-Part Webinar Series: Part Two Wednesday, April 4 at 7pm ET. CLICK HERE FOR INVITE AND TO REGISTER.
OptionsProfits can be followed on Twitter at twitter.com/OptionsProfits
Mark can be followed on Twitter at twitter.com/OptionPit
At the time of publication, Mark Sebastian held positions in VIX, VXX.
Mark Sebastian is a former member of both the Chicago Board Options Exchange and the American Stock Exchange. He is the Chief Operating Officer of Option Pit Mentoring and Consulting, a Chicago based option education firm. Sebastian has been published nationally on Yahoo! Finance, quoted in the Wall Street Journal, Reuters and Bloomberg and is an 'all-star contributor' for the Options Profits Team. Mark is also the managing editor for Expiring Monthly: The Option Traders Journal an all digital, all options magazine. Mark has appeared on CNBC's Fast Money and spoken for the CBOE, the ISE, CME, VOLX and is a co-host on the popular 'Option Block' podcast and is the 'Volatility Reporter' for the Volatility Views podcast. Mark has a Bachelor's in Science from Villanova University.
You can learn more about Mark, read his daily blog and learn about Option Pit's mentoring programs by Visiting http://www.OptionPit.com.