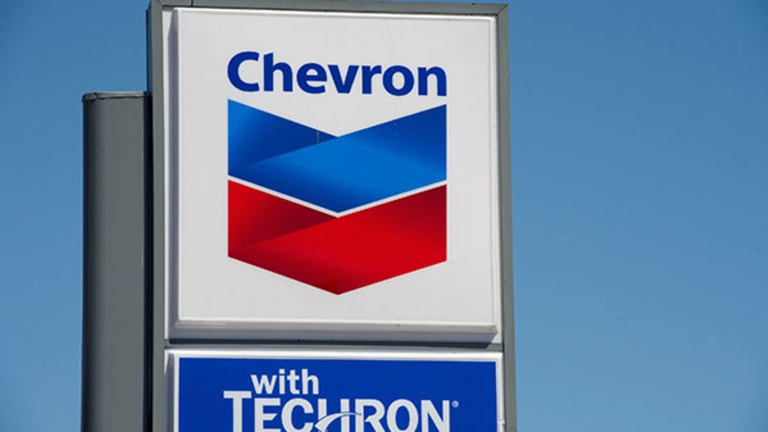 Want to Turbocharge Your Chevron Investment? Try Covered Calls
This could be just the right time to use a covered-call options strategy on Chevron, a stock with solid fundamentals.
NEW YORK (TheStreet) -- Chevron (CVX) - Get Chevron Corporation Report is an excellent stock for using covered calls, an options strategy that can deliver juicy returns.
The best companies to pick for writing covered calls are those with exceptionally strong fundamentals, and Chevron passes several fundamental tests with flying colors:
Dividends. Chevron is exceptional in several ways when it comes to dividends. First, the dividend yield is 5.32% based on Friday's closing price of $80.43. That is an exceptionally high yield, assuming the investment is safe by other measures. Besides the yield, Chevron has increased its dividend every year for the past 10 years. This makes Chevron a "dividend achiever." A decade of increased dividends is not seen in many stocks. This is an indication of an exceptional company. A third dividend test is the payout ratio, the percentage of earnings paid out in dividends. If this ratio declines over time, it is not a positive signal. Chevron currently has a 42% payout ratio, which is excellent.
Price-to-Earnings Ratio. Because a price-to-earnings ratio consists of a technical (price) with a fundamental (earnings), a single current value does not tell you very much. In addition, price is current, but earnings can be weeks or months old. For this reason, the annual P/E range is a more reliable measurement. In the last reported fiscal year, Chevron's P/E range was 10 to 13. With such a low range, the stock is priced reasonably, if not at bargain levels.
Revenue and Earnings Growth. Trends matter. A positive trend is when both revenue and earnings have increased in more than half of the last 10 years. Chevron reported higher revenue in seven of the last 10 years, and higher earnings in six.
Debt Ratio. The best trend in the debt ratio is a decline. A level ratio is not negative, and a rising one is very negative. Chevron has a very low debt ratio of 13.
The fundamentals are exceptional. Very few companies can match them. A search of all companies meeting these criteria gives you a very short list. So if you already own shares of Chevron, what else can you do to maximize your investment?
As the stock's chart shows, as of Friday, several signals pointed to a full recovery from last week's volatile price movement. As volume rose throughout July and August, the relative strength index made several dips into oversold territory.
The RSI's latest move, however, was back to the middle of its range. This indicates a bullish reversal, with the combination of growing volume and the momentum activity shown in RSI.
Confirming the bullish reversal, price levels have reached the level of support set months ago on a gradual decline. The bullish candlestick reversal in the form of a "three inside up" formation strongly supports the bullish signs.
Based on recent activity, this points to good timing for covered calls, assuming the cost basis in Chevron is lower than $80 per share. (If basis is higher, traders may wait out further price movement, since writing calls at strikes below basis is unwise.)
Covered calls are a favorite among options traders. A common mistake, however, is to pick volatile stocks for options strategies. Like most stocks, Chevron was volatile last week, but it came back to its approximate declining support level by the end of the week.
With Friday's close of $80.43, a look at September and October options reveals attractive returns for covered calls in the annualized double digits.
First is the September 80.50 contract. The call showed a bid of 2.66. Subtracting $9 for trading cost, the net for selling this call is about $257. Based on the 80.50 strike, that is a return of 3.19% in 18 days. Annualized, it yields 64.69% (3.19%/18 days x 365 days = 64.69%).
An alternative is the October 80 call. Its bid as of Friday's close was 3.90, so with trading costs of about $9 this will net $381. That's 4.76% over 46 days. This contract yields an annualized return of 37.77% (4.76%/46 days x 365 days = 37.77%).
The comparison makes the point that shorter-term covered calls offer a better yield than longer-term covered calls. With a closer expiration date, time value declines rapidly and the position is likely to expire worthless or can be closed at a small profit.
The key point to be made, however, is that impressive returns are possible with high-quality fundamental companies. Chevron is exceptional in this respect. Assuming that basis in stock is lower than $80, these kinds of covered calls will be well-timed.
This article is commentary by an independent contributor. At the time of publication, the author held no positions in the stocks mentioned.