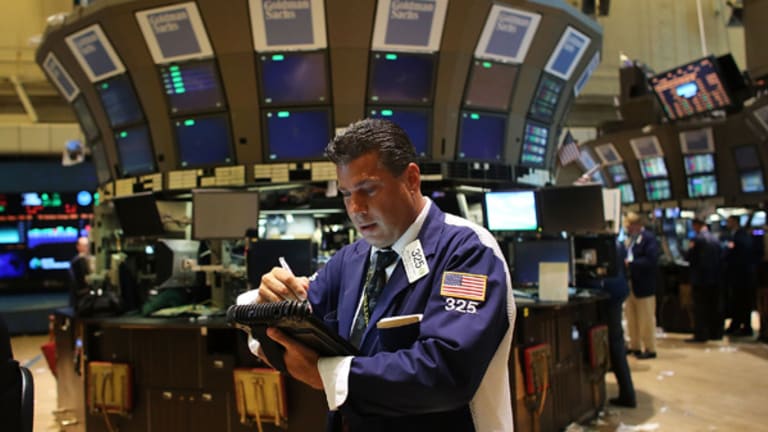 Wall Street Zones in Even Deeper Into EuroZone
Investors are buying or selling in droves in response to the latest round of news.
The following commentary comes from an independent investor or market observer as part of TheStreet's guest contributor program, which is separate from the company's news coverage.
NEW YORK (
) -- Things are now about to get really interesting. We see that as an opportunity at
Top Gun Options.
With the final EU summit of the year coming up on Friday in Brussels, Wall Street turns its weary eyes once more to the ongoing drama of the European Union's sovereign debt crisis.
In fact, investors are finding it all but impossible to turn away from the daily blasts of conflicting news that emanate out of the press releases of various EU leaders. The assorted affirmations and denials from the key players are indicative of a European Union that is anything but united.
For every new indication of a united front, usually out of the mouths of Germany's Merkel and France's Sarkozy, it seems like a contradiction, disclaimer or outright reversal follows, frequently from the cabinet members of the very same eurozone powerhouses (see chart below).
Investors are paying close attention, buying or selling in droves in response to the latest round of news. Just last month, the
Dow Jones Industrial Average
(DJIA) shed almost 800 points in response a wave of bad euro-centric news that helped drive up the yields on Italian and Spanish bonds to "unsustainable" levels. Yet over the last two weeks, the Dow managed to regain that, and more, sending the Blue-Chip index into the black for the year.
The most recent positive sentiment began to form in response to the news that a concerted effort was being made by six major central banks, led by the Fed and followed by the ECB and four other leading industrial nations. That effort, including a reduction of interest rates on three-month loans available to European Central Bank member states, was an immediate success, with $50 billion of the three-month loans snapped up. The initial expected response was targeted at $20 billion to $40 billion, which either indicated a greater than anticipated problem, or that the action was a brilliant example of seeing a need and filling it.
Still, most investors acknowledged the problem as a short-term fix, and though the market has continued to inch upward, there is clearly a lack of commitment by investors, and that won't change until a clear direction from the EU summit is indicated.
As of Thursday morning, however, the only indication is that business is proceeding as usual, with the European Central Bank President now insisting that the ECB's "hands are tied" in terms of what it can actually do in terms of fixing the EU's monetary financing policy. The problem is, this contradicts much of what has been offered up recently, in terms of possible solutions to the debt crisis.
As of Thursday morning, at least, Wall Street showed its collective annoyance at the continued muddle of messages from EU leaders by initiating a brisk, but not extreme, selloff.
A lot of the comments being made are, of course, no more than trial balloons, to see what flies. By tomorrow, however, if a unified stance remains elusive to the EU leaders, then investors will certainly take one, and it won't be very pretty.
On the Options Front
Two weeks back, we took a look at a "pairs" trade, pairing the VXX (S&P 500 VIX Short-Term Futures ETN) with the XRT (SPDR S&P Retail ETF).
At that point, XRT seemed like a good pick to take advantage of an expected surge in the retail sector that was based on the positive numbers that came out of the first wave of "Black Friday" data. This turned out to be true, with XRT gaining about 8% as of Wednesday's close.
The flip side of the pick, VXX, exhibits explosive movement in response to market news. It tracks the VIX, and generally moves up as the equity market goes down, and vice versa. True to form, VXX shed over 12% during the same period, as the Dow skyrocketed over 7% during this period. To date, the trade has evened out, as we had a ratio on our entry favoring XRT.
Firing Line: Now however, with the uncertainty over the EU direction reaffirming itself, it would be a good time to sell to close XRT, and to hold on to the VXX. Happy hunting and make sure you hedge!
This commentary comes from an independent investor or market observer as part of TheStreet guest contributor program. The views expressed are those of the author and do not necessarily represent the views of TheStreet or its management.