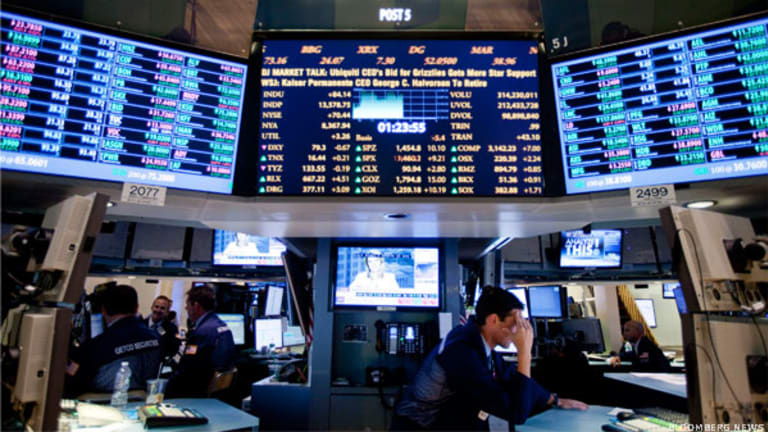 Volatility Play on Mirant Options
Heavy buying today in Mirant options but investors weren't calling for upside or downside.
Heavy buying action occurred in
Mirant
(MIR)
options during Wednesday's trading session, but investors weren't necessarily calling for upside or downside. The story behind MIR options is longer-term volatility.
MIR shares declined 40 cents, or nearly 4%, to $10.33 during afternoon trading without any company specific news. The stock could still be reacting to a downgrade from BMO Capital Markets on Monday (the firm downgraded the company to underperform from market perform). MIR is due to announce earnings on May 7 before the market opens, and analysts estimate earnings of 40 cents a share. Options action suggests investors are calling for the stock to either drop or rally significantly throughout the longer-term.
At 2:35 p.m. EST, a block of roughly 5,000 January 2011 10 straddles changed hands. The January 2011 10-strike calls, home to current open interest of 89 contracts, crossed the tape for the ask price of $1.90 per contract, while the January 2011 10-strike puts traded for the ask price of $1.35 per contract and are home to current open interest of 850 contracts. This options action suggests investors paid $3.25 per straddle (or $325 per lot) and committed a total of roughly $16,250 to open this long straddle position. The calls have gained five cents on the day, while the puts are currently trading up 10 cents. Investors who bought these straddles will make money if MIR shares drop well-below $6.75 or rally higher than $13.25 prior to January 2011 options expiration. This means straddle buyers are banking on volatility to kick in, as these options have an implied volatility of roughly 42% compared to the stock's 30-day historical volatility of 30%.
Jud Pyle is the chief investment strategist for Options News Network (www.ONN.tv) and the portfolio manager of TheStreet.com Options Alerts. Click here for a free trial for Options Alerts. Mr. Pyle writes regularly about options investing for TheStreet.com.
Jud Pyle, CFA, is the chief investment strategist for Options News Network. Pyle started his career in finance in 1994 as a derivative analyst with SBC Warburg. After four years with Warburg, Pyle joined PEAK6 Investments, L.P., in 1998 as an equity options trader and as chief risk officer. A native of Minneapolis, Pyle received his bachelor's degree in economics and history from Colgate University in 1994. As a trader, Pyle traded on average over 5,000 contracts per day, and over 1.2 million contracts per year. He also built the stock group for all PEAK6 Investments, L.P. hedging, which currently trades on average over 5 million shares per day, and over 1 billion shares per year. Further, from 2004-06, he managed the trading and risk management for PEAK6 Investments L.P.'s lead market-maker operation on the former PCX exchange, which traded more than 10,000 contracts per day. Pyle is the "Mad About Options" resident expert. He is also a regular contributor to "Options Physics."