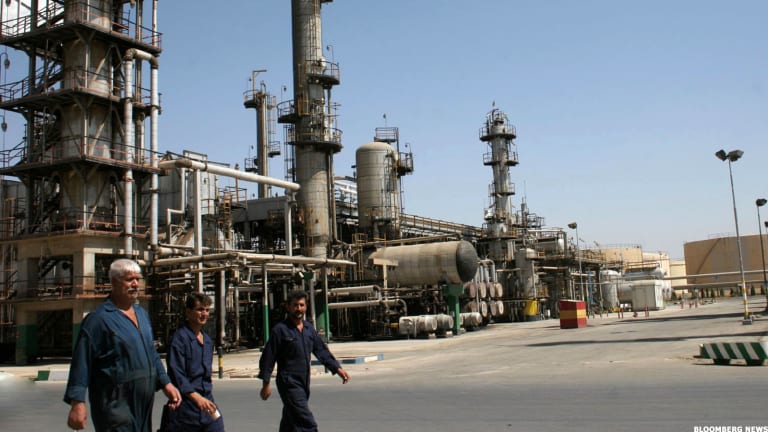 United States Oil Fund: Trading Oil's Slippery Bottom
This exchange-traded fund is best of breed if you are looking for performance pegged to crude oil.
NEW YORK (TheStreet) -- If you want to trade oil, consider the United States Oil (USO) exchange-traded fund.
This ETF is the best of its breed if you are looking for: 1) tight bid/ask markets (both for the ETF shares and its options markets); 2) very liquid markets; and 3) relative price movement and performance pegged to West Texas Intermediate, light, sweet crude oil. And thanks in part (a major one) to far more sellers than buyers in USO over the past 52 weeks, USO closed last Friday one penny off its 52-week low of $13.98.
And of course a small chorus of gurus were postulating in the financial media over this past weekend about how oil is "trading like the worst is over" and "sentiment and seasonality" might now be in oil's corner.
These gurus might be right and they will remind you and the media when they are. Your caveat consilium is that they do not remind anyone of any prediction that went wrong. And of course they might be wrong, as the "oil has bottomed" battlefield over the past 52 weeks is littered with lethally wrong gurus predicting that bottom. In fact, the following trade does not care if they are wrong or right!
All this trade is concerned with, revolves around, is that the set-up and tactical approach wants oil to move in price enough so that the trade creates a short term profit. What the set-up does not want is for oil to now find a home at this price level.
Technically I read USO's one year stochastic and Relative Strength Index charts as being uber bearish if I am looking at what that chart's trail or path has been over these past 52 weeks! After all, USO, on Aug. 18, 2014, was trading over $35. However, all things pass. And maybe the bottom is forming now for USO? What I do think is that once that bottom has formed, there might be a mad dash to own the stuff we all use almost every day. Thus the following Dynamic Synthetic Call (DSC) trade in USO.
The trade is this: buy 100 shares of USO for $14 and buy two USO November 14 puts for $1.10.
The total capital required for the trade is 14 points (the long USO shares) + 2.20 points (the long puts) which equals $16.20. The total capital at risk per combination of each 1 by 2 DSC (ie, 100 long shares of USO for each 2 long USO November 14 puts) is 2.20 points. The suggested value to close the trade for a gain is at a total bid (shares + puts) of $16.75 and the suggested value to stop out the trade is at a total bid of $15.65.
As always, this is a guideline, and you should always stick to your trading plan and what's best for your risk/reward tolerance.
OptionsProfits can be followed on Twitter at twitter.com/OptionsProfits
Skip Raschke writes regularly for Options Profits. You can get his trades first and interact with him there with a free trial.
This article is commentary by an independent contributor. At the time of publication, the author held no positions in the stocks mentioned.