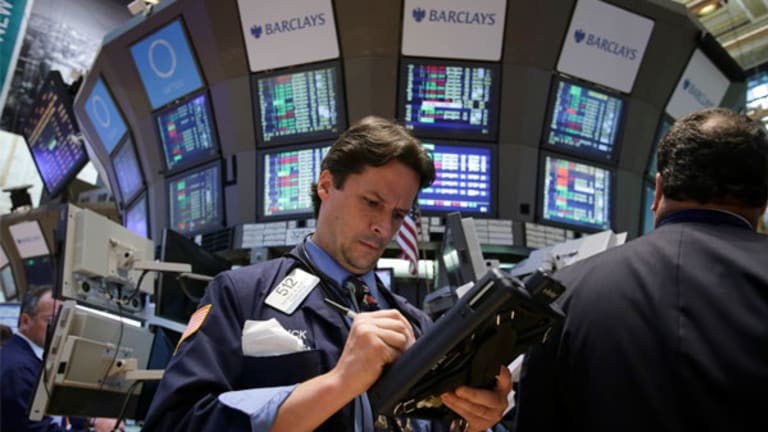 Trading the XLF for EPS
We are going to initiate a position on the financial sector ETF which is a more limited risk, non-directional option trading strategy, as JPM kicks off earnings for the group on Wednesday.
We are going to initiate a position on the financial sector ETF which is a more limited risk, non-directional option trading strategy, as JPM kicks off earnings for the group on Wednesday.
With October earnings season just beginning, there will be several major financial institutions reporting earnings over the next few days. On Wednesday we have
JPMorgan Chase
(JPM) - Get Report
, followed by
Bank of America
(BAC) - Get Report
,
Goldman Sachs
(GS) - Get Report
,
Citigroup
(C) - Get Report
and a whole bevy of other major financial institutions. Knowing this, it is no surprise that
Financial Select Sector SPDR ETF
(XLF) - Get Report
has seen a decent amount of trading.
I find the financial sector to be quite the quagmire. There are as many reasons to like the sector as there are to hate it. On the hate it side, there are many new regulations that could affect earnings on the major banks and investment houses. There is the news that many foreclosures have been mishandled causing halts in the process all across the United States. Not to mention a dismal economy that does not seem to want to rebound.
On the positive side, the cost of money is near $0. This allows any loan the bank issues to have some nice juice in it. If the Federal Reserve keeps up the heavy buying of U.S. debt at rates this low for some time, earnings at least in the near term will be helped. If M&A activity heats up (as it seems to be doing) investment bank's consulting fees may rebound.
Ahead of JPM's earnings tomorrow, almost all of the trading in XLF has been put buying. A trader bought the January 12/14 put spread, another the Dember 13/14 put spread, while one trader bought the November 13 puts outright. Is all of this bearish? Probably not. There is a good chance that at least one of the above trades is a hedge against long outrights. That is why it is impossible in the option world to look at a grouping of trades and build a definitive market opinion off of that paper flow, especially in an ETF as widely held as XLF.
As I analyzed what was happening in XLF, I did notice a few things that can help an option trader make a trade.
1. The realized volatility of XLF has been nil, even through the last earnings cycle.
2. 30, 60, and 9-day implied volatility has held very constant as realized volatility dropped
3. Open interest does not lean heavily one way or the other
Rather than try and pick a direction, I realized that a non-directional trade might be in order. As I reviewed the possibilities, I was struck by the XLF January 13/14/15/16 Iron condor. It can be sold at over $0.62 and has odds of success of over 40%. To me, this is an edge, or the equivalent of a coin flip that pays over one to one. I also like the range this trade creates. On the downside, XLF has not closed below this trades break even point in the last year and on the upside not since before the flash crash.
While I have no certainty that this will win, I think the trade is a good bet, especially if this round of earnings is a non issue. In fact, it is possible that with JPM earnings tomorrow, this trade becomes a decent winner pretty quickly. If this trade makes decays out quickly through earnings season, it should be closed (basically less than $0.45), otherwise I will be looking to buy it back for less than $0.25 by December. I would exit this trade if the underlying crosses my expiration break evens.
Trade: Buy to open XLF January 13 puts for $0.33, sell to open XLF January 14 puts at $0.60, sell to open XLF January 15 calls at $0.68, buy to open XLF January 16 calls for $0.33.
So, we net sell the XLF January 13/14/15/16 iron condor at $0.62. Iron condors are a strategy that is employed when the underlying security is perceived to have low volatility, which XLF has. It is a limited risk, non-directional option trading strategy that is designed to have a large probability of earning a small limited profit. Maximum gain for the iron condor is equal to the net credit received when entering the trade. Maximum profit is attained when the underlying stock price at expiration is between the strikes of the call and put sold. At this price, all the options expire worthless.
At the time of publication, Mark Sebastian held no positions in the stocks or issues held.
Mark is a former market maker on both the Chicago Board Options Exchange and the American Stock Exchange, and is currently the Director of Education at The OptionPit.com and the Director of Risk Management for a private hedge fund. Mark also writes Option911.com, a popular index and equity options blog.
OptionsProfits For actionable options trade ideas from a team of experts, visit TheStreet's OptionsProfits now.
Readers Also Like:
Readers Also Like:
>>Marathon Could Be Ready to Run
Readers Also Like: