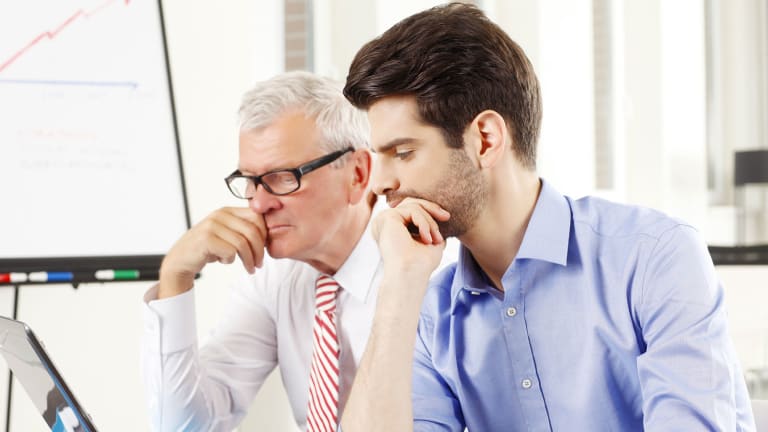 Trade the Tech Select Sector SPDR ETF With a Call-Back Spread
Use 'other peoples money' for this Technology Select Sector SPDR ETF's call-back spread.
NEW YORK (TheStreet) -- This morning my big idea focused on the call-back spread tactic, and now we will employ that strategy.
The Technology Select Sector SPDR ETF's (XLK) top holdings include Apple (AAPL) , Microsoft (MSFT) , Google (GOOGL) , Facebook (FB) , Verizon (VZ) , IBM (IBM) , Visa (V) and Cisco (CSCO) . XLK has traded between $31 and $44 over the past 52 weeks. It has a current year-to-date gain of approximately 4%, which given what has occurred so far in 2015 is an "OK" return. And there could be more upside over the next several quarters.
The CBS tactic fits this ETF primarily because of the premium bids/offers in terms of risk/reward potential and liquidity. The holdings of XLK are loaded with quality stocks that have upside potential, especially if the tech sector is finally about to find new buyers combined with less sellers!
The CBS expiry for this trade is January, which is a relatively long term for any premium buyer. The CBS is a combo of premium buying and selling, the buying being done with the capital provided by the selling of the deeper call. Thus, capital required is "paid for" by that short call side of the trade relative to buying the out-of-the-money calls for the trade. This capital tactic is what I call OPM (Other Peoples' Money!). If set up the way I prefer, the shorted side call (literally) pays for the long-side calls. And if that does not set up then I pass on that trade.
Trades: Sell to open 1 XLK January 40 call at $2.20 and buy to open 2 XLK January 42 calls for $1.10.
The total risk for the trade is $2.00. The suggested target to close the trade is for a credit of 50 cents and the suggested stop is a debit of 50 cents. AS ALWAYS, this is a guideline and you should stick to your trading plan and what's best for your risk/reward tolerance.
Now if your broker can take a CBS order, you might enter the trade using this lingo: Sell 1 XLK January 40 call and buy 2 XLK January 42 calls for "even money". That verbiage allows for the broker to execute the trade with whatever numbers/prices they can in order to get the trade opened for you at, once again, even money. In other words, you will not put up any capital other than margin money that the broker will require.
Paper trade this set up if you have ANY doubts about it. Know that I paper-traded for five years before taking my first capital at risk trade many years ago. Of course back then nobody knew what CBS was! Oh, my.
This article is commentary by an independent contributor. At the time of publication, the author held no positions in the stocks mentioned.