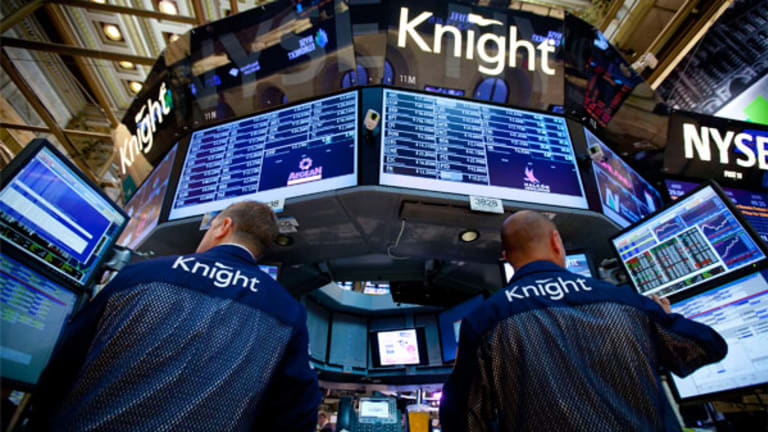 Top Gun Options Trades Google Earnings
This stock can be volatile around earnings, so an iron condor strategy is employed.
The following commentary comes from an independent investor or market observer as part of TheStreet's guest contributor program, which is separate from the company's news coverage.
NEW YORK (
) -- Strategic Mindset: Earnings season is approaching for some heavies both in tech (
Google
(GOOG) - Get Alphabet Inc. Report
) and the financial space (
Goldman Sachs
(GS) - Get Goldman Sachs Group Inc. (The) Report
,
Bank of America
(BAC) - Get Bank of America Corporation Report
). And while these industries don't appear similar on the surface, they do tend to impact the overall market sentiment and direction.
Our strategic mindset continues to be market neutral -- we're trading with the trend (don't fight the tape), while keeping one eye on the exit for the day someone yells "Fire!" and actually means it. Our
is aligned with this mindset with a diagonal on VXX that is long-term bullish on volume while being short-term bearish. We have a similar position in BAC.
Follow
TheStreet
on
and become a fan on
Target
:
Google
(GOOG) - Get Alphabet Inc. Report
, currently trading at $652.
Commit Criteria
: GOOG reports earnings on 4/21 so this trade takes into account the historic movement in implied volatility around these events (surges roughly 40%), while taking an overall neutral stance on earnings. The tactic we have chosen suits our strategic mindset and commit criteria.
As you can see from the one-year chart below, GOOG tends to have large gap moves around earnings.
GOOG has also had a nice recent run with our
Fed
-induced bullish market:
Tactic
: April 585/590/700/705 "Iron Condor"
Tactical Employment
:
Buy 15 Apr 585 Puts
Sell 15 Apr 590 Puts
Sell 15 Apr 700 Calls
Buy 15 Apr 705 Calls
Midcourse Guidance
: We're going to hold this trade in our model portfolio through the earnings announcement unless something drastic changes midcourse. The short call and put strikes we've selected are 1 standard deviation away and are within the historical earnings movement of the stock.
There's a 72% probability of keeping the max credit on this trade, or $2100. The max loss is $5,400, a little north of our rule of engagement which states that we will not risk more than 5% of the $100,000 model portfolio on any one trade. As the Pilot in Command of the Primary Model Portfolio, I am comfortable with this risk. There's a 24% probability of incurring the max loss.
We have two break-evens on this trade due to the tactic we're employing, an iron condor. The stock obviously can't split and head in two directions, both up and down, so to the downside our breakeven is $588.60 and to the upside $701.40.
As stated above we're looking to stay in this trade through earnings to potentially collect the max credit.
Threats
: GOOG is a bucking bronco around earnings. You can literally feel the market hold its collective breath waiting for the announcement. This fuels the run-up in volatility. Once earnings are announced the stocks moves one way or the other and we see a volume crush.
Exit Tactic
: Reverse the entry position by buying back the two spreads to close.
Firing Line
: We selected a bull put and bear call spread $5 wide to help us manage risk. If we wanted to take more risk and potentially take in more of a credit we could've selected $10 wide strikes. But this increases our risk significantly. We're comfortable with $5 wide strikes and if the stock gaps up or down through one of our short strikes, we will close that leg as quickly as possible to limit loss.
As always at
we close a trade if our Commit Criteria change for any reason.
This commentary comes from an independent investor or market observer as part of TheStreet guest contributor program. The views expressed are those of the author and do not necessarily represent the views of TheStreet or its management.