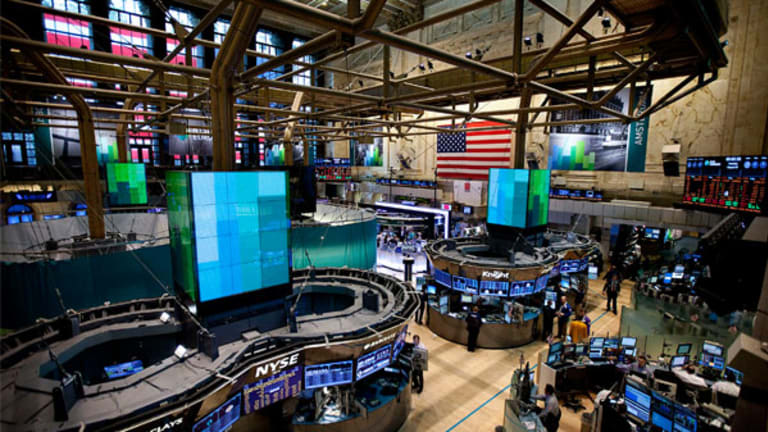 TJX: How Does This Stock Fit Your Portfolio?
Jill Malandrino of OptionsProfits and Scott Redler, Chief Strategic Officer of T3Live, outfit you with the fundamental and technical case for a trade in shares of TJX. Skip Raschke ties it in with the options play, a calendar spread.
The
TJX Companies
(TJX; $59.90) you will most likely know as T.J. Maxx, Marshalls and HomeGoods retail stores. TJX now has over 2,000 stores operating in in the U.S. and Canada. Beginning in 1956, TJX has grown into what it is today, a giant in what is known in its industry as "off-price" retailing.
TJX began 2011 around $44 per share. Stocks that buck the general direction or major cycles in control of the market during a year's time tend to be foretelling a story. The TJX story could easily be one with a happy ending as we enter the remaining month of this wild stock market year.
For a look back and reference, we began 2011 at Dow 11,578. Thus, the Dow has traveled over the course of the past 11 months what feels to be everywhere and nowhere! Not so the stock price course of TJX as it has bucked the volatility as well as price direction of the major stock market indices for most of 2011. Check out Yahoo! Finance Interactive charts. Put up the one-year chart for TJX and then use the compare section found at the top of that TJX chart. Click on compare and checkmark the box for the Dow Jones. Then hit the draw button and notice how TJX has traveled its own upward price-directional course as it deviated from the direction of the Dow Jones, beginning in late June.
Let's also review the T3/OP video with Jill and Scott for more color:
When stocks buck trends of the major indices, they either are gaining or losing relative strength. If losing price ground while the averages are not, they soon become excellent short sale candidates. If gaining while the averages are not, that should arouse the bull in any trader! Such is the case for TJX.
Fundamentally TJX has excellent, sound management that became quite apparent when perusing its books (income statements and balance sheets). Net earnings for Q4, ending on January 31, should exceed a 17% growth rate as compared to those of 2010's Q4.
Consider a call calendar spread in TJX. Calendar spreads are controlled risk spreads and generally low regarding capital cost. They are directionally biased, but attempt to use time as both an ally as well as reducing dollar risk.
Trades: Sell to open 3 TJX December 60 calls at $1.50 and buy to open 3 TJX January calls for $2.50.
The total risk for this calendar spread is the premium paid, or $1.00 ($100) per spread.
As always, I will monitor the trade on this site in the comments section below.
On Saturday, December 3, the CBOE, Option Pit and OptionsProfits are hosting a full-day course dedicated to mastering strategies for trading the VIX. CLICK HERE FOR INVITE AND TO REGISTER.
OptionsProfits can be followed on Twitter at twitter.com/OptionsProfits
T3Live can be followed on Twitter at twitter.com/_t3Live_
At the time of publication, Jill Malandrino, Skip Raschke and Scott Redler held no positions in the stocks or issues mentioned.