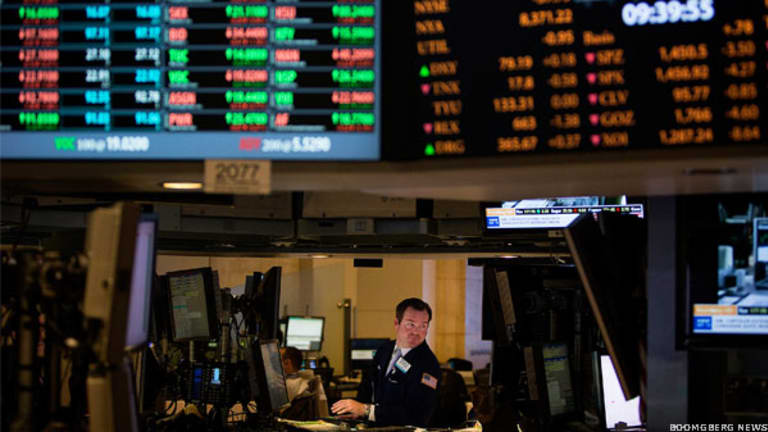 Including Monday, five trading days remain in 2010. There is no New Year holiday, which is normally on a Friday, because the final day of the calendar year falls on a Friday. So, exchanges stay open and we'll be working hard every day this week to deliver another round of options trading ideas from the OptionsProfits team. In this article, for example, we'll take a look at a few strategies that use 2012 options contracts.
2012s are Long-Term Equity Anticipation Securities, or LEAPS, that expire in January 2012. 2013s options are listed on some underlying securities as well. Structurally, there's no difference between short-term contracts and these longer-term contracts. LEAPs simply offer more time for investors to participate in moves in the underlying security. Today, our focus is on the 2012s and on positions in banking names designed to make you money in 2011. The three examples are recent trades that came across our radars due to their size. They are so-called "smart money" options plays over the next 389 days. Keep in mind that, as with any options contract, positions do not need to be held until the expiration. An options position can be closed out at anytime through an offsetting trade.
Massive blocks of 2012 call options traded in Citigroup (C) - Get Citigroup Inc. Report on December 16. With shares trading around $4.60, 185,000 January 2012 6 calls traded at $0.30 per contract. At only $0.30, this might seem like a "cheap" play. However, on 185,000 contracts it represents a $5.55 million investment. In addition, this investor is probably looking to lock in their right to buy or call the shares at $6.00 each through the January 2012 expiration. Since one call offers the right to buy 100 shares, the exercise of 185,000 contracts at $6.00 per share equals an investment of $111 million!
An interesting spread traded in
Bank of America
(BAC) - Get Bank of America Corp Report
Thursday, December 23. In this "smart money" play, the strategist bought January 2012 12.5 call options at $2.42 and also sold 21,000 January 2012 20 calls at $0.34. With shares around $13.05, they did this 21,000X. The spread, for a net debit of $2.08, is another bullish play. The total investment in the position is $4.37 million and the upside breakeven on the spread at the January expiration (excluding commissions) is at $14.58, or 11.7% above current levels. The potential pay-off is $5.42 per spread. So, the strategist is risking $2.08 to make $5.42. However, like with the Citi calls, they might be looking to lock in their right to buy or call the stock at $12.5 through the expiration, which would equate to another investment of $26.25 million.
The thirdd smart money bank play was not in an individual name, but in the
Financial Select Sector Fund
(XLF) - Get Financial Select Sector SPDR Fund Report
. The exchange-traded fund holds all of the financial-related names from the S&P 500 and large cap banks dominate the XLF. In these trades, an investor was selling large blocks of January 2012 $20 calls at 30 cents each. The stock was around $15.80 at the time and these blocks of calls (totalling 20,000) were tied to shares of stock. That is, the investor was buying shares at $15.75 and selling January 2012 $20 calls at 30 cents to open new buy-write or covered call positions.
In a typical buy/write, an investor sells 1 call for every 100 shares. Therefore, on 20,000 calls, the investor is buying 2 million shares at $15.75 for a total investment of $31.5 million. The sale of the 20,000 calls at 30 cents each brings in $600,000 in premium. Therefore, their cost of the trade is $30.90 million, or $15.45 per share. The upside is to $20.00, or 29.5%, through the January 2012 expiration. If shares move beyond that level, shares will be called away for $20.00 each.
2012 and 2013 options are LEAPs and offer investors the ability to participate in the movement t of an underlying stock, index, or ETF over a period of years rather than months. Some investors use them to lock in the right to buy or "call" a stock over time. This might involve buying calls or call spreads. Others generate income by selling calls against shares. Of course, LEAPs can also be used to bet on a downward move in a stock or to hedge positions. They can also be used in a myriad of other options strategies like credit, calendar, or diagonal spreads. More examples in the weeks and months ahead!
See you Wednesday!
At the time of publication, Fred Ruffy held no positions in the stocks or issues mentioned.
Frederic Ruffy is an experienced trader and provides daily commentary and analysis of the options market. He is co-founder of the web site, WhatsTrading.com. His work has also appeared in Futures Magazine, Technical Analysis of Stocks & Commodities, Stock Futures and Options, and Sentiment.
In addition to writing market commentary and trading-related books and articles, Fred has also worked as an instructor, educating investors on advanced topics like measuring volatility, the benefits of sector rotation and the risks and potential profits from trading around earnings. An active trader himself, with over 15 years securities industry experience, his market observations and analysis of the options market are featured regularly in the financial press including Barron's, Reuters, The Wall Street Journal, and Bloomberg.
OptionsProfits For actionable options trade ideas from a team of experts, visit TheStreet's OptionsProfits now.
Readers Also Like:
>>EU Debt Crisis Tops Options Stories for 2010
Readers Also Like:
Readers Also Like: