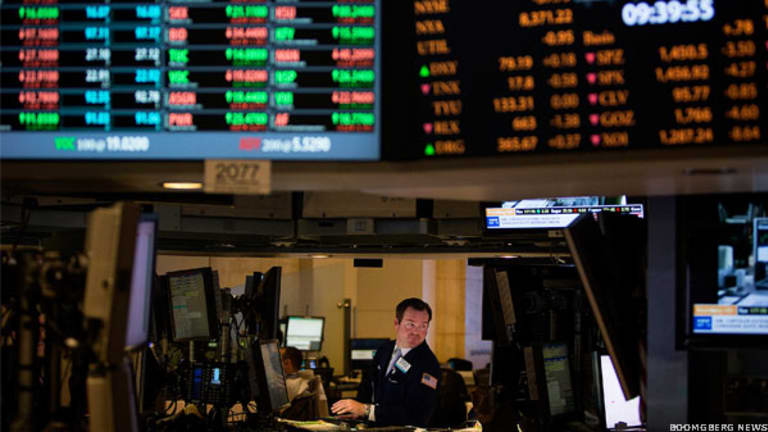 The Power of Buy/Write Combinations
We are going to illustrate how a 7.3% gain could translate into a 38% profit when employing this strategy on shares of Cisco .
We are going to illustrate how a 7.3% gain could translate into a 38% profit when employing this strategy on shares of Cisco .
generated lots of interest in further exploration of my style of trading. Today's column will walk you through the mechanics of an actual transaction to clarify how it works and why the results often far exceed the returns of those who simply buy and hold those same shares over the same time period.
The first and most important thing is to identify an underlying stock that you feel has little downside risk and a good probability of rising over time. For today's example, I'm going to use Cisco Systems (CSCO) - Get Report which is now trading near its lowest valuation in history. It thus meets my criteria of low risk with good upside.
Cisco Systems (CSCO)One Year

Source: Morningstar
Here are the actual prices you could have achieved in setting up this buy/write (from last Friday at 4:00 p.m. EST):
The net cash outlay is reduced to just $14,490 per 1000 shares because of the money taken in from the sale of the calls and puts. If you do these trades in a margin-type account with substantial paid-up equity, there is no further actual cash outlay required unless the puts are eventually executed.
The best case scenario results will occur if CSCO finishes at $20.00, or above, on the January 21, 2012 expiration date. Any move up of 7.3%, or better, will accomplish that.
If CSCO does hold at $20.00, or higher, on January 21, 2012:
¿ The calls will be exercised and the puts will expire worthless
¿ You'll be left with no shares and $20,000 in cash
$20,000 - $14,490 = a $5,510 net profit.
$5,510/$14,490 = 38% cash-on-cash achieved in less than 11 months. Any move up of 7.3%, or more, would give us that 38% gain which also represents our maximum potential profit.
Investors who simply buy CSCO shares (without selling options) have unlimited upside and we do not. CSCO would have to exceed $25.72 per share by January 21, 2102 for them to make more than the 38% gain we will pocket if CSCO rises much more modestly.
Breakeven for the combination play is reduced to $17.25, or 7.4%, below our trade inception price.
Here is a look at how the buy and hold investor will do compared with the combination play at various potential end points on expiration date.
The chart makes it easy to see why I love combinations. Any final price (on expiration date) from zero to $25.71 would leave the buy/write with a better net percentage gain than the outright purchase of shares. Modest declines in CSCO could still result in gains for the combination player even as the straight buyer of shares was suffering losses.
Trades: Buy 1,000 CSCO for $18.64 per share, Sell to open 10 CSCO January 2012 20 calls at $1.40 and sell to open 10 CSCO January 2012 20 puts at $2.75.
Dr. Price joined Merrill Lynch in 1987 and over the next 13 years worked with A.G. Edwards, Wheat First and Ferris, Baker Watts. Dr. Price enjoyed enough success to retire in October 2000, but he continues to write and give investment seminars.At the time of publication, Paul Price was long CSCO shares and short CSCO options.
OptionsProfits For actionable options trade ideas from a team of experts, visit TheStreet's OptionsProfits now.
Readers Also Like:
>>Why GLD Call Options Could Shine
Readers Also Like:
Readers Also Like: