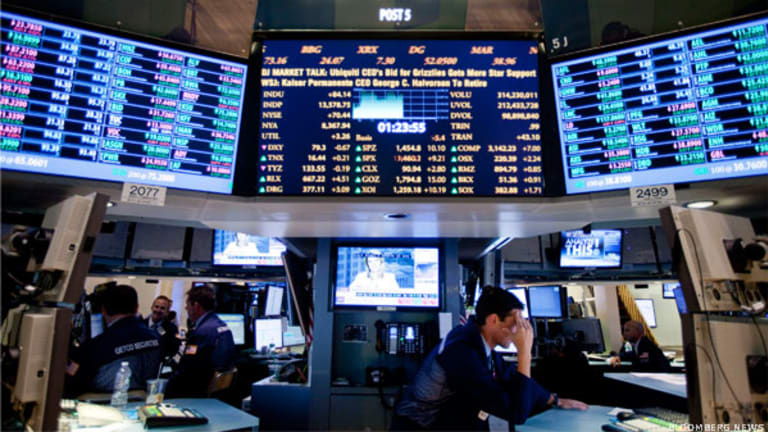 The Gestalt Approach to Motorola
The market may soon realize that this company is being valued at less than the sum of its parts.
"Gestalt" is a word used in the world of modern psychology signifying that "The whole is not the same as the sum of its parts." At times you will read where Gestalt theory is defined as "The whole is less than the sum of its parts". I will still use the latter to explain why
Motorola
(
(MOT)
; $7.99 at the close Nov. 12) currently falls into the "Gestalt-ist" sphere of the stock market!
In the first quarter of 2011, Motorola plans to break up into two corporations. Prior to that, shareholders will vote on whether to have a reverse split take effect before the big breakup. Normally, reverse splits are a negative for volatility (a normal split (say, the 2-for-1 kind) is usually a positive for volatility). MOT options currently trade around a 35 volatility, meaning any reverse split will likely have a minimal effect on bringing down what is already a somewhat low volatility level for MOT, given the positive fundamental prospects for the stock.
The theory of Gestalt enters the picture in that the sum of the parts of MOT will likely exceed the current (and relative reverse split) price of the stock! I propose trading the calls on MOT that expire in April. Consider taking a speculative long call position that will rise in price should MOT's stock rally -- mostly because of the Gestalt effect.
Trade: Buy to open 4 MOT April 8 calls for $0.70.
Be prepared to buy more should MOT slip in price over the next few weeks. Thus you will be averaging into the position, the goal to be long at least 12 calls by year-end.
At the time of publication, Skip Raschke had no positions in the securities mentioned.
Skip is a former registered options trader and member of the Philadelphia Stock Exchange. He was an equity options analyst and broker with Paine Webber and a proprietary trader for Van Der Moolen. He served in the USMC, as well as played minor league baseball with the N.Y. Yankees organization. He is an independent stock and options market consultant.
OptionsProfits For actionable options trade ideas from a team of experts, visit TheStreet's OptionsProfits now.
Readers Also Like:
>>More Tools Than Uncle Ned's Woodshed
Readers Also Like:
>>http://www.thestreet.com/options-profits/article/big-idea/shifting-investor-focus
Readers Also Like:
>>GM IPO: First in a Series of Offerings