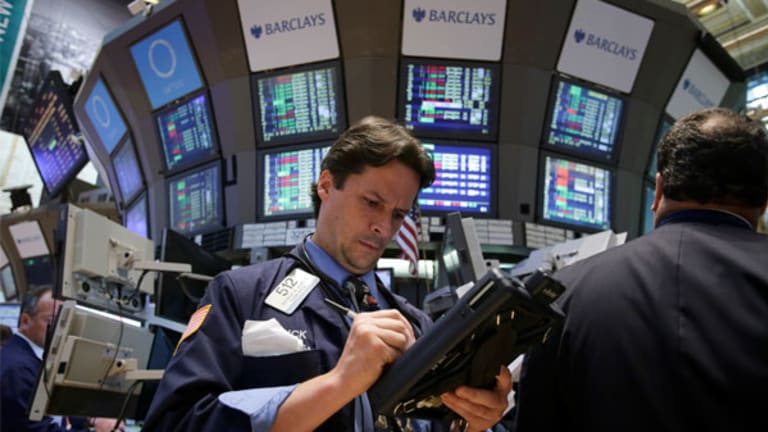 The Cheapest 'Cloud' in the Sky
A speculative call play in CA Technologies makes sense in this intermediate-term oversold environment.
A portmanteau is a blending of two or more words into one word that has a new meaning. For instance, recall the Reagan financial world of the 1980s and the changes that it created. Reflect on our economy during his eight years as president. Combine "Reagan" with "economics" to create the portmanteau "Reaganomics." Today, some 30 years later, that portmanteau has made its way into the dictionary!
I follow my own stock market drummer, preferring to be a lone wolf most of the time, as I know that is where the risk is least and the potential rewards are the best. I am a contrarian. I use a variety of indicators to find speculative options trades that offer a risk-to-reward setup where taking the trade makes sense. Combining "contrarian" with "indicator" might create the portmanteau "contracator" -- and I follow these metrics very closely.
One "contracator" I follow is the 10-day moving average on the closing number of the NYSE Arms Index -- created by
RealMoney
's own Dick Arms -- known also as the "TRIN." Whether you call it the Arms Index or the TRIN is not important. What
is
important is to know that when the 10-day simple moving average of it forms a reading over 125, that is a "contracator" that the stocks on the
NYSE
are in intermediate oversold territory.
The 10-day moving average of the "TRIN" today reads 128 (some use a decimal place; they would read it as 1.28). Read it however you wish -- on an intermediate-term basis (4 to 12 weeks), the oversold condition is now in play!
Now, don't back up the truck just yet. But realize that fund managers as well as individual investors/traders have recently been selling more stock than buying stock -- more of those sales probably on stocks that were declining to begin with. Simply put, that is what the "TRIN" in oversold territory is saying.
One stock that might have been oversold last week is
CA Technologies
(
; $23.38 at the close Friday). CA, after last week trading to almost $26, lost more than 2 points when the company's quarterly earnings were made public. For the current quarter, though, the 16 analysts that follow CA project earnings growth of almost 50% over the March quarter of 2010! CA's total debt is exceeded by its total cash position by more than $1 billion, or more than $2 per share. The company has been making acquisitions over the past year in the "cloud" sector, possibly positioning itself as a big player in that popular sector. If so, its forward price-to-earnings multiple of 11x could explode to match those that are already "cloudy" -- some of those stocks' P/Es are downright stratospheric!
Technically, CA has strong support around $23, probably because the company's fundamentals back that valuation price.
Consider a short-term call speculation in CA, bidding below the current market price. The trade accounts for some follow-through selling early in this week due to the fallout of the Egyptian turmoil.
Trade: Buy to open 5 CA March 23 calls for $0.90.
These calls closed Friday offered at $1.10. The total risk is the premium paid for the calls. As always, I will monitor the trade on this site in the comments section below.
At the time of publication, Raschke had no positions in the securities mentioned.
Skip is a former registered options trader and member of the Philadelphia Stock Exchange. He was an equity options analyst and broker with Paine Webber and a proprietary trader for Van Der Moolen. He served in the USMC, as well as played minor league baseball with the N.Y. Yankees organization. He is an independent stock and options market consultant.
OptionsProfits For actionable options trade ideas from a team of experts, visit TheStreet's OptionsProfits now.
Readers Also Like:
Readers Also Like:
>>Political Risks From Unrest in the Arab World
Readers Also Like: