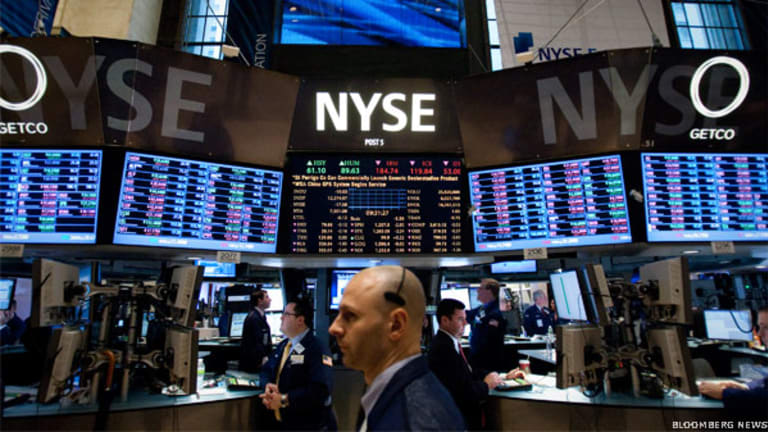 The
CBOE Volatility Index
(.VIX) is trading down 0.56, to 15.83 midday Friday, and has suffered a 7.6% loss on the week. VIX, which tracks the expected volatility priced into
S&P 500 Index
(.SPX) options, is a far cry from the levels seen one year ago, when the index made a run towards 28 on January 22. The recent decline in actual market volatility has been even more impressive. Trading has been eerily quiet, even as macroeconomic uncertainties persist and the floodgate is set to open on fourth quarter earnings reports.
Volatility By Sector
The average daily point move in the S&P 500 Index over the past twenty days has been just 3.9 points, or about 0.3%. The market simply isn't moving much from one day to the next. Consequently, the actual or realized volatility of the S&P 500 (during the past 20 days) has fallen to only 6.2%. By way of comparison, it was near 20 percent in August.
The decline in actual volatility has been seen across a variety of sectors. 20-day actual volatility of the Technology Sector Fund (XLK), the Industrial Select Sector Fund (XLI), and Basic Materials Fund (XLB) all have actual volatility in the single digits. The Financial Select Sector Fund (XLF) and the Energy Select Sector Fund (XLE) are the only two sectors seeing double digit levels of actual volatility. The table below shows the 9 Sector Funds that collectively hold the 500 S&P stocks. It also includes the Consumer Discretionary (XLY), Healthcare (XLV), Consumer Staples (XLP), and Utilities (XLU).
Source:
Trade Alert
Just as VIX is substantially higher than S&P 500 actual volatility, the implied volatility
IV in options of each of the ETFs is much higher than the actual volatility of the funds. Without going into a lengthy discussion about options pricing, suffice it to say that the market is implying much higher levels of volatility going forward. For instance, the actual volatility of the XLK tech fund over the past twenty days is an anemic 6.4 percent. Yet, IV of XLK options is 16.4, or 156% higher than actual volatility. Since implied volatility is forward-looking, the huge difference between actuals and implieds indicates that the market is bracing for an uptick in volatility in the weeks ahead.
Earnings Outlook
While the market might be priced for an uptick in volatility going forward, the relatively low levels of actual volatility have happened for several important reasons.Steady trading in the equity market is being supported by low inflation, low interest rates, accommodative Fed policy, and improved earnings. Estimates compiled by Standard & Poor's suggest that S&P 500 companies could earn $45.45 over the next two quarters. During the past two quarters, earnings totaled an estimated $43.40. The S&P 500 is therefore trading at a reasonable P/E ratio of 14.5.
The primary focus going forward will be on the flood of earnings reports due out over the next few weeks. Three Dow components - Intel, Alcoa, and JP Morgan - released results this week, but the floodgate on fourth quarter earnings doesn't open until after the Martin Luther King holiday. Low levels of actual volatility and a higher S&P P/E mutliple can only be supported by positive earnings growth and, on that front, the outlook is a bit less bullish.
Source:
Standard & Poor's
According to Standard&Poor's, analysts expect total S&P 500 earnings for the fourth quarter to increase by 27.2% compared to the final quarter of 2009. However, first quarter earnings growth is expected to slow to 14% and then fall to 12% in the second quarter. With the S&P 500 now trading at 14.5X earnings, further slowing could potentially put pressure on the S&P 500 Index. In other words, earnings growth of 10%-12% probably doesn't justify a P/E ratio of 15, or more. For that reason, the focus during the reporting season should not be on the strong fourth-quarter numbers, but what companies say about the first and second quarters.
In sum, the outlook for slow and steady earnings growth throughout the first half of 2011 is helping to support higher stock prices and keeping actual levels of volatility at low levels. Fourth quarter numbers are likely to be strong compared to a year ago, but the pace of earnings growth during the remainder of 2011 will be the key driver for overall levels of market volatility in the future.
Macroeconomic Uncertainties Persist
Macroeconomic uncertainties are likely to persist and worries about issues abroad help to explain why VIX remains substantially higher than S&P actual volatility. The Euro Debt Crisis remains a wildcard and problems are far from over. Meanwhile, China today raised its reserve requirements for the seventh time since January 2010. These tightening measures are designed to slow inflation, but will slow demand and economic growth in China as well. Problems in Europe and Asia will affect overall levels of volatility.
In the US, inflation data is also being eyed as yields on Treasurys have been running higher since the Fall 2010. The yield on the ten-year Treasury note is at 3.31% and significantly higher than a few months ago, when it had fallen to just 2.35%. The rise in yields comes despite the Federal Reserve's pledge to buy Treasurys and keep market rates low. Further gains in yields will be worth watching, as well as a January 26 FOMC meeting, as failed Fed policy action could trigger volatility across a variety of asset classes, including the stock market.
In sum, the uncertainty on the macroeconomic front still presents earnings risk and could be a potential catalyst for increasing volatility later in 2011. There has also been a disconcerting amount of performance chasing and speculative activity throughout the options market. Investor expectations for corporate earnings and Fed policy might be too optimistic.
In this environment, it still makes sense to look at individual stocks with strong fundamentals for bullish trading opportunities in specific sectors like materials, technology and healthcare. We would consider adding some non-directional plays like buying straddles and strangles on stocks that might move around earnings (but be mindful of levels of implied volatility). Buy/writes (buying stock and selling calls) was a winning strategy in 2010 and remains a suitable longer-term strategy for 2011. Finally, consider adding to the mix some more advanced strategies that can generate profits in rangebound markets like butterflys and condors on some of the exchange-traded funds like the S&P 500 Trust (SPY) or iSharesSmll Cap Fund (IWM).
Frederic Ruffy is an experienced trader and provides daily commentary and analysis of the options market. He is co-founder of the web site, WhatsTrading.com. His work has also appeared in Futures Magazine, Technical Analysis of Stocks & Commodities, Stock Futures and Options, and Sentiment.
In addition to writing market commentary and trading-related books and articles, Fred has also worked as an instructor, educating investors on advanced topics like measuring volatility, the benefits of sector rotation and the risks and potential profits from trading around earnings. An active trader himself, with over 15 years securities industry experience, his market observations and analysis of the options market are featured regularly in the financial press including Barron's, Reuters, The Wall Street Journal, and Bloomberg.
On January 19, TheStreet's OptionsProfits is hosting a webinar featuring John Carter of Trade the Markets. Concepts, citing specific trade examples, will include: market sentiment, technical indicators and trading psychology. We will also discuss how to use options and other asset classes to position and manage your portfolio through 2011.
OptionsProfits For actionable options trade ideas from a team of experts, visit TheStreet's OptionsProfits now.
Readers Also Like:
>>Have the Education Stocks Hit Rock Bottom?
Readers Also Like:
Readers Also Like: