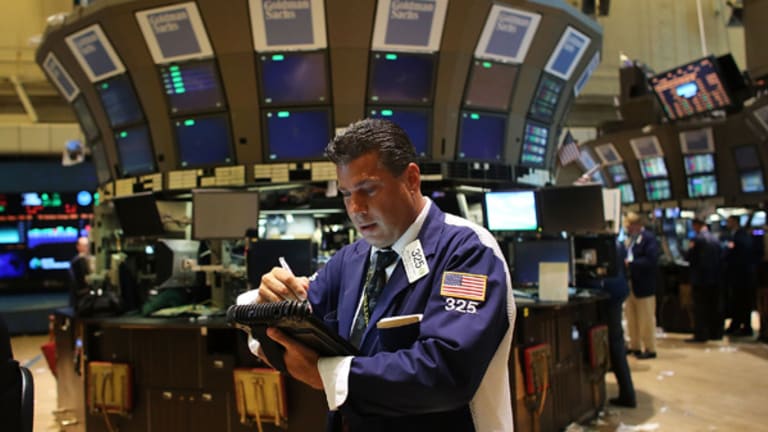 TGIF: Fashion Friday
Here is a special piece dedicated to retail as people hit the malls over the three weekend. Here are the "haves", "have nots" and the options play in LULU.
This complimentary article from Options Profits was originally published on January 13. Don't risk missing over 40 options trade ideas every week and exclusive commentary from over 10 experts. Click here for more information and a 14-Day Free Trial.
**A top priority for OP in 2012 is to keep the momentum going strong with the community on our site, one of the best features of the product. You will see more interaction and special content across our premium suite of products, including written and video pieces with subscribers and friends in our trading circles. In fact, we selected a Real Money Pro Twitter follower to join Brian Sozzi and I at the NASDAQ January 30 and participate in one of the segments. There is a lot of great stuff in store for our OP readers so keep an eye out for announcements in the Weekly Chat Forum.
To kick off the effort, we asked Mark's wife, Lauren Sebastian of the Big Blonde Hair Blog (and professional shopper) to use her fashion industry experience and give us her retail picks as we head into the long weekend. Wall Street analysts do these types of channel checks all the time in the retail space and she is one of the top consultants in the sector. Many of her picks coincide with the content on our flagship site today as well. Like I said on the morning call with T3 yesterday, one of the identifiable trading trends for 2012 is this is a stock picker's environment more so than we have seen in the past two years and the retail group is the perfect place to call out trades. Let's take a look at her ideas followed by Mark's options strategy.
Trade well, Jill Malandrino, Editor of Options Profits
**
Lauren: Since my husband, Mark Sebastian, is a bit of an options expert people have often met me and asked "Do you trade Options?" I often have had to hold in hysterical laughter, as my knowledge of anything financial seemingly ended with calculating sales tax on the fabulous new leather stiletto boots I'm buying -- And then ignoring it.
However, as time passes both my husband and I have come to realize that I've been underestimated. In fact, I even have a bit of a trading strategy -- If I shop there, the stock is a winner. If I wouldn't step foot in the door (even during a sale), sell it.
Here are my thoughts on what's hot and what's not in the retail world, and what you can learn from retailers you know and trade. Laughing? My husband did too, and now he takes action.
Sears (SHLD) -- So Last Year: If a retailer sells washing machines and prom dresses in the same place, bolt. If merchandise is crowded and disorganized it never works. People want a pleasant shopping experience and a good deal on quality items. One of my greatest joys is finding a good deal, but there isn't a deal good enough in that place. Even the Kardashian's can't save this one.
Macy's(M) -- So Last Year: Anyone who ever stepped foot into a Marshall Fields knows that Macy's isn't going to cut it. Sure Marshall Fields was not quite as high end as Neimans or Saks, but there was a sense of tradition and an order to their locations. As soon as the Macy's sign was thrown up, the merchandise turned cheap and a certain disorganization came over the store. If you're supposed to be a high end department store and there isn't a Louis Vuitton section in site, it's a no-go.
Lululemon Athletica(LULU) -- On Trend for 2012: Sure founder Skip Wilson recently stepped down as Chief Innovation and Branding Officer, but LULU's yoga pants are still going to make women's lower halves look smaller with their magic Luon fabric, so they're shopping there. I'm going to get another yoga outfit and I don't even do yoga, and head office operations aren't going to phase me. Workout wear is pretty simple, I'm sure whoever takes over can figure out how to make yoga pants in the same fabric with the LULU logos while staying on the small updates in trend.
Nordstrom(JWN) -- On Trend for 2012: Nordstrom is a keeper. If I feel warm inside when I walk in the door, it's a keeper. JWN stays on trend with the latest and greatest lines whether it's shoes, handbags, clothing or makeup. If there is a high end line everyone is wearing, JWN stocks it. And you don't have to be rich to shop there - I sneak into the BP department and buy Junior's clothes if I want to save a buck. Also, their overly forgiving return policies will ensure that people will chose them first as a place to shop when spending a buck.
Target(TGT) -- On Trend for 2012: Sure they missed earnings, but where else am I going to go, Walmart (WMT)? Women like me will always need a place to go where they can pass clothes and makeup expenditures off as groceries and necessary house ware when their husband is simply glancing at a credit card statement. I used to have a rule against buying clothing and food at the same place, but then I got married...
Mark: With the combination of New Year's resolutions, piggy-backed by women trying to look good for Spring and Summer, there are good reasons to like LULU. From a technical perspective, the stock gapped up to near a 52-week high and is threatening to break it. Something that it should do as it raised its guidance. Considering this is a stock that Wall Street analysts continue to underestimate in terms of sales and performance, and the stock is almost always hard to borrow, I think the stock will continue to catch analysts off guard.
In the near-term, LULU could break $65 in the next 30 days. However, I think this one actually makes sense as a long-term play may head to $80 Option prices in this name are now at some of the lowest levels we have seen in almost two years. I think it makes a lot of sense to buy premium because I believe that the underlying is going to rally hard and calls are cheap.
Trades: Buy to open LULU June 60 calls for $8.80 and sell to open LULU June 75 calls at $3.20 for a debit of $5.80.
With a risk reward of about three-to-one our goal is to make one-to-one on this trade, selling the spread at $11.40. If the spread collapses to less than $2.90, we will punt.
OptionsProfits can be followed on Twitter at twitter.com/OptionsProfits
Mark can be followed on Twitter at twitter.com/OptionPit
Lauren can be followed on Twitter at twitter.com/BigBlondeHair
At the time of publication, Jill Malandrino and Mark and Lauren Sebastian held no positions in the stocks or issues mentioned.