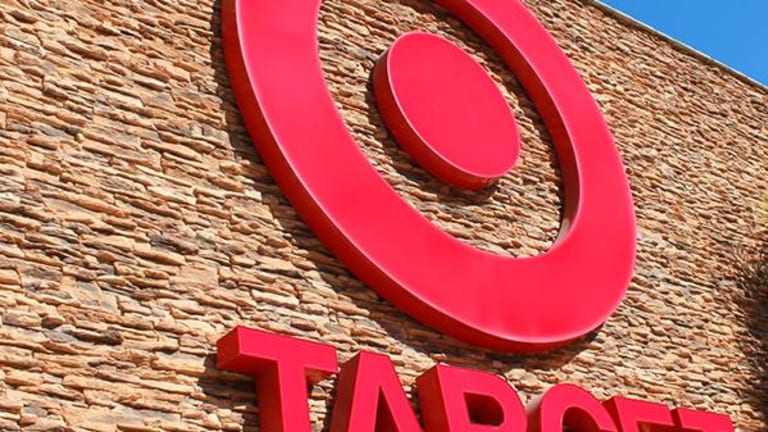 Target Investors Should Sell Puts to Add Premium
Selling a put in Target gives an investor a premium in return for assuming the risk of buying the shares at the strike price.
The two-day decline in Target's (TGT) - Get Target Corporation Report stock after the big box retailer announced dismal earnings during the fourth quarter gives investors an opportunity to sell some of the premium with options.
Selling a put in Target gives the investor a premium in return for assuming the risk of buying the shares at the strike price, said Ron McCoy a portfolio manager on Covestor, the online investing company, and founder of Freedom Capital Advisors in Winter Garden, Fla.
Target's stock dipped by nearly 7% on Wednesday and declined again on Thursday by 2.18% to close at $65.39. The company said its total sales have declined by 4.9%. The retailer is likely to experience additional volatility as online companies such as Amazon (AMZN) - Get Amazon.com, Inc. Report continue to capture additional market share.
"The bottom line is that owning Target around $60 is attractive given the current earnings of $5.00 per share, which equates to 12 times their earnings, a multiple which is cheap compared to the S&P 500," he said.
McCoy's Covestor LOWS (Levered Options Writing Strategy) fund sold the Target April $60 puts earlier in January.
While selling puts can be a profitable venture, investors should never sell "more than they can handle," he said.
"I strongly caution investors against biting of more than they can chew," he said.
The break even would be $59.00 on the April $60 puts if an investor was able to receive $1 for selling them. As of Thursday's close, the April $60 puts were trading around $1.20 each.
"It really boils down to what price investors believe a good value on Target is," said McCoy. "At $60 or lower, we are willing to take a shot at going long Target and that's why we sold the April $60 puts."
As brick and mortar retailers face increasing competition from Amazon and other competitors, investors using options should be able to take advantage of the Target's increasing volatility, said K.C. Ma, a CFA and director of the Roland George investments program at Stetson University in Deland, Fla.
Investors who are long in Target could sell a call or buy a put to hedge against the downside risk of the company's stock values.
"Every Target option will increase in premium across the board when the underlying volatility increases," he said. "Investors could increase Target's dividend yield by writing the more expensive, longer-term call options while collecting multiple quarterly dividends. The higher premium received will offset the cost basis of the stock holding, which in term increases the dividend yield."
Investors who are more bearish about Target could buy puts and this strategy could pay off if Target's stock continues to dip, said Meredith Zidek, a Hunt Valley, Md.-based options and ETF trader.
The current out-of-the-money puts for the February 24, 2017 weekly expiration costs only $0.64 for the $62 strike and $0.33 for the $60 strike. In-the-money or at-the-money puts could also be purchased and the $ 66 puts can be bought for a few pennies over or under $2, she said.
Target's declining sales could be attributed to the fact that the quality of some of its merchandise appears cheaper than its competitor, Wal-Mart (WMT) - Get Walmart Inc. Report and was stored on cluttered, unorganized racks and shelves, said Zidek who visited a local store recently.
"I'm not surprised by Target's lowered guidance and earnings in a sector that has no room for management and may be engaging in injudicious cost-cutting without an accurate eye on the customer's perspective and preferences," she said.
Investors have more than one strategy to deal with volatility, especially in the retail sector, said J.J. Kinahan, chief market strategist for TD Ameritrade, an Omaha, Neb.-based online broker.
For the option trader who is more experienced, the calendar spread could be an alternative, he said.
"In this scenario, the investor sells a nearer-term option and purchases a farther-term option at the same strike price," Kinahan said. "An increase in volatility will affect the further term option at a greater rate than the nearer-term option and benefits the trade."
Retail stocks could face additional volatility as some companies may not have "released all the volatility-driving information with layoffs and store closings," he said.
"If the answer is no, there are many ways to play volatility," Kinahan said. "Keep in mind that as a rule, buying options is buying volatility because an increase in volatility will increase option prices."