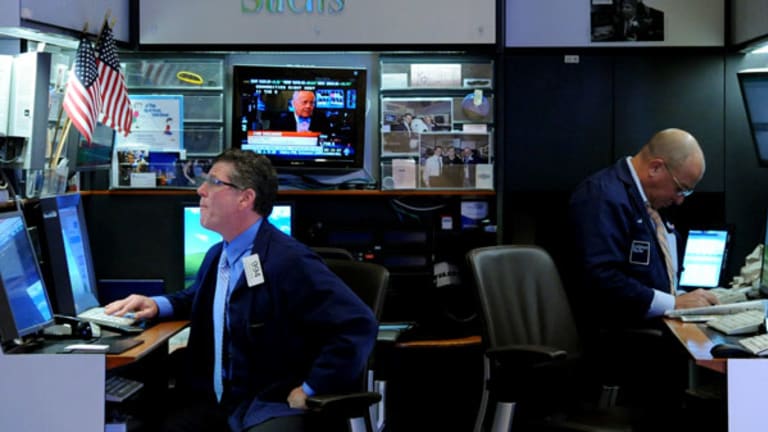 T. Rowe Options: Lesson in Volatility
A story of how put prices can fall, despite the stock going down.
A story of how put prices can fall, despite the stock going down.
As I was going over some of the options activity in the market on this last Monday of 2008, I came across a trade in
T. Rowe Price
(TROW) - Get Report
that gave me pause. An investor bought 1,000 of the Feb 30-35 strangles for $5 with the stock trading around $31.20.
Remember, a strangle is when an investor trades a call and a put with different strikes in the same direction, either buy-buy or sell-sell. Because the investor paid $5 for it, the break-evens, or where the trade is profitable, will be below $25 or above $40. Either way, the investor needs the stock to move.
Now, a trade of this size would not normally move the needle in terms of it being worthy of further discussion. After all, it is only 1,000 strangles, a total of just 2,000 contracts. But why it jumped out at me was that
, I wrote about unusual put activity in TROW. Revisiting that activity is what is somewhat interesting. It is a story of how put prices can fall, despite the stock going down.
In the Dec. 10 article, I noted that the April 25 puts were purchased 2,800 times for $3.70, with the stock around $34.13. I also pointed out that on Dec. 9, the day prior, someone had purchased the April 30 puts 2,000 times for $4.80 with the stock around $35.42.
What is noteworthy is that as of now, the price on both of those puts is lower, despite the stock being down over $3 since the time of our first article. The April 25 puts are currently marked at $2.78, and the April 30 puts are marked at $4.65. This price decline can be explained in part because of the slight passage of time (19 days) but mostly because of a decline in implied volatility.
By way of example, the April 25 puts currently have an implied volatility of 84. At the time of our report, the implied volatility of that $3.70 price was 107. That 23-point decline in volatility is why the puts are down nearly a dollar despite the stock being down.
The strangle buyer today indicates that someone is still willing to bet that TROW could be volatile between now and February expiration. Based on past history, earnings are likely to be the end of January or beginning of February, so this February strangle will be the front month at the time of earnings. But it is the decline in price of the April options that tells an interesting story of how implied volatility declines have not only occurred in the
S&P 500
as evidenced by the VIX, but also in single stocks as well. Investors should be wary of cautionary tales such as this when they are thinking of purchasing options in these volatile times.
Jud Pyle is the chief investment strategist for Options News Network and the portfolio manager of TheStreet.com Options Alerts. Click here for a free trial for Options Alerts. Mr. Pyle writes regularly about options investing for TheStreet.com.
Jud Pyle, CFA, is the chief investment strategist for Options News Network. Pyle started his career in finance in 1994 as a derivative analyst with SBC Warburg. After four years with Warburg, Pyle joined PEAK6 Investments, L.P., in 1998 as an equity options trader and as chief risk officer. A native of Minneapolis, Pyle received his bachelor's degree in economics and history from Colgate University in 1994. As a trader, Pyle traded on average over 5,000 contracts per day, and over 1.2 million contracts per year. He also built the stock group for all PEAK6 Investments, L.P. hedging, which currently trades on average over 5 million shares per day, and over 1 billion shares per year. Further, from 2004-06, he managed the trading and risk management for PEAK6 Investments L.P.'s lead market-maker operation on the former PCX exchange, which traded more than 10,000 contracts per day. Pyle is the "Mad About Options" resident expert. He is also a regular contributor to "Options Physics."