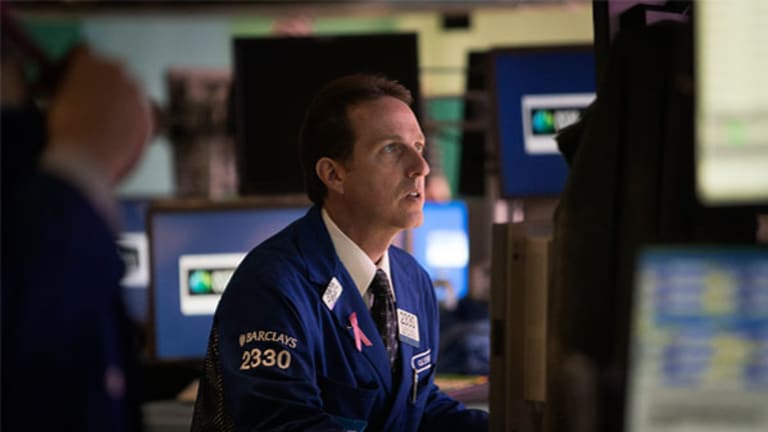 Surprise, Surprise...
We are initiating a new position, closing another for a win (sixth in a row) and inviting OptionsProfits traders to a webinar.
I don't know what they are going to call the Egyptian uprising, but I am going to name it the "Internet Revolution". To paraphrase Chris Rock, "People are tired; tired, tired of watching others live better lives over the internet." They want it for themselves. enerally, unrest like that sends the market swooning and a flight to safety. From what I can see, that happened for one day. Let's take a look at the debt fund ETF's.
Normally I would just pass on debt area because I thought the pattern would have already run its course and the opportunity would be gone. The idea around a crisis is to arrange a view to compare long-term and short-term time frames. When I pulled up Aqumin's AlphaVision Bouncing View (see below) I was surprised by the little pattern I saw. Overall, the debt funds (the ETFs) were the third worst performers yesterday (real-time dynamic group sorting) and that is why the subsector is pushed to the back. I have inverted the landscape so h eight is simply the one-year price change (in this case down). The green color indicates up for the week. During an international crisis, the levered, short leaning treasury ETF's were up for the week. The upshot is that these levered products are down around 25% over the last year as interest rates have lowered (they have been staging a comeback). If an international crisis cannot crater them, I don't know what will. The trend of increasing interest rates, despite the Fed, seems here to stay.
Debt Funds
(If you want to learn more about 3D visualization of financial data visit www.aqumin.com/thestreet)
I will be hosting a webinar today at 1:00 p.m. EST on evaluating Unusual Option Volume using AlphaVision. The webinar is available to all OptionsProfits subscribers. Just go to link above and ask for the webinar access.
A little snapshot of Aqumin's Option Landscape revealed the Direction Daily 30-yr Treasury Bear 3x Shares ETF (TMV) - Get Direxion Daily 20+ Year Treasury Bear 3x Shares Report had the current mid-volatility point trading 16% over the trailing two weeks (generally green color you see) of underlying movement for TMV. That makes me bend to sell premium and I am looking at a put spread centered at the 45 strike.
Options Landscape
Trades: Sell to open 2 TMV February 45 puts at $0.95 and buy to open 2 TMV February 41 puts for $0.30, with TMV trading $47.23 on a 20 delta.
I would caution OptionsProfits subscribers to read the TMV prospectus and understand how the Direxion ETF's work. This a Risk Level 2 trade (the leverage will give you some swings) but you cannot lose move than the difference in the strikes. Stick with covered (fully margined) or spread type trades with these ETF's.
Closing another one...I think this is six in a row for the cycle now.
The Direxion Daily Emr Mkts Bull 3x Shs(ETF) (EDC) - Get Direxion Daily MSCI Emerging Markets Bull 3x Shares Report 37/40 call spread I recommended on Monday as a way to trade the existing EDC buy/write is already a 25% winner in one day. I followed it in the comments section midday and I saw a bid $1.50 near the close (last comment at $1.45 bid). In general, if things work out this fast, take the money and go. There could be a chance to reload the trade again. This is a great use of the existing buy/write margin.
For the most part (Clean Energy Fuels (CLNE) - Get Clean Energy Fuels Corp. Reporttrade is coming back and looking to hedge soon), things look good and we have been able to close so many that there is relatively light risk in my seven open recommendations currently. Each have a good shot at finishing in the money. Stay tuned.
At the time of publication, Andrew Giovinazzi held no positions in the stocks or issues mentioned.
Andrew is the Executive Vice President of Business Development for Aqumin, where he participated in the design team to apply AlphaVision to the financial markets. For 15 years he was a member of the Pacific Exchange and the Chicago Board Options Exchange, where he actively made markets and traded in both equity and index options. At the same time Andrew started and ran the Designated Primary Market Marker post for Group One, Ltd. on the floor of the CBOE where it became one of the highest grossing posts for the company in 1992 and 1993. While in Chicago and San Francisco, Andrew was instrumental in creating and managing a training program that allowed Group One, Ltd. to dramatically increase its trader count over an eight year period. He left Group One, Ltd. to co-found Henry Capital Management in 2001.
OptionsProfits For actionable options trade ideas from a team of experts, visit TheStreet's OptionsProfits now.
Readers Also Like:
Readers Also Like:
Readers Also Like: