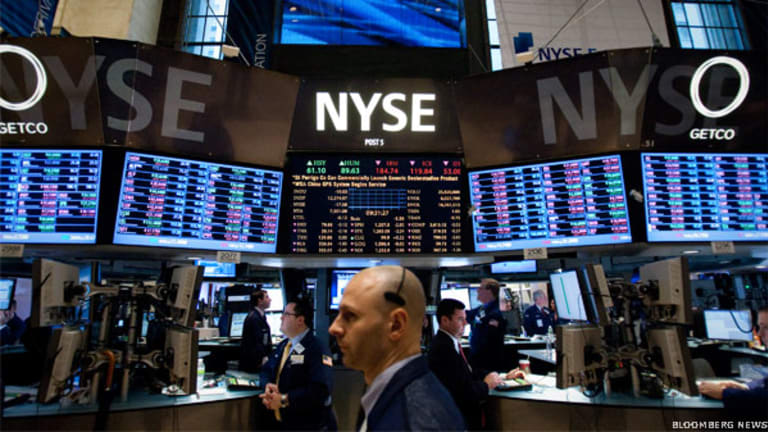 Straddle Trade on Crude: Firing Line
This trade is appropriate for those who are unsure that there will a big move in oil, either way.
The following commentary comes from an independent investor or market observer as part of TheStreet's guest contributor program, which is separate from the company's news coverage.
NEW YORK (
) --Wall Street remains in flux as the calendar unwinds, with the major indexes coming off a rough mid-week session. However, as of Thursday morning, the market seems to have recovered a bit in response to a mixed bag of news that was seen as mostly positive.
Low trading volume will likely to continue to be a major factor in market action as the end of 2011 approaches. The
Top Gun Options trading team is gearing up for a great 2012 of trading.
The news out of Europe was on the low-impact side, with the focus being on the most recent Italian bond auction. In an indication that the euro-zone has calmed down, at least for the time being, the yield on new three-year debt dropped sharply from just one month ago, when it was up to 7.89%, a level generally regarded as "unsustainable.
For those without a dictionary, that means, essentially, that Italy would go broke if it had to continue to pay those rates to borrow money. So, obviously, a decrease in bond yields is regarded as a good thing, particularly for the Italian government.
Tensions are rising, however, in the Middle East, where Syrian protesters are becoming more vocal in their demand for the ouster of their President. And, in a matter closer to Wall Street's concerns, the U.S. military warned Iran that any attempts to impede the flow of oil through the Strait of Hormuz, as Iran's government had threatened earlier, would not be tolerated.
Back on the home front, the Labor Department reported a rise in initial jobless claims. Apparently, these numbers are regarded as an indication that there continues to be a small but steady improvement in the overall U.S. labor market.
On the Options Front
With temperatures rising due to Iran's current round of posturing, and turmoil continuing in Iraq, it remains possible that cool heads won't prevail, and the saber-rattling between the Iranian government and Washington will escalate.
In spite of OPEC's stated intention to keep the flow of crude constant, the fact is that, when it comes to the Middle East, the potential for at least a short-term disruption remains high. Sometimes just the inference of disruption is enough to spook investors. Should that occur, the price of crude would spike, at least temporarily. On the other hand, should a semblance of reason prevail, volatility would retreat and the price of oil should drop.
So, if you are unsure of the outcome in terms of direction, but feel pretty strongly that a strong move will be made one way or another, than a straddle on oil lets you place both sides of the fence. You would need to see the ETF dip or rise by about 7% to make money on this trade.
Firing Line: One way to make this play would be to use the
United States Oil Fund
(USO) - Get United States Oil Fund LP Report
as a proxy for crude. It should be noted that while USO does attempt to track the price of light, sweet, crude closely, a decrease in correlation is not unusual.
The trade: Buy 1 USO JAN12 38 CALL. Buy 1 USO JAN12 38 PUT. For a debit of 2.59
You should exit this trade a few days before contract expiration, or if you suffer a 30% loss. On the upside, if you hit 60%, close out the trade.
Happy hunting and make sure you hedge!
This commentary comes from an independent investor or market observer as part of TheStreet guest contributor program. The views expressed are those of the author and do not necessarily represent the views of TheStreet or its management.